Many of our readers are lovers of good coffee. And as such, we are sure that you know the famous Moka coffee machine invented by Alfonso Bialetti in 1933. Well, the Italian firm Bialetti has since specialized in the development of household utensils, but for some time it has been applying its techniques and experience in making pans. The ones that you present to us now are the Bialetti Madame Petravera. As they are?
We would place these Madame Petravera pans by Bialetti, to get an idea, in a medium range. They are quality pans , resistant and above all, with a very careful exterior appearance. But in order to cook without problems and to last us many years, we must demand more from a pan. Let's see if they are worth it.
MATERIALS
As is usual in the kitchen industry, the firm has used aluminum for the construction of these Bialetti Madame Petravera. Aluminum is a really light and quite resistant material. Without reaching the resistance of a stainless steel pan or an iron skillet, it has an outstanding weight / resistance ratio . Iron or steel pans are stronger, but they are really heavy.
As for its compatibility, it comes out quite well. The Italian firm has provided Madame Petravera with a ferritic base to guarantee its full compatibility with induction hobs. Of course, they will also work without any problem on glass-ceramic, gas or electric hobs.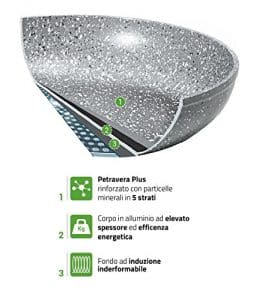 On the other hand, and that can make life easier for many, is that they guarantee that they can be used in the dishwasher without fear of damage. Some models are not able to withstand the powerful jets of the dishwasher, which can sometimes damage the non-stick surface. Not with these Bialetti Madame Petravera.
And lastly, on compatibility, the oven. In this regard, the firm has not positioned itself, so our advice: do not put them in the oven. If you are one of those who likes to finish a recipe with a baked or gratin, you should look at other options such as Tefal Sensoria.
ANTI-ADHERENCE BIALETTI PETRAVERA
The most important thing about a frying pan, in addition to its weight and ergonomics, is its non-stickiness. The Italian firm has implemented its own non-stick surface in this line of pans : Petravera. The Bialetti Petravera non-stick surface is made of tiny mineral particles on a 100% PFOAS-free non-stick coating.
The Petravera surface guarantees the maximum non-stick in the Bialetti Madame in a healthy way. They do not use the dangerous perfluorooctanoic acids that we find in some models to stick the non-stick coating to the pan.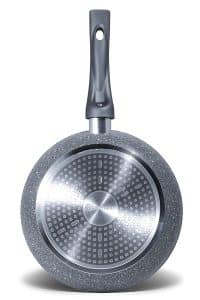 Its resistance is medium, it can perfectly withstand normal daily use. It does not reach the resistance of titanium pans, but if we use the right kitchen utensils (made of wood or silicone) it will be very difficult to damage it. On the contrary, if we usually cut with the knife on the pan or our utensils are made of stainless steel, it is better to opt for a more resistant pan.
MAIN FEATURES
Available in many sizes, so it's easy to find the perfect size.
Aluminum structure: It makes it super light, it is very easy to manipulate it with one hand. It is ideal for weak or elderly people.
Ergonomic handle: together with their low weight, they greatly facilitate handling the pan.
Energy efficiency: Bialetti has placed particular emphasis on improving the energy efficiency of Madame pans. Its diffuser bottom guarantees a rapid temperature distribution and optimal heat retention. This allows us to turn off the fire a few minutes before finishing the recipe and save a few kW of electricity.
Total compatibility: it works with all types of cookers: induction, glass-ceramic, electric and gas.
It can be used without problem in the dishwasher.
Reinforced base: Avoid the biggest problem of pans: warping. In some models, when reaching high temperatures, the base deforms, making it incompatible with induction and inefficient in other fires. The base of the Bialetti Madame Petravera is reinforced, avoiding any deformation.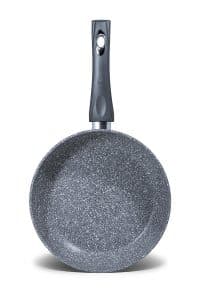 BETWEEN YOU AND ME
Bialetti has demonstrated since 1933 its ability to innovate and bring trend-setting products to market. It is not one of those opportunistic firms that launch a product "let's see if it works." Bearing the signature of the man with the mustache is in itself a guarantee of quality.
If you are looking for a frying pan at a good price, of a good quality and with a powerful signature behind it, Madame de Bialetti pans are a great option. They are light, ergonomic, healthy (non-toxic) and with a sublime non-stick. Just remember: Don't cut with the knife on the pan!
ADVANTAGES OF THE BIALETTI MADAME PANS
Made 100% toxic free.
They are really light pans thanks to their aluminum construction .
They have a diffuser bottom developed to guarantee the best energy efficiency and facilitate savings.
They have the backing of an Italian firm that has been launching premium products on the market since 1933.
Their non-stickiness is outstanding, so they can be cleaned simply by putting them under the tap and passing them a kitchen napkin.
They guarantee total compatibility with all types of kitchens and fires.
DISADVANTAGES OF MADAME PAN
It is not clear to us if they can be used in the oven or not, so we do not recommend using them in the oven.
Its non-stick surface has very good qualities, but it can be damaged if we do not take care of it. We should avoid stainless steel utensils and knives. Instead, wood or silicone are perfect for keeping our Madamme de Bialetti pans in perfect condition.
YOU MAY BE INTERESTED
If you are not completely convinced by these pans, but you are looking for something similar, we can think of an alternative. The pans Monix Mineral are an excellent alternative in aesthetic very similar to these Bialetti but with an advantage: they are reinforced with titanium.
These are the best-selling pans from the Spanish firm Monix that once received our 5 stars when we analyzed them. We think they are really worth taking a look at.
And if you have any questions, you already know that in the comments section, any member of our team will answer you in a jiffy. Happy recipe!