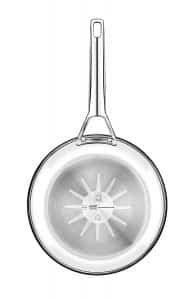 Do you want to renew your pans or buy high-quality ones? In that case, we want you to meet the BRA Connect. This is a set of 20, 24 and 26 cm pans made of cast aluminum and with a non-stick system, so that the food does not stick and everything is delicious. In addition, they are compatible with induction.
If you are a cook or you are just starting out, you will know the importance of having a good frying pan. Spending time cooking and then the food sticks to you is very annoying. You don't have to go through it! Do you know how to remedy it? With a quality skillet. At the end of the day, you will have product for many years.
But why Connect pans ? BRA is a brand of the PINTINOX group, that is, one of the largest manufacturers of kitchenware in the world. With more than 50 years of experience in the manufacture of kitchen products, BRA has established itself as one of the leading brands in terms of value for money.
BRA Connect materials
BRA Connect pans are made of stainless steel and cast aluminum with Profile nonstick and Bi-Clad technology. The handle is also made of stainless steel and ergonomic, for a perfect grip.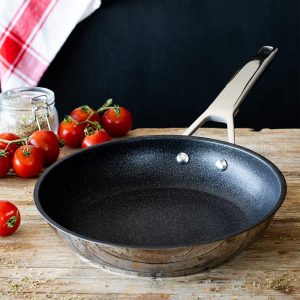 The food will be delicious because it manages to distribute the temperature well, also on the walls, so that everything is cooked just right. Unlike other pans.
The quality of its materials means that we have a very durable frying pan with scratch-resistant technology. This is due to the metaltech surface reinforcement process . Also, another great feature is that it is 100% PFOA free.
Compatibility
When it comes to compatibility, the great advantage of this BRA Connect pan set is that they are suitable for any heat source. Of course, you can use them in induction. Therefore, if you plan to change your cooker to a ceramic hob or induction and you are afraid that it is not compatible, do not worry because you can use them with all heat sources.
They can also be put in the oven up to 220 degrees. In addition, as they are very resistant to scratches, you will not have to worry about cleaning them. It is simple.
Non-stick
The anti – blocking is a feature we look for much in the pans, because it is not nice that we stick food. Making a potato omelette and the pan is not non-stick, can make us run out of potato omelette, sticking and falling apart. Therefore, thanks to BRA Connect's high-quality Teflon profile non-stick coating, you won't have to worry about a thing. In addition, it is exclusive in Spain by BRA.
It is a characteristic that you should always look at in the pans you buy, because sometimes to save a few euros we choose the simplest and then they do not work for us. So we ended up buying better ones. In the case of BRA Connect, you will have a safe and quality bet.
Main features
In this pack we have nothing more and nothing less than 3 BRA pans with measures 20-24-26 cm.
As they are made of stainless steel and aluminum at the bottom, not only do we have high-quality pans for cooking, but the heat is distributed more optimally. This guarantees that the dishes will always be delicious and well done.
They are compatible with any heat source, also induction. The base diameter is 21 cm.
When it comes to washing or maintenance, you will not have to worry about anything, they resist scratches well.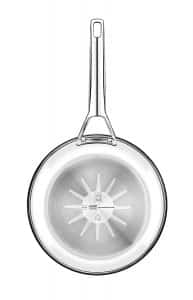 Another of the main characteristics is that the BRA Connect are ideal for those who cannot take a lot of weight. We often buy pans online and when they arrive at our house, we see that they are what we did not expect because they weigh too much. The weight can be very uncomfortable to work with, to turn an omelette or to sauté ingredients. It is better to have light pans so that anyone can use them, without the weight being a barrier or our joints hurting later.
Advantages of the BRA Connect
3 different measures (20-24-26 cm) to cook for one, two and several people
Manufactured of high quality with fusion between stainless steel and aluminum
Resistant, also against scratches
100% pfoa free
It can be put in the oven up to 220ºC
Ergonomic and lightweight handle
Compatible with any type of cooker, also induction
Disadvantages of BRA Connect
We did not find any drawback to highlight
Between you and me
Taking into account that it is one of the top brands on the market, this set of pans from BRA Connect meets all our expectations and surely yours too. The combination of stainless steel and aluminum makes it a strong, durable and lightweight piece. Undoubtedly, these Connect are called to be a true best seller.
Maybe you are interested
If this set does not fit what you are looking for, you can try the BRA Advanced. In this set we have 3 high quality pans measuring 18, 22 and 26 cm, made of non-deformable cast aluminum. It is ideal if you want to have some mainly smaller and a larger one for when you have more people at home.