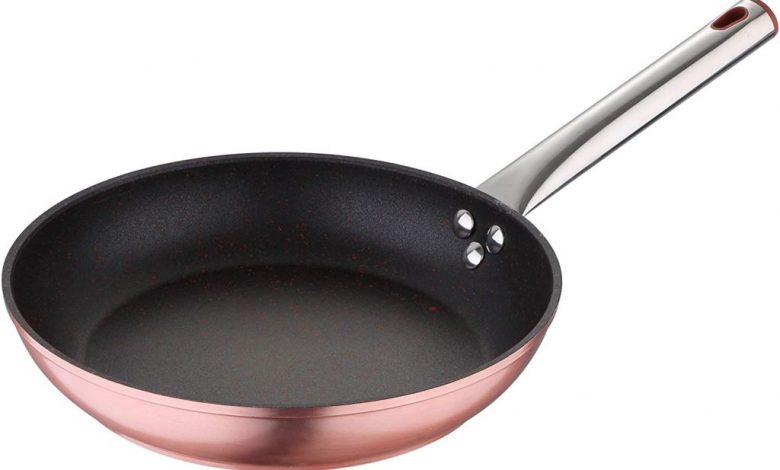 Now is the time to buy a new frying pan. You have to choose between the different brands of pans available. To help you with this task, here is our review of the Berg n er Neon Rose pans.
We will tell you about the materials these pans are made of. We will also see the type of non-stick. Additional features and their benefits. The Bergner brand by the way, has been manufacturing kitchenware since 1999.
It is a well-known and reputable pan manufacturer throughout Europe. These pans in particular stand out for their rose gold finish. But unlike other aluminum pans. It is a set of 2 pans that have tubular handles made of stainless steel.
Bergner Neon Rose Pans Materials
We'll start by talking about the materials in the Bergner Neon Rose pans. Along with forged aluminum and marble non-stick. Other materials such as stainless steel and silicone also stand out.
Let's see now what are the characteristics of each material, and the benefits they bring to the pan.
Forged aluminum
Other pans like the Wecook Ecogreen set . They are also made of aluminum. However, Bergner Neon Rose pans are made from a different type of aluminum. We refer to forged aluminum.
It is a class of aluminum that is distinguished by its ability to conduct heat more efficiently. In addition, it can resist the action of corrosive agents, protecting the pans from oxidation.
Additionally, the pans are easier to handle due to the lightness of the aluminum. But that's not all, this material also has the property of being non-deformable.
It means that you can cook at high temperatures without problems. The pans will always keep their original shape. Plus, the heat is evenly distributed, so your food cooks at the same time.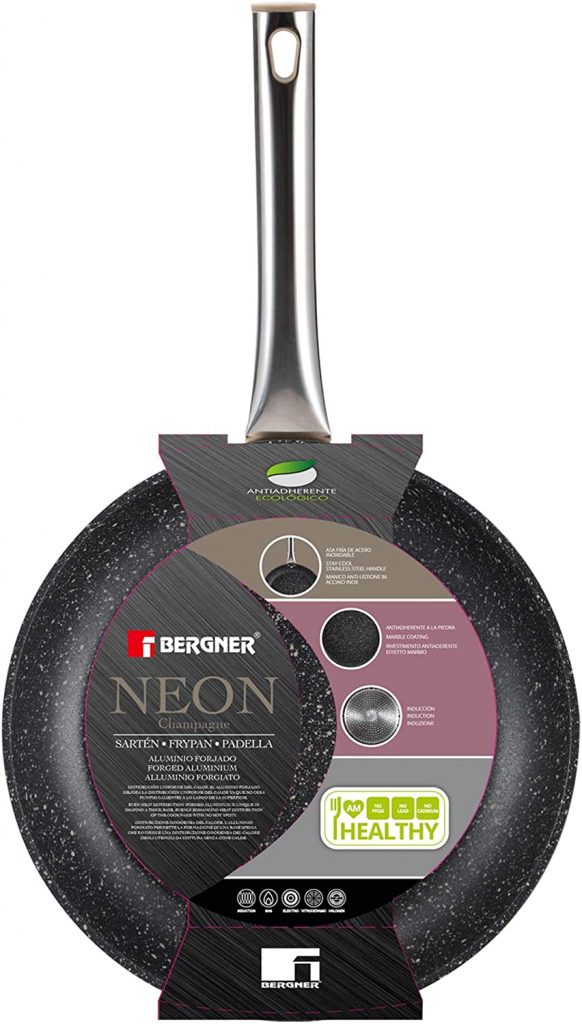 Marble
For its part, marble is a material that is present in the non-stick coating. There is good reason for this, as marble is one of the safest materials for cooking.
Unlike other non-sticks made with toxic chemicals. Marble is a natural material that does not release substances harmful to health. Furthermore, its scratch, crack and tear resistance properties are well known .
It also favors the release of heat, allowing cooking in a more efficient way. Even the marble non-stick coating makes cleaning pans easier.
Obviously you don't have to worry about food sticking. The speckled black non-stick coating prevents this from happening. Even the most difficult ingredients can be cooked without problems.
Stainless steel
This material is present in the tubular handles of Bergner Neon Rose pans. For added security, the pan handles have been riveted.
Steel is obviously a guarantee of strength and durability. It also means that pan handles will never rust. Its best aspect, however, is that the mangoes do not get hot, even after cooking for several hours.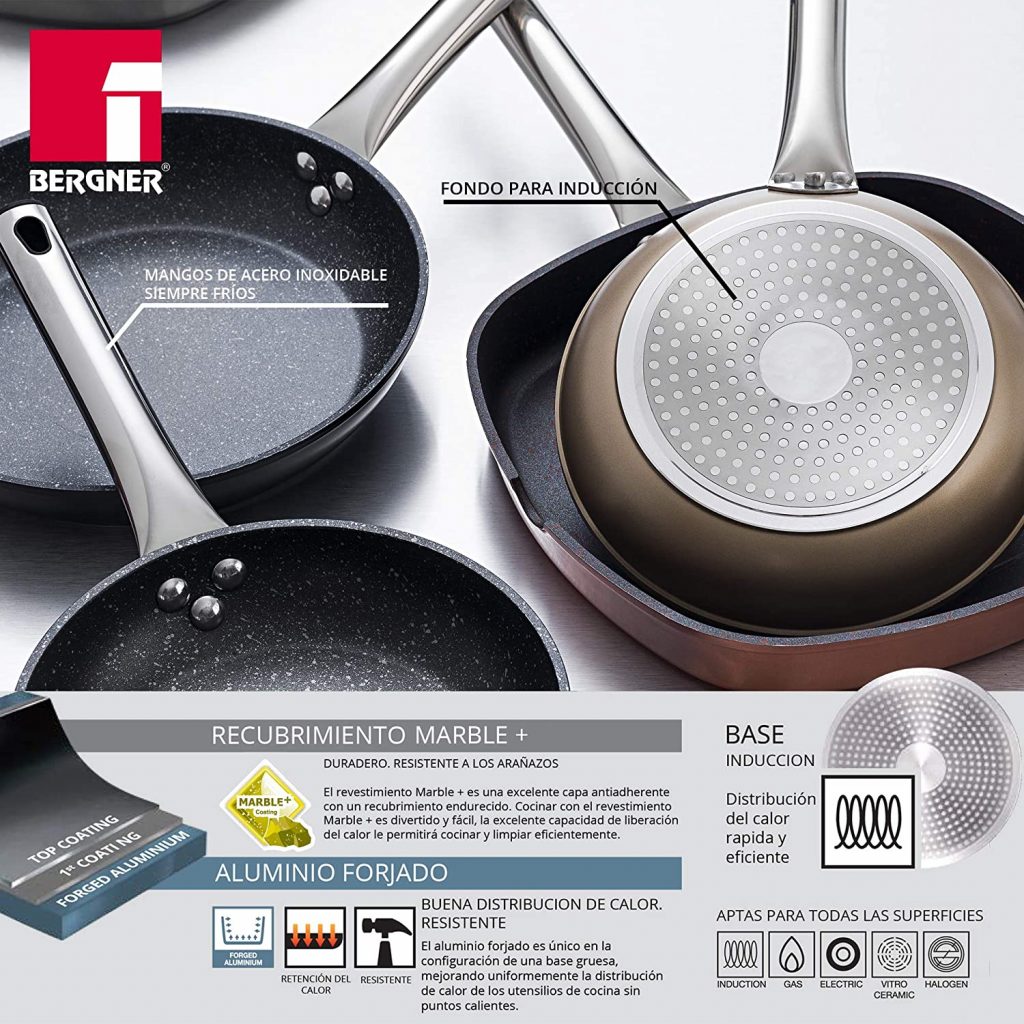 Silicone
Bergner Neon Rose pans also incorporate silicone. In this case, the manufacturer has made silicone inserts in each of the handles of the pans. It is a material with an excellent ability to resist extreme temperatures.
Not only that, silicone is also highly resistant to weathering, radiation and humidity. Its dielectric properties make it an insulating material, as it does not conduct heat, nor does it conduct electricity.
Non-stick pans Bergner Neon Rose
As mentioned, these pans have a marble non-stick coating. This implies a series of advantages over other types of non-stick coatings.
For example, marble provides maximum safety when cooking, due to its ability to resist mechanical stress. On the other hand, a minimal amount of time is required to heat food.
This translates into energy savings, regardless of the type of hob used. In addition, the marble non-stick coating allows to preserve the flavor of the food.
It is not even necessary to use a lot of oil to guarantee the cooking of the ingredients. Along with this, the marble non-stick surface retains and distributes heat more evenly.
As an added advantage and because the food does not stick. These marble coated pans are much easier to clean.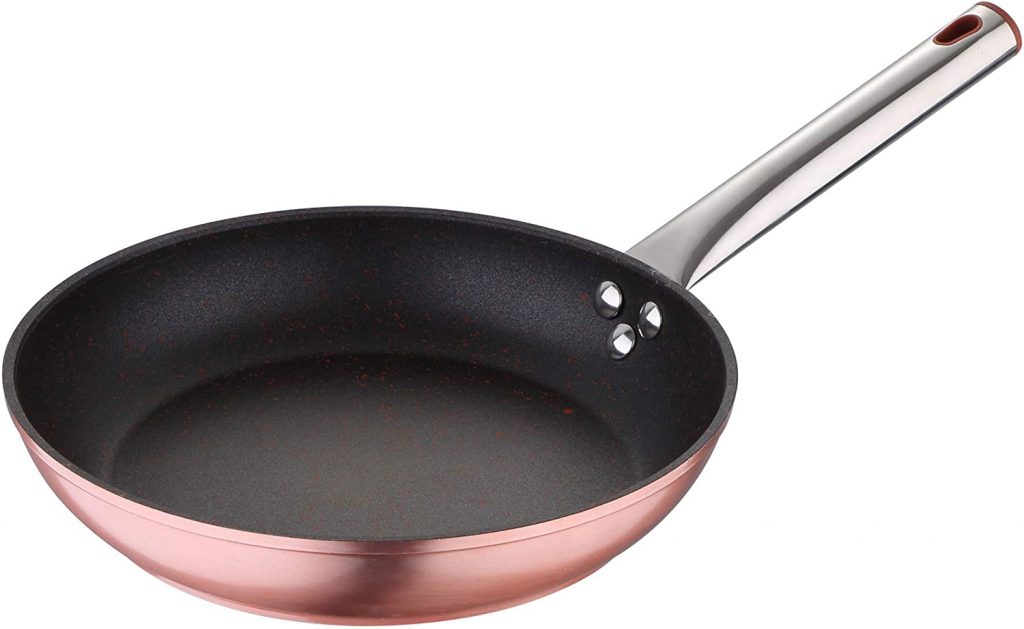 Additional characteristics
The pans are normally available in a 3-piece set. But in this case the set is made up of two sartene s. The largest pan has a diameter of 30 cm, while the smallest pan has a diameter of 20 cm
There are other aspects that are also worth highlighting:
On the one hand, the pans have a corrosion resistant induction bottom.
This means that the heat is distributed evenly and the bottom is not affected by any corrosive agents.
Another detail to highlight is that the Bergner Neon Rose pans are suitable for all surfaces.
The pans can be used on induction hobs, electric gas, glass ceramic, and halogen hobs.
Advantages of Bergner Neon Rose pans
They are pans made of forged aluminum, so they are resistant, durable and provide a more efficient heat distribution.
Its non-stick marble coating allows food to heat up more quickly.
This non-stick surface does not scratch, and food does not stick and cook at the same time.
They are easy to clean nonstick coated pans.
They are also light pans, which are comfortable and safe to handle.
The pans have tubular stainless steel handles that do not heat up.
They can be used on all types of cooktops.
Maybe you are interested
In case Bergner Neon Rose pans aren't what you're looking for. There are other equally recommended alternatives. For example, you may be interested in buying a single pan. In that case, we recommend the Tefal Extra Brownie pan .
It is also a frying pan made of aluminum. However, it features an environmentally friendly Powerglide non-stick coating. It does not contain PFOA, or any other harmful chemicals or materials.
In addition, it is a pan in which you can cook with little oil. It is even compatible with cleaning in the dishwasher.