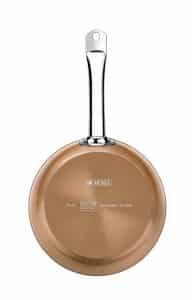 We were looking forward to introducing you to the latest from the iconic Spanish brand Monix. This brand, which has been in our kitchens for more than 60 years, has been able to adapt perfectly to what users ask for and in recent times they have launched many interesting products. One of them are these Monix Copper, the latest of their great releases.
The Copper pans Monix can say that together the best of the brand. They have all the technologies that have been applied to previous models to make these Copper pans a best seller. What technologies are those? And are they worth the price? Let's see!
MATERIALS
We must start by saying that, although they look like this, they are not copper pans. In fact, virtually no skillet on the market is made of copper for reasons of toxicity, weight, and strength. All copper utensils in the kitchen have been replaced by non-toxic materials.
However, the color of these pans does remind us of those old copper pans, but it is nothing more than that, aesthetics. Instead, at its "heart" we find an ultra-resistant 4mm forged aluminum alloy, ready to withstand the onslaught of years.
The 4mm forged aluminum makes these Copper de Monix pans really light and can be easily operated with one hand. This material is stable, durable, resistant and above all, very light.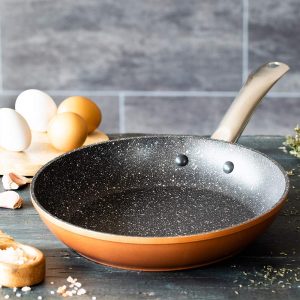 COMPATIBILITY
The historic firm Monix is ​​aware that customers are increasingly demanding, and every time we ask for more for less. Many cooks demand that our skillet be compatible with everything. And in this aspect, these Copper de Monix pans come out very, very well standing.
We will start by saying that they are fully compatible with induction cookers. In this way, you can use the Monix Copper pans in gas, electric, glass-ceramic or induction cookers. They will work on whatever surface you put it on.
Second, they are compatible with daily use in the dishwasher. Not all models withstand the very strong pressure of the jets on the non-stick surface. This model yes, you can wash them daily in your dishwasher without fear of deterioration.
And finally, and it is something that we love, the compatibility with the oven. These Monix Copper pans are fully compatible with use in an oven up to 220ºC. What does this mean? Well, you can start cooking on the grill and finish gratinating it in the oven. It's fantastic.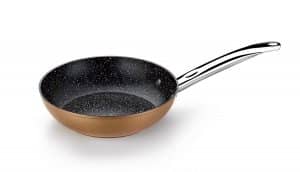 ANTI-ADHERENCE
This section is undoubtedly the most important of a frying pan. The Monix Copper pans have a three- layer non-stick coating of the well-known Quantanium, which we have seen in other models of the firm. We have to admit that this non-stick surface is really amazing. Nothing sticks and it is very easy to prepare any type of recipe without fear of spoiling it.
The great advantage of these pans is that this surface is reinforced with titanium particles. What does this mean? Well, another one with Titanium particles has been superimposed on the Quantanium surface, which makes it very difficult for something to damage the non-stick surface. This way, even if you eventually bump it, or scratch it, the non-stick surface will remain intact.
Also, if you are concerned about your health, these Copper de Monix pans are your perfect frying pan. On the one hand, the hardness of its non-stick surface with Titanium means that the Quantanium layer never comes off. And on the other hand, this surface is free of PFOAS.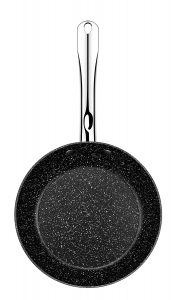 MAIN FEATURES
4 mm pressed aluminum: guarantees extreme strength and durability, together with a very low weight.
Oven, Induction and Dishwasher Compatibility: For many it is very important to be able to finish a recipe with a bake and then throw the pan directly into the dishwasher.
Stainless steel handle riveted to the pan: more ergonomics and resistance. The powerful rivets ensure that the handle does not move or dance no matter how many trots you have.
Save Energy System: a special diffuser base designed to acquire temperature much faster and retain it longer afterwards. With this we manage to reduce the time we have to have the fire lit and thus save a few kilowatts on the electricity or gas bill.
Free of PFOAS: This frying pan is manufactured in compliance with the strict quality controls of the European Union. This is a guarantee that this pan is free of toxins such as PFOAS.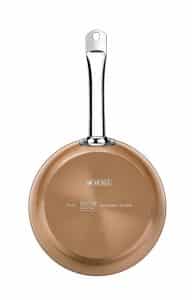 BETWEEN YOU AND ME
To speak of the Monix firm is to speak of the history of cuisine in Spain. This brand has been manufacturing products of the highest quality for six decades. Therefore, each time new products have been released to the market, we have been waiting to see their evolution.
And it is now, indeed, when we see that these Copper pans from Monix have combined the best of the brand. The pressed aluminum, the three-layer Quantanium surface with Titanium, the compatibility with ovens… Everything has been perfectly thought out to make these pans a true best seller. Do you want some quality? Do not think about it.
ADVANTAGES OF MONIX COPPER PAN
But lightened for easy handling – ideal for the elderly or very infirm
They take care of your health thanks to its PFOA-free ECO non-stick.
Very high resistance thanks to the high thickness aluminum and the riveted stainless steel handle.
Outstanding nonstick durability with Quantanium tri-coat.
Manufactured under the quality standards of the European Union.
The guarantee of a historical brand with more than 60 years manufacturing pans.
DISADVANTAGES OF MONIX COPPER PAN
They have just been launched on the market and it is not easy to find them in department stores.
YOU MAY BE INTERESTED
These Monix Copper pans were born with a star under their arms. They have everything you could ask for in a skillet. However, if for whatever reason this pan does not convince you and you want to evaluate another model from the same firm, there are more options.
If you want to evaluate the most Premium Monix frying pan, we leave you the analysis of the Monix Mineral. It is the best skillet of the firm, very similar to this one but with some additional details such as the MetalTec. Its price is somewhat higher, but it is certainly worth it.