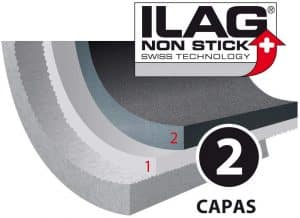 The Metaltex Durior are pans made of cast aluminum, 20, 24 and 28 centimeters in diameter and non-stick with 2 layers. It is a pan suitable to be used in all types of kitchens, and its manufacture, based on cast aluminum, provides it with robustness and durability over time, as well as many other advantages. All its materials are certified toxic free (free of PFOA and BPA) and have two ILAG non-stick layers, from Swiss technology, brand of the Metaltex house.
But let's take a closer look at these Durior pans from Metaltex !
Materials
Its main material is cast aluminum, but we break down some specifications below:
Cast aluminum, one of the most innovative on the market, resistant and highly durable.
Ergonomic soft touch handle, very handy to avoid accidents in the kitchen because it does not transmit heat, and has a soft touch finish.
Materials free of PFOA and BPA, with a certificate of manufacture free of toxic products, which are harmful to health, as some non-sticks allow chemicals and toxins to pass into food, so their use offers a total guarantee of safety and health.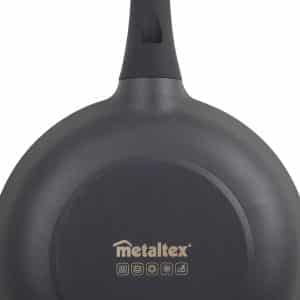 Features of the Metaltex Durior frying pan
The Durior frying pan from Metaltex is one of the most economical and functional frying pans from the Swiss firm Metaltex, and has the following characteristics:
It has two non-stick layers ILAG, a specific brand of the house, of Swiss technology for non-stick coatings in appliances and kitchenware.

Its manufacturing system with Swiss Brazing Bottom technology, which reduces energy consumption, is capable of reaching an optimal cooking temperature in 20% less time than other pans with similar characteristics.

Greater heat surface at its base. Food is cooked before, so energy savings are greater.

Mango ergonomic soft touch finish, which is heat resistant, heat insulation and protection against accidents and burns in the kitchen. It has a smooth finish to the touch.
It is made of cast aluminum, one of the most sophisticated and versatile materials for making pans because it makes them resistant and highly durable.
Made with PFOA and BPA-free materials , with a toxic-free manufacturing certificate.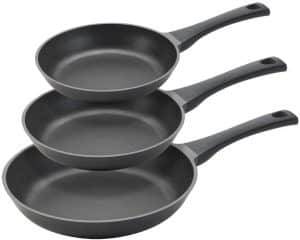 Advantages of Metaltex Durior pans
This frying pan is made of a state-of-the-art material, increasingly present in the manufacture of pans: cast aluminum. This material is very sophisticated, since in its elaboration, in the forging process, the pans are produced in a single piece. It doesn't have any binding, which makes it all pluses. On the one hand, dirt does not accumulate in corners and assembly places, as in other pans. And on the other, the parts can never loosen, which ensures robust operation and that the pan can last much longer in perfect condition, making it a safe and profitable economic investment. In addition, it is a high-quality material.
Although the greatest advantage of pans made from cast aluminum is their ability to maintain the temperature much better than other materials, since this material absorbs heat much more efficiently than pans with other types of manufacture, while The energy consumption required during cooking times is reduced. It is advisable to take this fact into account and cook with the heat a little lower than usual, since the cast aluminum pan reaches the temperature earlier and keeps it better for longer.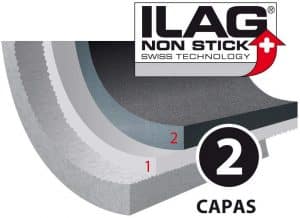 Anti adhesion
It has an ILAG anti-adherence system of Swiss technology, with two layers. This technology is environmentally friendly, as less oil is needed for frying. In addition, it is a system, used in the production of Swiss non-stick coatings (kitchenware, bakeries and small appliances) highly resistant to corrosion.
Like any non-stick system, to keep it in optimal conditions we always recommend using wooden or silicone utensils. If you use stainless steel utensils directly on the non-stick surface, it is easy to grate it. But this does not happen with these pans … it happens with all.
For this reason, we recommend kitchen utensils that are respectful of non-stick pans, such as silicone utensils. They are inexpensive, and will save you a change of pans every few years.
Ah! You can't think of cutting something directly onto the pan, right? If you said no, this skillet is perfect and will last you half your life.
Between you and me
The Metaltex Durior frying pan is one of the most economical pans of the firm, and has an excellent value for money given the high quality in the manufacture of its materials, as well as the technologies used in its production. These materials and the manufacturing process ensure resistance and durability over time.
The cast aluminum construction guarantees greater hygiene in cleaning and maintenance, while its Swiss ILAG non-stick layers are more resistant to corrosion and require less cooking oil.
It should be noted that in all the manufacture of the Durior frying pan from Metaltex, materials free of PFOA and BPA have been used, with a certificate of manufacture free of toxic products.
Maybe you are interested
If the Metaltex Durior frying pan is not what you were looking for, you may be interested in taking a look at the WMF Permadur frying pan, made of completely non-stick aluminum. The material of its structure is very resistant to all kinds of temperatures. Its non-stick coating allows you to maintain an exact control of the temperature while it cooks, facilitating the cooking of any recipe. They do not reach temperature peaks and the heat distribution is very homogeneous.