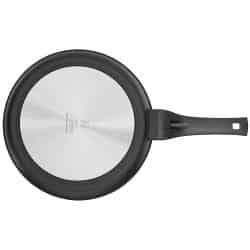 The WMF Permadur frying pan is manufactured by the renowned brand WMF, originally from Germany. This premium firm has a wide range of excellent quality kitchen and home items.
WMF started its production in 1853 in Geislingen, beginning with the commercialization of kitchen elements for the home. It is famous for developing a pressure cooker in 1927! Its international recognition is due to the quality, design and resistance it achieves in each of its products.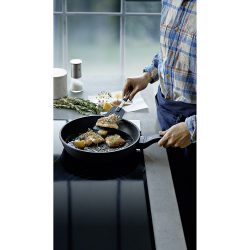 The WMF Permadur frying pan has a very robust structure and achieves a very good distribution of heat over its entire surface, which can reach up to 250º. We will see this more detailed point below.
This Permadur model from WMF is available in several different sizes starting at 20 cm, which allows us to adapt each pan to our recipe.
For 160 years, WMF has been looking for a way to prepare the best recipes combining tradition and technology. Today, they are committed to being a sustainable company with quality, durable kitchen products. But do they get it? Let's see more about this pan.
There are two finishes for the WMF Permadur pan. The Permadur Element and the Permadur Premium. The main difference is that the Premium finish has a higher thickness forged aluminum structure, while the Permadur Element has cast aluminum and a steel coating on the outside. We must say that both seem excellent options and there are no major differences in terms of durability or resistance.
MATERIALS
WMF pan Permadur , is entirely made of aluminum and , of course, is totally non – stick. The material of its structure is very resistant to all types of temperature.
Its non-stick coating allows you to maintain an exact control of the temperature while it cooks, facilitating the cooking of any recipe. They do not reach temperature peaks and the heat distribution is very homogeneous.
This WMF Permadur model is manufactured using a forging process. Let us remember that the properties of aluminum as a heat conducting material are excellent. And its resistance is more than proven over the decades. It won't be as strong as a stainless steel or iron skillet, but it is much lighter and more manageable.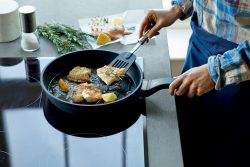 On the other hand, it manages to retain heat and maintain its temperature for several minutes after turning off the kitchen. In this way, if we manage the temperature well, we can save money on the electricity bill.
And finally, this WMF Permadur is suitable for all types of surfaces; It is designed to work without any problem in gas, glass-ceramic, electric or even induction cookers . In addition, it is compatible with the oven. You can cook by placing the pan in the oven as long as it does not exceed 70ºC.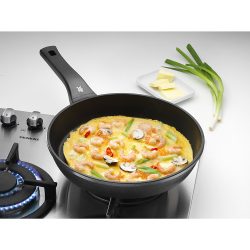 NON-ADHERENT
This Permadur frying pan is made of forged aluminum, but this material in itself does not give it non-stickiness. Its non-stickness is guaranteed thanks to a traditional surface similar to Teflon but of its own manufacture.
This surface will always provide us with an outstanding non-stick as long as we do not use metal utensils. Remember that metal utensils are the worst enemy of non-stick surfaces, unless they are coated with Titanium. This is not the case with these pans. Its non-stickiness is outstanding, but we must use wooden or silicone utensils.
The WMF Permadur frying pan can be washed by hand or in the dishwasher without worrying about damaging its structure. Still, we always recommend doing it by hand because of how simple it is. As nothing sticks to the pan, putting it under running water will make it impeccable for the next use.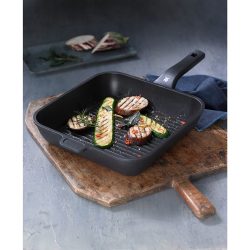 SPECIAL FEATURES
Super Light Cast Aluminum : Aluminum makes the pan achieve better heat distribution. Due to its properties, it acquires cooking temperatures very quickly but does not reach the very high temperatures of other iron or stainless steel pans. Therefore, it is more difficult for us to spoil a recipe due to an excess of temperature. And the best part, the material used in this Permadur frying pan is really light and makes this frying pan super easy to handle.
Transtherm Base : this is the great development of the WMF firm. This technology applied to the base, allows the acquisition of temperature to be much faster and the heat is distributed evenly throughout the pan. The heat in the center will be the same as in the ends, avoiding overheating.
The frying pan is suitable for all surfaces: including induction and ovens. It is suitable for gas hobs, induction hobs, electric and glass ceramic hobs. Regarding the ovens, always at a maximum temperature of 70ºC.
5.5cm Height : The height of these WMF Permadur pans is slightly above average. Thanks to these 5.5 cm we will partly avoid that the oil splashes out of the pan and that the liquids overflow.
Ergonomic handle: 100% Anti-thermal and ergonomic, which together with the light weight of the set allows easy handling even with one hand.
Also available on grill : It is common for large firms to also present a grill next to their pans. In the case of the WMF Permadur, it is a square grated grill measuring 28 centimeters on a side. Perfect for grilled meat, fish and vegetables!
BETWEEN YOU AND ME
This is a high quality frying pan from the prestigious German firm WMF. It stands out for its lightness, ergonomics, non-stickiness and its high price. As we always say, WMF pans are not cheap pans because the goal of this premium firm is not to compete on price. When they develop a product they want it to be the best in their range.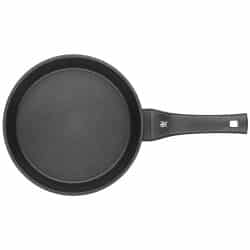 The German brand has pans made of stainless steel, aluminum, titanium, ceramic … And in each model it tries to develop the best frying pan. In this case, it presents an aluminum frying pan with a traditional PFOAS-free non-stick that, without a doubt, becomes one of the best aluminum frying pans in its category.
Advantages of WMF Permadur pans:
Because the pan is made of aluminum, it is durable and highly energy efficient.

It has an ergonomic handle with heat protection.

Suitable for all types of cookers, including induction ones as well.

It is suitable for use in the oven (although only up to 70ºC)

They have a 5-year guarantee, which shows the commitment and quality of the brand.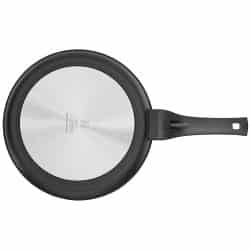 Disadvantages of WMF Permadur pans
Its price compared to other aluminum pans is high.
In the oven it only supports 70ºC, which may be insufficient for certain recipes.
YOU MAY BE INTERESTED
If you are looking for aluminum pans but want to spend a little less money, you have options of a similar quality and in any case outstanding. For example, Amazon Basics Pans frying pans have very good finishes and are much cheaper.
On the other hand, if you are looking for a Spanish signature, take a look at the Monix Chef pans . It is a historical brand that has developed pans with an unbeatable quality / price.