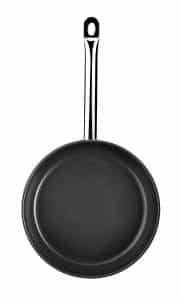 The Monix Chef are a set of 3 pans, made of stainless steel, with a non-stick coating, suitable for all types of kitchens. In recent years, the brand has become one of the benchmarks and leading brand of renowned kitchen chefs, due to its versatility, as it is resistant and suitable for cooking in induction cookers. It is also very durable and perfect for daily use, since the pans will always be in the best condition to prepare the most complex recipes.
The Monix brand, with more than 60 years of experience in the manufacture and production of kitchenware, stands out for its production of kitchenware, both nationally and internationally, providing the guarantee of an experienced and veteran brand in this sector. Very consolidated as a leader in the manufacture and commercialization of products for household items, it stands out for its constant investment in innovation and development of new products and technologies. The Chef de Monix pans are, without a doubt, a good example of this. Let's see them!
Materials
One of the main advantages of this Chef de Monix pan set is undoubtedly the material from which it is constructed. Stainless steel is one of the materials preferred by the world's most renowned chefs for several reasons. First of all, its extreme resistance to shocks and intensive use. On the other hand, the excellent conductivity of stainless steel ensures that the pan will heat up very quickly and evenly. This allows us to save time and money.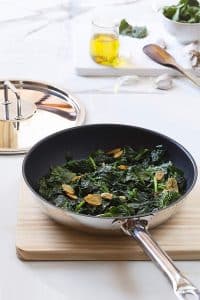 And last but not least, for a health issue. Stainless steel is one of the safest materials for the kitchen (even for medicine). It does not transmit heavy metals to food and withstands temperatures of several hundred degrees without flinching. It is, without a doubt, one of the best materials. The inconvenient? The weight is usually somewhat higher than aluminum pans. This will not be a problem for most people. It can be, however, if the person who is going to cook is very old or is especially weak due to some disease, but this is not usually the case.
A stainless steel pan, in 99% of cases, is a success.
Monix Chef main features
The Monix Chef pan set is a very adaptable set of 3 pans that works very well in any type of kitchen. The main characteristics of this set of pans are the following:
Set of pans made of

18/10

stainless steel

with triple diffuser bottom, for an excellent distribution of temperature during cooking

High quality classic non-stick coating, very durable and

100% PFOA free.

It has a

full induction bottom

, which is compatible with all heat sources, including induction cookers.

Ergonomic handle made of stainless steel with thermal insulation to avoid burns and accidents in the kitchen.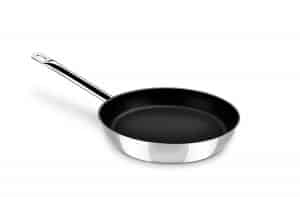 Non-stick
The Chef pans Monix has an anti – adherent coating classic high quality, durable m and 100% free from PFOA. They are completely safe to cook, since reaching high cooking temperatures, toxic elements will never transfer to food. This is of vital importance, and it is necessary, in any case, to always check the non-adherence materials on the manufacturing label, and that they are free of BPA.
Advantages of the Monix Chef pan set
The Chef de Monix non-stick frying pan combines experience in quality and great cooking efficiency, thanks to its manufacture in 18/10 stainless steel with triple diffuser bottom and a PFOA-free Classic non-stick coating .
Thanks to its 18/10 stainless steel construction, it is very resistant and durable. In addition, its non-stick coating ensures perfect results in any type of cooking.
Its main advantage is that it is suitable for all types of cookers: electric, glass ceramic, gas or induction. In addition, its triple full induction diffuser bottom makes it possible for all the heat to be distributed so that the food has a perfect and homogeneous cooking.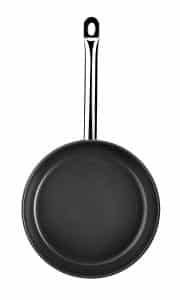 Its professional ergonomic handle , also made of stainless steel, is thermally insulated to prevent burns and accidents in the kitchen.
It must be remembered that stainless steel is one of the best materials in the production of kitchenware, especially pans, since in most cases it can last for many years, reaches high temperatures without deteriorating and protects the non-stick layers, and it is a material that never rusts, like iron or aluminum.
Between you and me
Perhaps it is not one of the most popular or well-known pans of the brand, and it needs a boost to begin to be known among users who often need pans in their kitchen: professionals in the field, hospitality, restaurants, etc., although It is one of the pans of the Monix group that has a better value for money.
Its manufacturing materials are of high quality, which ensure magnificent performance in the kitchen, for continuous and daily use, since stainless steel is highly resistant and has a long durability over time. Not surprisingly, the Monix brand is the favorite of many well-known chefs, who use Monix cookware almost daily.
Maybe you are interested
If this is not the type of pan you are looking for, you may be interested in taking a look at Tefal Emotion, one of the best pans made of stainless steel. It has an aluminum interior, while the entire exterior is made of the best quality 18/10 stainless steel . They are really clean in terms of design, and they are very minimalist. They are 7 centimeters high, which will allow us to move food more easily. Its non-stick surface is also reinforced with Titanium particles .
These pans do not have rivets or screws in their union, which results in greater resistance as they do not have moving parts. In addition, this greatly facilitates cleaning . It prevents food scraps from being stored, so cleaning it with a simple napkin is much easier.