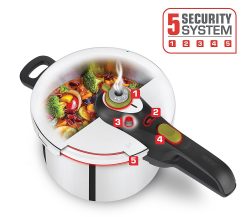 Tefal is a brand that has been in the market for more than 60 years, accompanying all its users. Tefal has shared the best moments of family and friends with its appliances for a long time. Those moments that we remember as full of joy, happiness and celebration. This company has worked to improve the lives of users with its products. They are always offering new and better tools for you to get the most out of your personal life. That is why it has developed the Tefal Secure 5 NEO pot .
This has a capacity of 4 liters or 6 liters for steam cooking and so you can prepare the most delicious dishes. In addition, it has 5 security systems so that you are safe and calm when cooking.
Here you can see how the Tefal Secure 5 NEO pot works much closer. Inside video!
5 Pressure cookware Secure 5 neo
MATERIALS
The Secure 5 NEO Tefal is made from the finest materials. The best quality stainless steel ensures that we will have an absolutely resistant product that will allow us to enjoy family moments in complete safety and guarantees that we will have a product that will last for many years.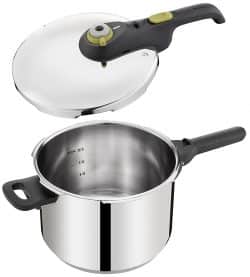 COMPATIBILITY
One of the big problems with the old pots is that they were not compatible with all the kitchen systems that currently exist. Tefal knows this and that is why they have built the Secure 5 NEO pressure cooker. This pot is completely compatible with all types of cookers, including induction and glass-ceramic. Also, it can be washed without problems and very easy in the dishwasher. Ensuring the comfort of users.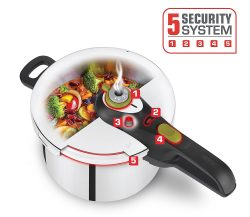 MAIN FEATURES
The Secure 5 NEO pot that Tefal has developed has a large number of features that will significantly improve your life. These have been designed with safety paramount. And also so that we do not have a problem when we use them. Its security system is completely exclusive. It will allow you to cook in a much safer way. Next, it offers you the following features:
It has an automatic lock. This is very safe for both closing and opening the pot. It guarantees a good cooking experience.
In addition, it has a pressure control valve. This will ensure that the pot does not explode due to excess heat.
On the other hand, it has a safety valve and an excess steam control. Both allow a controlled and trouble-free steam release. Completely safe for users who use it.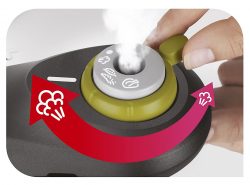 TWO ADJUSTABLE PRESSURES
In addition, the Tefal Secure 5 NEO is a pot that offers many more features, the first is that it has two pressure cooking programs :
The first is for vegetables. So that these are well cooked, but not overdo it so much as to be too soft.
And the second is for meat and fish. This will allow us to cook our food in a healthy and very delicious way.
The pots Tefal Secure 5 Pressure NEO are prepared as I mentioned earlier with high quality stainless steel. They work for all types of kitchens and they can be washed without problems in the dishwasher. These are pots that guarantee tranquility and speed in the kitchen, perfect for all those who want to reduce time in the kitchen.
Lastly, these pots do not warp over time. Together, they allow us to have a high-quality product for years. That is why Tefal offers a 10-year warranty on the product.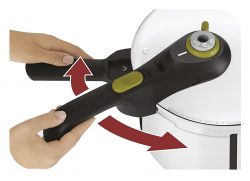 BETWEEN YOU AND ME
Tefal has created an excellent quality pressure cooker that guarantees that we will have a product for a long time and that it is a very strong contender in the market. Well, with the experience that the brand has and modern technology, we guarantee that this is an excellent pressure cooker. Not only will it allow us to cook our food, but we will also be able to spend more time with the family, without fear of an accident while cooking.
Advantages of the Tefal Secure 5 NEO
1-. One of the main advantages of the Tefal Pressure Secure 5 NEO is its two cooking levels. This allows us to preserve all the benefits that each of the foods we are preparing have. That is, we can take much better advantage of the nutrients that food offers us.
two-. In addition, it has a 10-year warranty. It means that it will allow us to be completely sure that we will have a product for a long time. The excellent quality offered by the brand will always be maintained.
3-. We cannot fail to mention among its advantages the 5 security systems of the Tefal Secure 5 NEO pot. It features safe closing, safe opening, pressure control valve, safety valve and the exhaust gasket as a wonderful safety measure .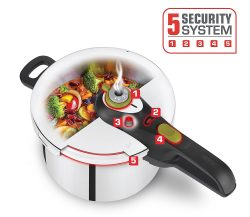 Disadvantages of the Tefal Secure 5 NEO
1-. It may be a bit complicated to handle at first and we may have to read the instruction manual much more in detail. But, this one is very well crafted. So, we will not have major problems.
YOU MAY BE INTERESTED
If we have not convinced you or you want to continue looking at all the options that the market offers you, we recommend that you take a look at the Tekna pressure cooker from Bra. You find this available in 4 liters and 7 liters of content. It is a pressure cooker that guarantees that our food is cooked in the shortest time.
Like the Tefal Secure 5 Neo, Bra is a brand that has developed excellent technology for its products and kitchen tools that will provide us with security and more time with our family and friends. It is made of 18/10 stainless steel and is completely compatible with all types of kitchens. Including induction cookers. Also, if you are concerned about washing, you can rest easy. Well, this pot will guarantee that we can wash it without problems in the dishwasher.
Finally, the Tekna de Bra is a pot that has 4 safety systems. It has a safety valve, operation, opening blocking system and a depressurization window. These are some good ways to guarantee total peace of mind when cooking.