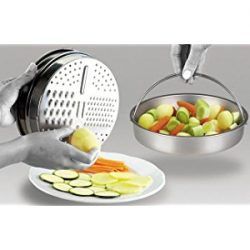 If there is a Spanish company that comes to mind for all of us, it is Fagor. A brand that has been in our kitchens for many decades, specifically since the 40s ! They have known how to advance and adapt to the times, and aware of the lack of time and the need to save families, they have presented this new express cooker: the Fagor Rapid Xpress.
Fagor has chosen to manufacture this 18/10 stainless steel pressure cooker . As we know, it is an ultra-resistant material that watches the years go by with indifference. This material makes them compatible with all induction, glass-ceramic, electric and gas cookers.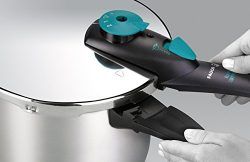 In their design, these Fagor Rapid Xpress expel steam vertically, directly into the extractor hood so as not to accumulate odors.
As for the pressures that it is capable of reaching, it is possible to regulate it at two levels. These levels will depend on what we are cooking (vegetables are not the same as a large piece of meat). In this way, we can regulate it to 0.55 bar of pressure, or to 1.05 bar. In the recipes that we read we can see what pressure we need. It is perfect!
THE BEST QUALITY, PRICE
As for safety, it is more than guaranteed. Any pressure cooker manufactured in the European Union is in itself a guarantee of quality. The Fagor Rapid Xpress fully comply with these safety characteristics. They have up to five safety systems and a self-cleaning valve.
Furthermore, Fagor is so sure of the quality of this Express Pot, that it offers a Rapid Xpress !!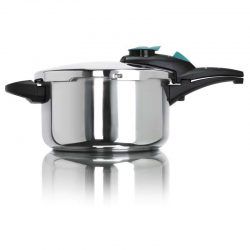 The game we are analyzing here, which in our opinion is the best quality / price ratio, is made up of several pieces. On the one hand we have a 4-liter pot , perfect for preparing a quick meal. On the other, it also includes a larger 6-liter pot to make food for several days or several people. The lid is compatible with both pots.
In addition, the Fagor Rapid Xpress comes as standard with a basket for steaming in just a few minutes. This is one of the best qualities of express cookers. It is really interesting for such a low price to find a set of Pots that includes 4 liters, 6 liters and a steamer. In our blog we analyze why our health will appreciate steaming in an express pot.
FAGOR RAPID XPRESS SAFETY SYSTEMS
On the other hand, your safety is more than assured. Let us remember that Fagor manufactures in Spain, and that already provides it with really high safety standards. On the other hand, 10-year guarantee Fagor Rapid Xpress has five security systems that will come into action in the event that you forget it in the fire.
For more security, it has a self-cleaning valve and automatic lid closure. When it reaches a high pressure, the lid is locked to ensure that it does not open.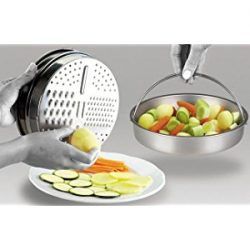 Fagor is a manufacturer that has been in our kitchens for eight decades, and its products have a deserved good reputation. But they are also the ones who trust their products, and that is why this Express Cooker comes with a 10-year guarantee from Fagor.
MAIN FEATURES:
Built in 18/10 stainless steel
Includes 4 and 6 liter pot + Steamer
Two pressure levels
Five security systems
Suitable for all types of cookers, including induction
10 year limited warranty
WHO WOULD BE INTERESTED?
The best thing about this Express Rapid Xpress Pot is a 10-year guarantee, for bringing two pots of different capacities, and adding the steamer, makes it one of the cheapest on the market. Aesthetically, it may not be the prettiest on the market (it isn't), and it's not the fastest either. Obviously it cannot compete in design, finishes and speed with a WMF or WOLL Express Cooker, but it does cost a third. Therefore, it can be a perfect purchase for those who do not want to spend a lot of money, be a practical person and are not going to give it a really intensive use.
[content-egg module = Amazon template = list]