Pans
Magefesa Stained Glass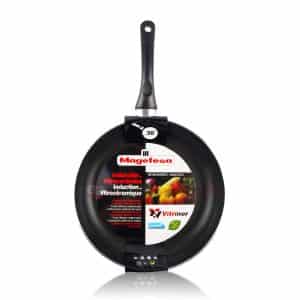 When choosing utensils for our kitchen, there is a wide number of brands where we can buy kitchen utensils. Each of them has characteristics that make it unique. Magefesa is one of them, and after knowing the characteristics of its Magefesa Vitral line , you will want to renew your pans and casseroles!
Magefesa is a Spanish brand, with more than 50 years of experience in the manufacture of household items. The most famous utensil of the brand are pressure cookers, but its trajectory began in 1948 with the manufacture of iron pans. And now, it culminates its launches with high-quality pans like these Vitral pans from Magefesa.
Since the opening of their first factory, they have been dedicated to the manufacture of kitchen utensils: aluminum pressure cookers, aluminum pans, and other stainless steel products. It was in 1970 when they expanded their production and began to manufacture small appliances and other kitchen products: hand mixers, coffee makers, irons … In that same year, the manufacturing expansion took place : they began to manufacture kitchen utensils for the United States .
MATERIALS
The first thing that we can highlight about this set of Vitral pans is that they are made of stamped aluminum. It is a material of great resistance and durability. It is resistant to high temperatures, the shock and corrosion of water. And this material is compatible with all types of cookers: gas, glass-ceramic and induction. Regarding the oven, the firm does not specify anything, so for prudence we do not advise putting them in the oven. But later we will discuss all the advantages it offers us.
Although aluminum is hard and resistant, it is also a very light material . In this way, the Magefesa Vitral frying pan becomes a very manageable frying pan for everyone, even with just one hand.
Another of the materials that Magefesa uses to manufacture kitchen products is stainless steel. It is a material of high resistance and durability. It is resistant to high temperatures, corrosion, shocks …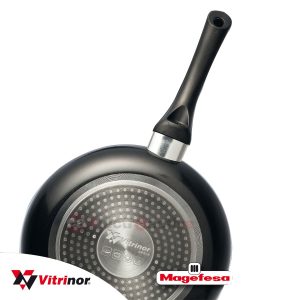 ANTI-ADHERENCE
These Vitral pans from Magefesa are made with PFOA-free non-stick . To guarantee and certify the safety of the pans, the non-stick is composed of a double layer of coating. In this way, it is much more resistant and durable.
In addition, thanks to this non-stick bilayer, it can be cooked with less oil. You will have delicious dishes, with little use of oil, and very easy to clean.
PFOAs are chemical components used to fix the non-stick coating to the pan, and are released when the pans reach high temperatures. It is very important to have pans with a PFOA-free non-stick coating , since this substance can be transmitted to food and can be toxic.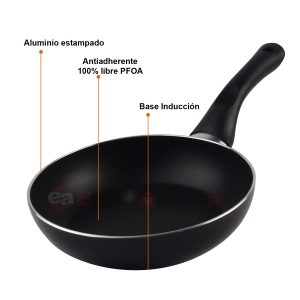 TECHNOLOGIES OF THE MAGEFESA VITRAL PAN
The exterior and interior finish of Vitral pans is very traditional: matt black finish . The fact that they have a traditional design does not mean that they include some of the best technologies in the kitchen world: non-stick bi-layer, diffuser base …
Manufactured in non-deformable stamped aluminum.
Ergonomic heat resistant handle for safe and easy handling of the pan.
Magefesa Vitral pans are available in various sizes: 18 cm, 20 cm, 24 cm and 28 cm.
Black finish, both inside and outside, matte effect. It is an elegant and traditional design.
Non-stick bilayer free of toxic and PFOA chemicals. This implies that it is a quality non – stick . Thanks to the non-stick bilayer, you can cook with less oil, and have a healthier meal.
Heat diffusing bottom, for a better distribution of the temperature throughout the pan. This helps save energy.
Suitable for all types of cookers: glass ceramic, gas, even induction.
Suitable for dishwashing.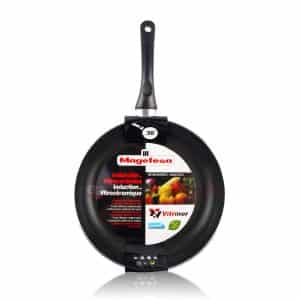 BETWEEN YOU AND ME
They are a great option for large families as well as for couples and people who live alone. This is due to its multiplicity of options in terms of sizes.
This line of frying pans has numerous advantages that the consumer should be aware of at the time of purchase. Knowing the advantages and disadvantages offered by a kitchen product can be decisive when choosing one brand or another. As we know this, we leave you the advantages of the Magefesa Vitral pans.
Aluminum is a material that reaches high temperatures. This means that it retains heat and allows you to turn off your kitchen fire sooner. If you turn off the fire earlier, you save energy.
Although it reaches high temperatures, aluminum is a perfect conductor of heat. This means that the heat is spread over the entire surface of the pan. There will be no overcooked parts, even burned, or raw parts.
Aluminum is also a highly resistant material . Withstands high temperatures without deforming, and is resistant to shocks. Therefore, if you still don't know how to handle a frying pan well, the Magefesa Vitral pans are the ideal ones for you !
It is also resistant to corrosion. Thanks to this, this pan is dishwasher-safe. It does not need specific care, a little soap and water is enough.
When you say that it is a material of great resistance, you will think that it is a very heavy frying pan . Unlike! The aluminum with which these pans are made is very light, making the pan very manageable. This is perfect for people who don't have a lot of cooking experience, or don't have a lot of strength.
The stamped aluminum is compatible with any type of cooker, induction included. Therefore, if you take care of them, well, these pans will be able to accompany you throughout your life, even if you change the kitchen.
YOU MAY BE INTERESTED
If you are not convinced by these pans and you want to value another Spanish firm, the Valira brand has several lines of kitchenware. And the Valira Black are one of the best pans of this firm that has been in our kitchens for several decades. They are very good pans at a very competitive price.