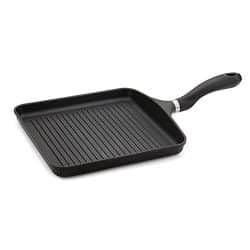 The pans that we present today are manufactured by the well-known Valira brand. It has been many years since this firm sneaked into our kitchens demonstrating that quality products can be manufactured in Spain, with local labor and at very reasonable prices. And these Valira Black are an example of it.
And if we look closely, many manufacturers have resorted to manufacturing in distant countries where labor is cheaper, although the end result of the product may suffer. Valira, for its part, remains faithful to its principles developing products such as these Black pans, high quality under the quality standards of the European Union.
But hey, let's see if they are asking for the price or not some pans that are worth it. As always, we leave you a short video presenting the product. You can see the main characteristics and finishes.
VIDEO
SARTÉN BLACK INDUCTION – VALIRA.COM
MATERIALS
Valira is a traditional brand that, although its products are of very high quality, at the moment it is not oriented to the Premium product. Almost all of their pans are made of aluminum. It does not mean that aluminum is a worse material than stainless steel (in fact, it has many advantages that we will see later), but that it is cheaper.
Thus, these Valira Black have a structure and a cast aluminum core that is shaped. This resulting material is really light, much more than any other material. In fact, the weights of this pan range from 600 grams to 1.4 kg, very successful figures. This will allow it to be manipulated very easily with one hand.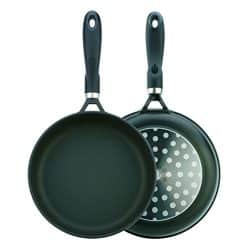 Likewise, it is strong enough to prevent it from bending if it is hit. And regarding resistance, the maximum temperature that it is capable of reaching without being damaged is 250ºC. In practice, it is really difficult for us to reach those temperatures on the cooktop. It will be a different thing if we want to put it in the oven, in that case we should value other stainless steel or iron pans.
This Valira Black frying pan, due to its materials, is compatible with all types of cookers: glass-ceramic, induction, gas and electric. It can be used without any problem in the dishwasher (when it has cooled down a bit).
However, we do not recommend putting it in the oven. If you would like a baking pan there are other more recommended models made of stainless steel or iron.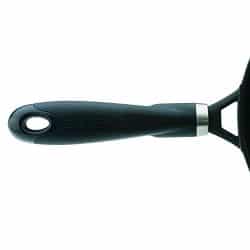 ANTI-ADHERENCE
As for the non-stickness of Valira Black, it has an ecological multilayer technology free of PFOAS. The first day of use the non-stick will be outstanding, but it can be easily damaged if we use metal utensils on the pan. We should not cut directly on the pan or use metal spatulas or skimmers, unless it is reinforced with Titanium, which is not the case.
Being a little careful, using the right kitchen utensils and avoiding washing it when it is very hot, the initial non-stick will last for many years in perfect condition.
As a positive point of this Black model from Valira, it also has non-stick on its exterior. This seems very practical to us, because on many occasions the food jumps out of the pan and if it is not non-stick on the outside, cleaning it becomes very difficult. In this way, by putting the pan under the tap for a few seconds, it will be clean and ready for a new use.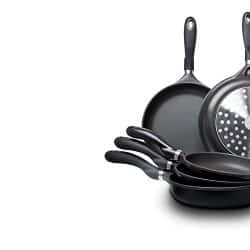 SPECIAL FEATURES:
Made in Spain: This in itself is a guarantee. It gives peace of mind that a product is manufactured in the European Union because, as we know, quality standards are much more demanding. In addition, we are certain that materials that could be harmful have not been used in its construction.
6mm Diffuser Bottom – A thick bottom like this allows the pan to come to temperature much faster. In addition, it ensures that the distribution of heat will be homogeneous and will reach all points of the pan equally, both in the center and at the ends.
Lightened weight: the cast aluminum construction of this Valira Black model allows for very low weight. Thus, it ranges between 600 grams and 1.4 kg.
Ergonomic handle: In addition to the above, the ergonomic handle makes handling these pans really easy with one hand, even by weak or very old people.
4-year warranty: The quality controls are very strict, but everything can go wrong. If it should break down or have a defect, you have a four-year warranty.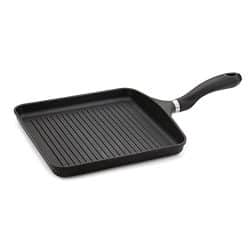 BETWEEN YOU AND ME
This is a high quality frying pan, which shows that Valira wants to get closer to the Premium sector every time . However, their prices are still in the upper-middle range.
We think that the Valira Black model is a very interesting option for those who cook 4 or 5 times a week and are especially careful. For very intensive users, there are options that can be better (although more expensive).
However, it is like everything, it depends on the price. If these Valira Black find themselves with an important offer, do not think about it too much, you will have pans for years.
NOT JUST SKINS
When Valira develops a range, it doesn't just make a frying pan, but a whole family of products. We are going to see here the ones that interest us, which are a Grill for meat and a Grill for fish. The difference is that the Meat Grill has longitudinal marks to penetrate the meat and allow the meat to seal earlier and be juicy on the inside.
The Fish Grill, on the other hand, is a smarter surface although it has small grooves like a honeycomb to facilitate the distribution of the oil (if you use it) and the temperature.
ADVANTAGES OF VALIRA BLACK
They are very light and ergonomic, it is easy to manipulate it with one hand.
They are made in Spain, which is a guarantee.
They have a four-year warranty, in case they have a manufacturing problem.
Free of PFOAS, ecological and healthy.
100% compatible with induction and the rest of cooktops.
High energy efficiency thanks to the 6 mm diffuser bottom, achieving lower electricity consumption and saving time.
DISADVANTAGES OF THE VALIRA BLACK
Be careful with the non-stick surface, avoiding using metal utensils on the non-stick surface.
They are not ideal for cooking in the oven, for that a stainless steel or iron skillet will always be better.
YOU MAY BE INTERESTED
If you want to evaluate an option of similar quality and price, we really like the BRA Prior. It is always on the list of best-selling pans and its quality is more than proven. The only thing is that it has bold colors, so it's up to you if you like them or not.
If you want pans like these, but need them to be more resistant, you should consider options with Titanium. Some of these models are inexpensive and their price is not much higher, such as the Tefal Chef. This particular model, yes, is already from a higher range. In addition, you can put them in the oven up to 175ºC.