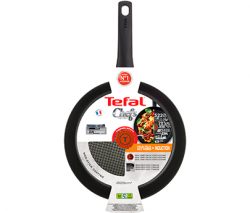 The Tefal Chef pans are the new battle pans from the French firm. The brand structures its pans into three categories: Practical Kitchen (for daily use), Expert Kitchen (for intensive use) and Gourmet Kitchen (for professional use).
Well, where does the firm categorize the new Tefal Chef? In practical kitchen. Indeed, when they developed these pans they did so with daily use in a normal kitchen in mind . This can be seen in some details that we will analyze.
Its shapes are very clean, with no visible screws or rivets. This greatly facilitates cleaning tasks and the robustness of the assembly, as it does not have moving parts that can loosen.
To start, as always we leave you with a short video with the characteristics of the Chef pan in motion. eye! We apologize in advance because it is in Norwegian! This model is new to the Tefal range, it has just landed in Spain and it has not yet been translated. But it serves perfectly to get an idea.
VIDEO
Uusi Tefal Chefs Delight – paistoastiasarja!
MATERIALS:
As it is a frying pan for daily use, Tefal has used the material that has become common in most of its pans: aluminum. Except for exceptions in which it manufactures the structure in stainless steel (as in the Tefal Emotion ), aluminum is usually the most used material.
Why? Well, very simple. It is a very light material , which makes it very easy to get really light pans, and these Tefal Chef are. Second, aluminum is a very strong material , more than enough for any non-professional cook. And last but not least, it is a cheaper material than stainless steel, which makes it possible to sell high-performance pans at a very competitive price.
Regarding its construction, we see a pan with clean and slightly curved shapes. It has a greater depth than the rest of the pans with a double objective: to make it easier to "move" the food without it spilling, and to prevent the oil from splashing.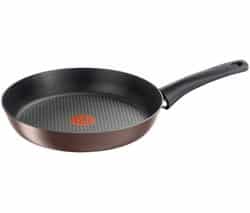 BUILDING
As we said at the beginning, something to value is that the union of the handle with the pan does not present any external rivet. This prevents food scraps from building up and makes cleaning tasks much easier. Also, this handle is fixed, it cannot be removed in any way. The good thing is that it gives solidity to the whole. The downside is that it takes away versatility. If you want pans with a removable handle, you can look at the Woll Titanium Nowo, the Tefal Ingenio or the Castey Fundix, for example.
Regarding the compatibility of these Chef de Tefal pans, which we always value a lot, it comes out very well:
It is perfectly compatible with ovens. Its Bakelite handle supports up to 175º C of temperature, so it is possible to finish our recipes with an exquisite baking.
Of course, you have no problem getting into the dishwasher. However, we will see later that it is not necessary.
And regarding the types of cooker, it is compatible with all types of hobs : induction, glass-ceramic, gas and electric cookers.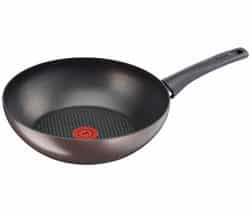 NON-ADHERENT
To guarantee the non-stickness of these pans, as usual, Tefal provides them with its best materials. The French firm has long wanted to differentiate itself from the competition by developing quality products and not competing with price. That is why Tefal pans are somewhat more expensive, but we are sure that practically all of them are good.
In the case of these Chef pans, the non-stick surface is coated with the most resistant material: Titanium. This surface is the one developed by Tefal and called Titanium Pro.
Within the non-stick range of the French firm, there would be a step below the top of the range. (Powerglide, Titanium Force, Titanium Pro and Titanium Excellence).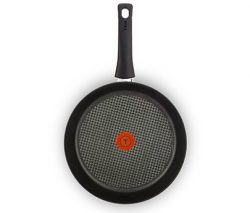 TITANIUM PRO
This non-stick surface is super resistant, we can use metal utensils without fear of damaging it and it will withstand the most intense daily use without suffering scratches or damage.
The most delicate part of a pan is always the non-stick surface, because if it deteriorates you have to change the pans because they become useless. With these Chef de Tefal pans , the Titanium will ensure that nothing spoils them.
Regarding health, these pans are free of toxic substances such as PFOAS, so we can cook with complete peace of mind.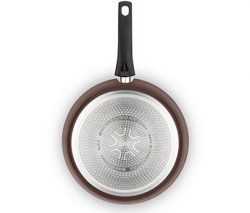 In addition to all this, another great advantage of the Chef de Tefal is that they are also non-stick on the outside ! This is very practical because if a little egg jumps out of the pan and it is not non-stick, removing it will be an ordeal. With these pans, just like inside, nothing will stick to the outside.
Regarding the ease of cleaning, it is always closely linked to the non-stickiness of the pan. A good nonstick skillet like this doesn't need a dishwasher. When finished using it, you can put it in the tap under running water for a couple of seconds and then pass it a napkin. This way it is clean and ready for another use.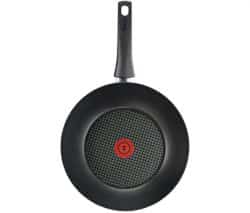 TECHNOLOGIES
As always, this brand stands out for its hyperactive R&D department. All the new improvements are implemented in these pans:
ThermoSpot : This technology has become recurrent and is already applied in most of the new Tefal pans. It consists of a red dot in the center of the pan that is "activated" when the temperature reaches 180º C. This is especially useful to know the exact moment in which to add the food and achieve a perfect doneness.
Optimized ergonomics : The material used (aluminum) gives the set an extraordinary lightness. This together with the ergonomic Bakelite handle, allow this pan to be handled very easily. Its light weight and easy grip make it perfect for anyone, no matter how weak.
Efficient diffuser bottom : More and more people are aware of the environment and energy saving. How can these Chef pans contribute ? Well, in two ways, thanks to the diffuser background. On the one hand, its high efficiency achieves the highest temperature in less time. And on the other hand, once you have acquired it, it is possible to turn off the heat and continue cooking with the residual heat for several minutes.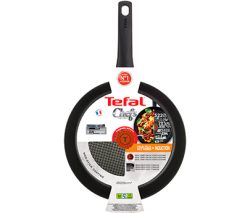 BETWEEN YOU AND ME
These Tefal Chef pans are ideal pans for day to day. They are light, resistant and above all, very easy to clean.
Its non-stick will last in perfect condition for many years, even if you insist on abusing them. Tefal has been manufacturing pans for 60 years and when it launches a new model, it is already born with five stars under its arm.
ADVANTAGES OF THE TEFAL CHEF
Its extraordinary lightness is one of its best virtues.
The resistance of titanium, as a guarantee of duration.
The clean design, without rivets or strange edges.
DISADVANTAGES OF THE TEFAL CHEF
Its price (without offers) is higher than other pans without Titanium.
In the oven "only" it supports up to 175º C, and there are people who need it to withstand higher temperatures.
YOU MAY BE INTERESTED
If you are looking for somewhat cheaper Titanium pans, you can value the pans of the Spanish firm Monix Mineral. They also use the precious material and combine it with their own MetalTec technology that, honestly, we think is a hoot.
On the other hand, if you are looking for an even more resistant frying pan that can withstand the highest temperatures (up to 250º C in the oven), the WMF Profi Stainless Steel frying pan may be your frying pan. It is a true all-rounder, indestructible and highly versatile.
Official Website: www.tefal.es