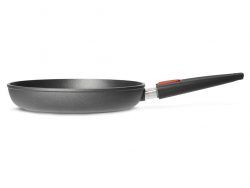 When we think of buying Titanium pans, we do it because we want them to last for many years. And it is that whoever wants titanium pans, seeks them to be resistant ; Plus, you want them to be scratch-free and really non-stick. And these Woll Titanium Nowo is one of the greatest exponents.
In this sense, the Woll brand is one of the major references in the manufacture of titanium pans. This firm, true to its quality, manufactures its pans in Germany under the rigorous controls of its country. And this is noticeable as soon as you pick it up, it is compact, robust and very well finished.
In this short video, although it is in English, it perfectly shows the quality of the finishes and the main characteristics of these Titanium Nowo from Woll.
VIDEO
Woll 28cm Diamond Plus Saute Non-Stick Frypan Review
MATERIALS
As for its materials, it is made with an aluminum base that gives it lightness. In addition, this aluminum base allows a perfect and rapid diffusion of heat throughout the pan. With this, it is achieved that when cooking over a very low heat the temperature is distributed evenly at each end of the pan.
It has a downside, and that is that the cheapest model is not compatible with induction cookers. However, it is compatible with all other heat sources. On the other hand, Woll has the same model compatible with induction for very little more money, we will detail it later.
To be able to put it in the oven, these Woll Titanium Nowo have a removable handle. With a simple click, our pan fits perfectly in the oven. In addition, it allows us to finish our recipe with a perfect gratin, or whatever we want.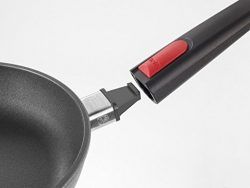 Also, if we want to save storage space, removing the handles and storing them apart vertically is a great advantage. A great success, without a doubt.
The top of the pan is coated with the precious material: Titanium. This gives it unparalleled resistance, second only to iron pans. Titanium is a really tough material that can withstand almost any abuse. In this way, you can cook with metal utensils, cut or do whatever you want on the pan itself.
ANTI-ADHERENCE
This is where the differences of a good skillet are noticeable. And the Woll Titanium Nowo skillet is one of the best. Its non-stickness is guaranteed almost for life, since the non-stick layer is protected by the resistant Titanium. This guarantees that nothing, throughout its useful life, will be able to alter it. This guarantee is not only in words, Woll accompanies this Titanium Nowo frying pan with a guarantee of its non-stick coating of 3 years. And of the non-deformability of its surface, a 25-year guarantee. That's confidence in your skillet!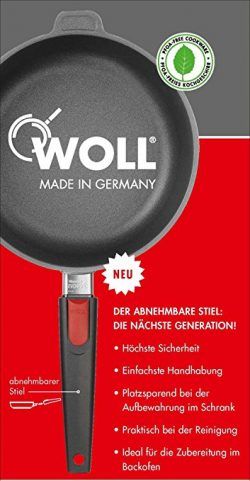 It is perfectly possible to wash these pans in the dishwasher, however, we advise washing them by hand. And is that, with such an excellent non-stick , when finished cooking (when it has cooled a bit), it will be possible to wash them completely by introducing them under a stream of water and passing them a napkin. No food residue will remain in the pan. And of course, the rubbing is over.
HEALTH
This is a matter that Woll takes very seriously. It is a company aware of health, sustainability and the environment. The Woll Titanium Nowo frying pan is fully recyclable and due to its optimal and rapid heat distribution, energy savings are considerable.
On the other hand, the healthiness of its non-stick material is endorsed by the rigorous German Ministry of Health. This body supervises each material used to offer the best guarantees. Of course, it is free of PFOAS and any substance that can harm health.
These are the advantages of manufacturing in Europe; the supervision of strict agencies throughout the entire production chain.
Here you have a short video, it is not translated into Spanish but all the features are perfectly visible. This particular video is of the frying pan we are analyzing, the tall model. Later you can see the differences between one model and another. But removing the height of the border, they are exactly the same.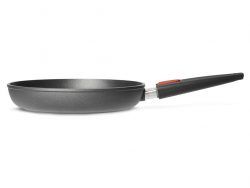 GERMAN QUALITY AT A VERY COMPETITIVE PRICE
In short, this is a very high-end frying pan made with the best materials. Titanium is here to stay, and when you try a frying pan like the Titanium Nowo with this non-stick and combined with the resistance of titanium, you don't want anything else. Whether it is for a family that uses it intensively, or for a neglected young man who only has one pan and does not take care of it much, this is perfect. It does not require care or delicacy.
If it is true that in some models of the year 2013 there were complaints from users who claimed that some bubbles came out that affected their non-stickness. All of those pans have been replaced and the latest models are tested and free of any problems.
What we advise you is that when buying it you make sure that the one they sell you belongs to the latest model. That is why we advise you to buy it in stores like Amazon.
At Woll they are so sure of the quality of their frying pan that, as we said, they offer a 3-year guarantee on its non-stick coating. And 25 years of non-deformability guarantee. They clearly trust your product, and your satisfied customers, too.
LOW FRYING PAN
This Woll Titanium Nowo frying pan is available in various sizes and heights, in 20, 24, 26, 28 and 32 centimeters. Because of the very small price difference between the 24 and 28 centimeters, we recommend the 28 centimeters. Why? Because the price difference is almost non-existent and because even if it is to cook a small amount, even on the smallest fire it will distribute the heat perfectly evenly throughout the pan. It is much more versatile and is good for a ripped and unstitched. On the other hand, if the budget is not a problem, buying one of 20 centimeters and another of 28-30 is a perfectly valid option.
MODEL NOT VALID FOR INDUCTION
INDUCTION COMPATIBLE MODEL
HIGH SKILLET
On the other hand, you have the option of buying the same pan but square and taller. This has the advantage that putting a lid on it is perfect for making a stew, a stew and putting it in the oven and making a dessert. It is very easy and practical to start by poaching an onion, add ingredients and cook everything in the same pan.
GRILL PAN
FISH FRYING PAN
ADVANTAGES OF THE WOLL TITANIUM NOWO TITANIUM PAN
Its modularity is its main advantage, being able to remove the handle with a click, allows us to insert it in the oven perfectly and store it in a simpler way.
Its non-stick reinforced with a layer of Titanium, ensures its resistance over time.
Woll's excellent reputation, German manufacturing and 3 and 25 year warranty.
DISADVANTAGES OF THE WOLL TITANIUM NOWO TITANIUM PANS
By choosing to give preference to its modularity, they did not achieve the excellent design that, for example, the Kuhn Rikon Silver Star frying pan has.
Its price, being made of Titanium, is higher than that of a general Teflon frying pan.
YOU MAY BE INTERESTED
If for whatever reason these pans have not convinced you, a very similar model that is the best-selling year after year, are the Tefal Ingenio. These are pans with a removable handle, made of aluminum and finished in Titanium for a price slightly lower than these Woll.
And if the problem is that they seem very expensive, there is an alternative from a Spanish brand, it is the Castey Fundix. They have a removable handle and are made of aluminum. The main difference is that its non-stick is not reinforced with Titanium, but the price difference is very noticeable.