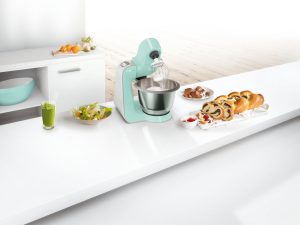 Those who want to make homemade desserts worthy of the most elaborate cuisine, are in luck. The German brand Bosch, specialist in small household appliances, launches the Bosch Creation Line kitchen robot , a powerful fantastic robot for processing food, and above all, for preparing excellent pastry recipes.
This robot can perform all the most basic functions in the kitchen, and achieve perfect finishes and textures in its preparations. It is a multifunction helper for chefs who are fond of delicate haute cuisine pastry desserts.
Ranking Top3 Best Kitchen Robots
Materials
This Bosch Creation Line Robot is made of stainless steel, the most suitable material for contact with food. Its accessories are made of high quality plastic, and BPA free.
Capacity and power
It has a power of 1,000W, with a powerful motor, ideal for processing large amounts of food. Its capacity is 3.9 liters, enough for 2 kg of dough, or 1 kg of flour plus the rest of the ingredients to complete the 2 kg. total capacity.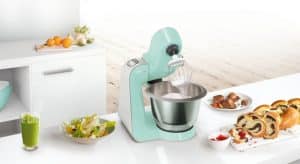 Main functions of the Bosch Creation Line robot
For everyday kitchen tasks, the Bosch Creation Line works wonders, as it is very convenient, easy to use, and makes all kinds of mixes without much effort. Its functions include the following:
It has 7 speed settings, plus a turbo function with electronic speed control
New technology of its EasyArmLift arm, which allows movement to its different positions with the push of a button
Highly innovative function: MultiMotion Drive. In addition to the great power of the motor, the Bosch Creation Line robot has an innovative gear, which optimizes the power of the motor. The hooks and rods do not rotate in a fixed way, but they do it in 3D orbits, so that the dough is detached from the wall of the container and is completely processed.
Its kneader function can mix, whip, whisk, emulsify and knead
The chopping disc function can perform up to 5 types of cutting, both fine and coarse, as well as grating and grinding of food
Its function as a blender can make smoothies and purees with ease

The stainless steel bowl has a splash guard.

Its cable is automatically retracting, and it has several security measures

Has a protection system against overheating

Electrical disconnect safety function

Complete pastry set that includes the following accessories: dough hook, beater rod, mixing rod, cutter-grater with three discs (for cutting, grating and shredding) and blender.

Practical bag to store accessories and not take up too much space in the kitchen

Possibility of acquiring other accessories to make the robot more complete: juicer, meat grater and refrigerator.

Dishwasher safe accessories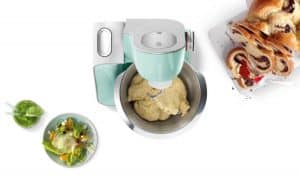 Advantages of the Bosch Creation Line food processor
It is a very complete robot, and with a 3D planetary spinning power that makes it possible to take advantage of all the ingredients of a dough

It is a very easy and comfortable robot to use

It is a very stable and safe robot, since the machine does not turn on to start working in case its accessories are not perfectly adjusted.

Accessories are easy to use and clean

Saves a lot of work as a kitchen assistant for certain tasks like cutting or grating

Its whipping option is perfect for whipping creams, creams or meringues, because it does it in seconds

It has powerful suction cups at the base, to ensure that the robot does not move during food processing.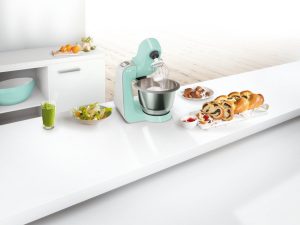 Disadvantages of the Bosch Creation Line Food processor
The only drawback that has been detected is that the container lacks a handle, and for some users this is important because it makes it more comfortable to transport.
Between you and me
The Bosch Creation Line kitchen robot is a highly recommended option for those who especially like pastries, since they can prepare all kinds of desserts, smoothies, milkshakes, crepes, bread doughs and pizzas, and purees with the Perfect textures and finishes, and with very little effort in the kitchen. It is one of the most powerful and complete food processors on the market due to its 3D rotating movement and because it has many accessories, it is very fast in food processing, its bowl has a large capacity (up to 2 kg) and its accessories are suitable for the dishwasher.
Thanks to its 7 speeds and its accessories, the robot is capable of doing kitchen tasks in record time: assembling, emulsifying, chopping, grating, whipping and chopping. You will save a lot of time and effort in the kitchen.
It is a powerful robot that can process even the toughest foods. Keep in mind that the Bosch Creation Line kitchen robot is a food processor robot, which does not have the cooking capacity to prepare complete recipes. However, given its great performance as a processor, it is the most suitable robot for the processing of doughs for bread, pastries, pizzas or crepes. It will be very useful for those who love good pastries.
Maybe you are interested
In case this robot does not fit what you were looking for, you may want to take a look at the Kenwood Kmix kitchen robot . The Kmix is ​​an excellent food processor capable of preparing a wide variety of desserts, thanks to its 6 processing speeds, a new folding function, to fold and join ingredients, very suitable for achieving the greatest fluffiness in desserts such as soufflés, and with a more than interesting value for money, although it has fewer accessories in the kitchen.
Its bowl has a large capacity (5 liters) and is capable of making cake doughs, cookies, pizza dough, and even fresh pasta. Their functions are very similar, since both are food processors, although this one has more capacity if what you are interested in is making dough for more guests.