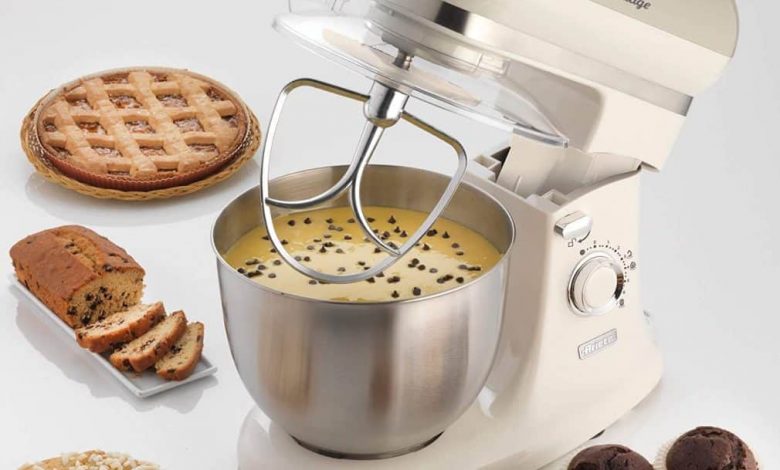 The Ariete Vintage robot is perfect for making any type of dough, for whipping egg whites, making meringues or whipping cream quickly. Its use is very simple, and it is not necessary to be a professional cook to be able to handle it. Without having great culinary knowledge, you can make an infinity of recipes.
This mixer type kitchen robot is becoming more and more fashionable; That is why many appliance brands are launching their own designs to offer a greater variety of products and prices. The Ariete Vintage 1588-03 robot is a fantastic robot, ideal for small kitchens, as it is very compact and easy to handle.
Ariete is a brand of Italian origin that has a wide variety of household appliances in its repertoire. Its objective is to combine maximum functionality with an original design, which provides elegance as well as practicality. This is because this brand knows how important aesthetics is in the kitchen, creating appliances that are consistent and do not clash within it; therefore, they always provide a smooth and flowing line.
In this article we are going to analyze in detail the Ariete Vintage 1588-03 robot; We will see what characteristics it has, what materials it is made of and what are its strengths and weaknesses in relation to other competing robots.
Ranking Top3 Best Kitchen Robots
Materials
It is a robot made with simple and rounded lines, in a cream color, which makes it perfect for any kitchen. Both the container and the blade are made of stainless steel, which is the best material to create any culinary item.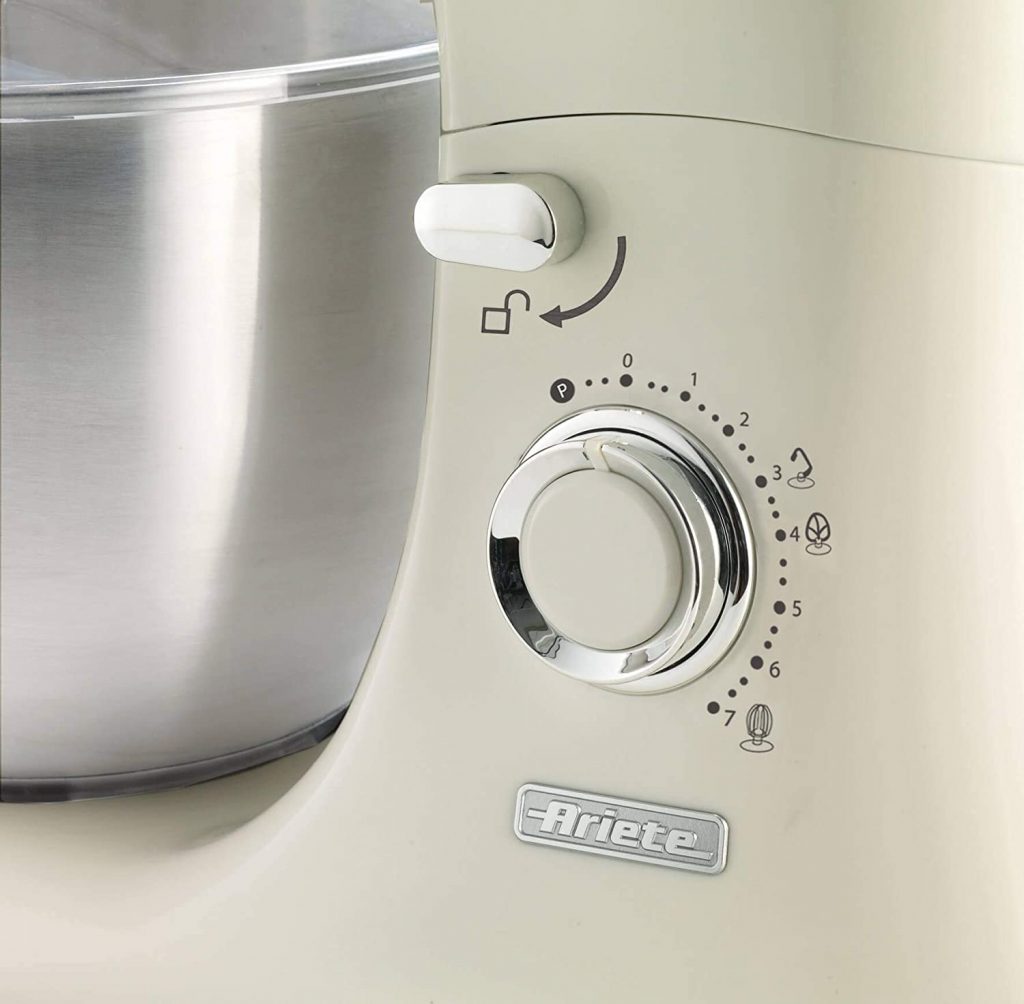 Stainless steel is highly resistant, so it is no coincidence that appliance manufacturers choose this material to make their products. It is almost impossible for it to break; In addition, it is hypoallergenic, since odors or food remains do not adhere to its surface. Being easy to clean, it is a highly hygienic material, something that is essential in a kitchen.
The container or bowl with which you work, in addition to being made of steel, has a capacity of 5.5 liters. It is large enough to be able to prepare great recipes, such as dough for bread or meringue. Everything can be achieved thanks to its 2400 W power, its precision and the comfort of handling it, since it comes with 10 speeds to be able to adjust the intensity that each recipe needs.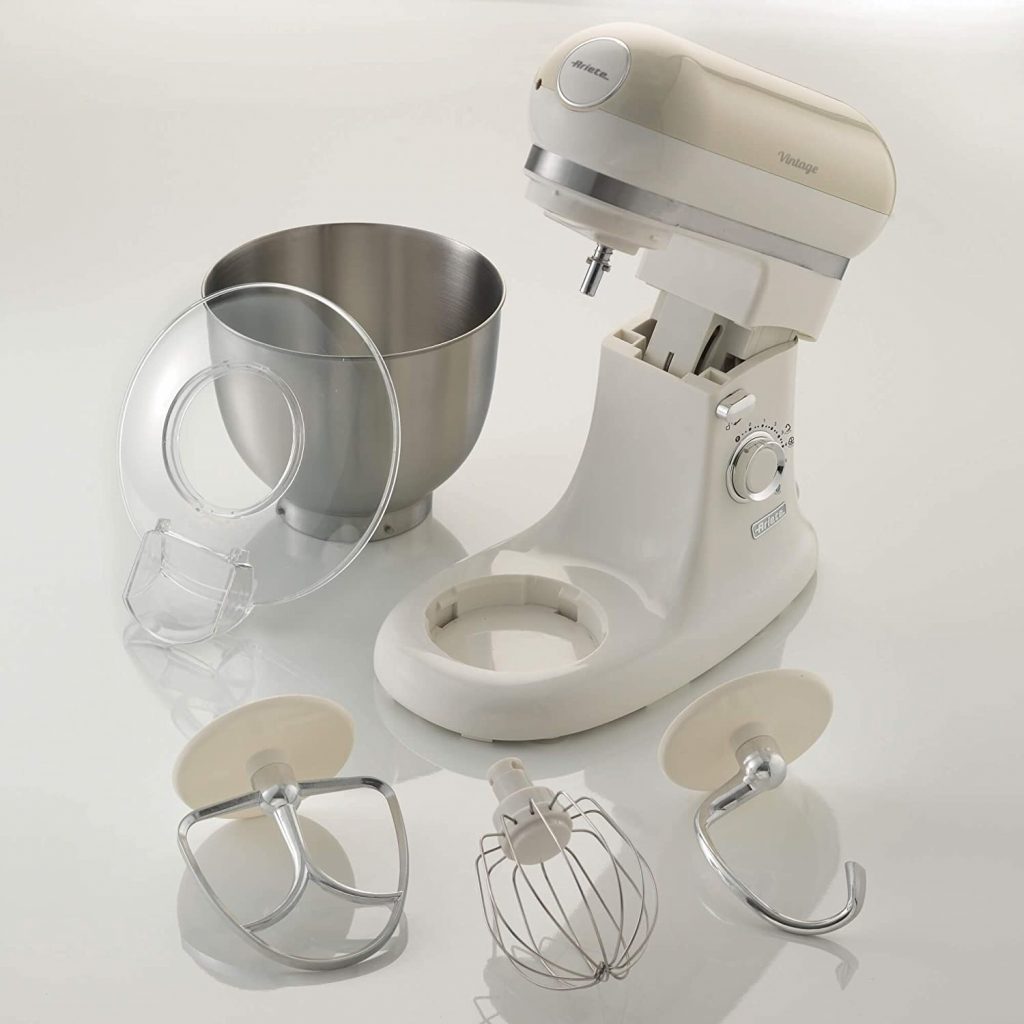 Accessories and design
As we have already mentioned, it has a simple and elegant design, in neutral colors, which makes it one of the most elegant mixers on the market. It has a total weight of 6.7 kg and dimensions of 28.5 x 42.5 x 38.5 cm, making it very compact and easy to store.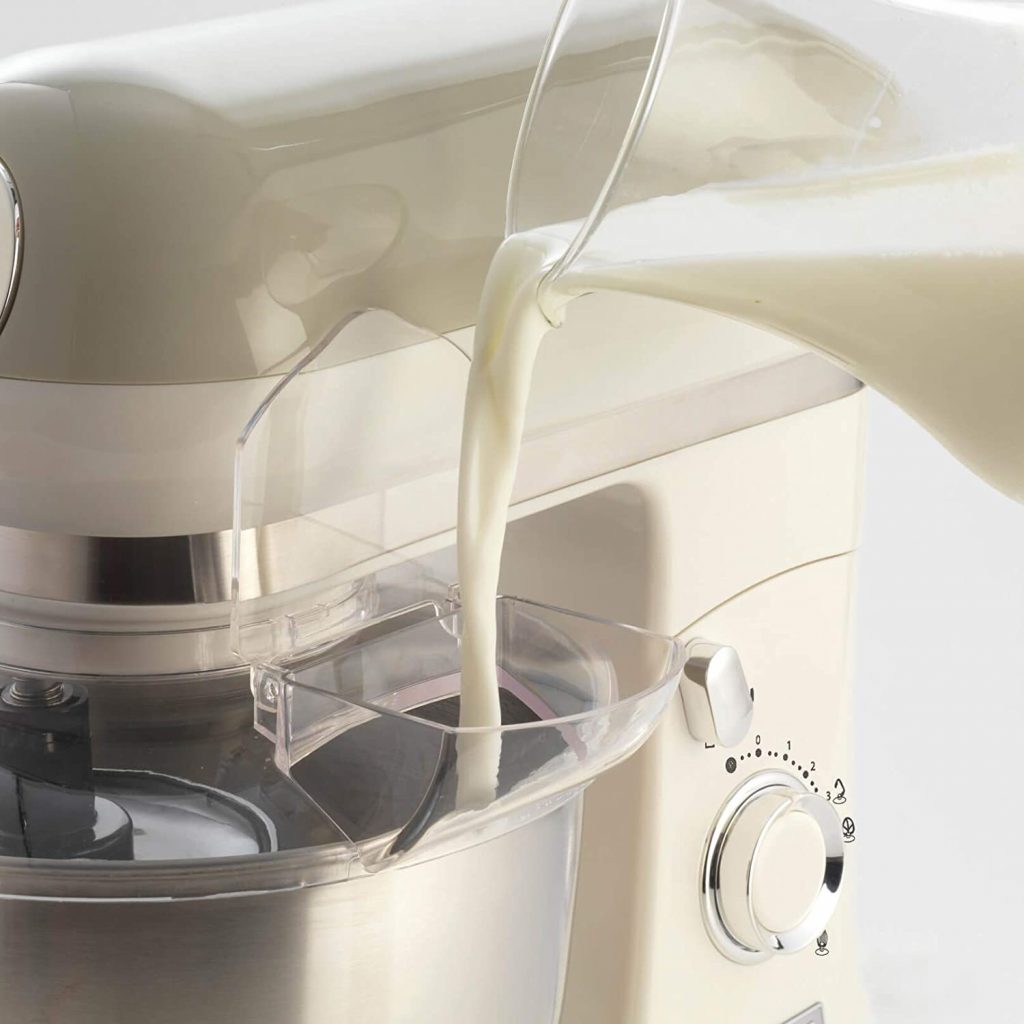 In addition to coming with the traditional bowl, it has three different models of blades or paddles, either for mixing, mounting or kneading. With these three options you can create any pastry or bakery dish. It also has a lid, which is ideal so that the ingredients do not come out of the container while it is kneading or assembling, something that is very useful to avoid accidents.
Main characteristics of the Ariete kneader
The Ariete Vintage 1588-03 robot is a very simple and elegant model; With it, the best results can be obtained and that is because it has the following essential characteristics in a kneading robot:
It has multiple functions, up to 10 speeds to be able to make all kinds of recipes.
It has a 5.5-liter capacity, three beater and mixer blades, and a lid to prevent spillage.
It has a function called pulse to be able to regulate the speed according to the ingredient used.
It has a power of 2400 W, which makes it powerful enough to be able to knead large quantities of dough for bread or pizza.
Easy to acquire, as it can be purchased through the internet in a comfortable way and without having to leave home.
It has an excellent value for money thanks to its cost being one of the most competitive on the market.
Both the bowl and the blades are made of stainless steel, the best material for kitchen items.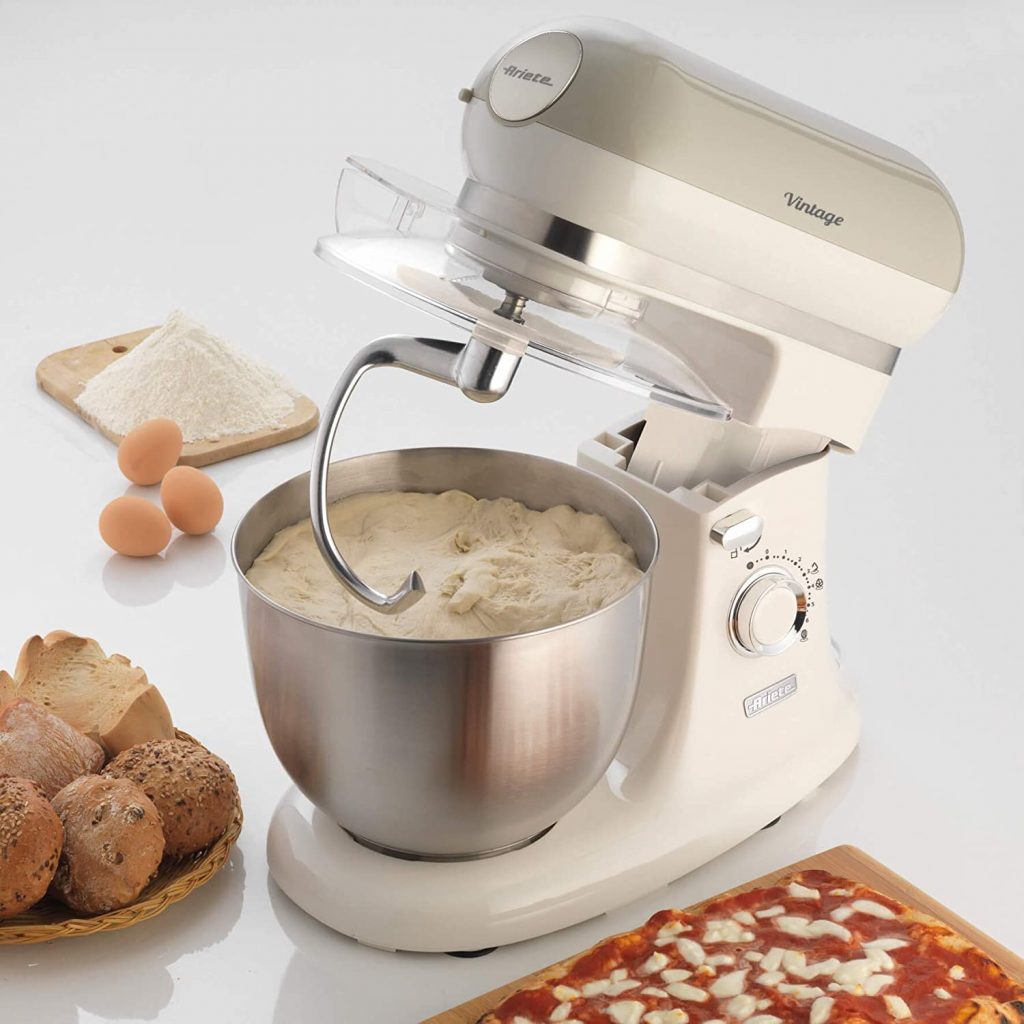 Advantages of the Vintage Ariete robot
Practically, it is a professional mixer, since it allows you to prepare all kinds of recipes with little effort. It is the perfect ally in the kitchen for those who love to experiment and make new sweet recipes:
It is very easy to use, making it perfect for pastry and bakery enthusiasts.
It can be purchased online.
Thanks to its lid, the ingredients are prevented from spilling out of the containers during the mixing process.
It is easy to clean thanks to the stainless steel bowl and paddles.
It is a very fast robot when it comes to executing recipes.
It has a large capacity bowl, ideal for creating recipes of large quantities, such as meringues or bread doughs.
Due to its size and weight, it can be stored in any kitchen.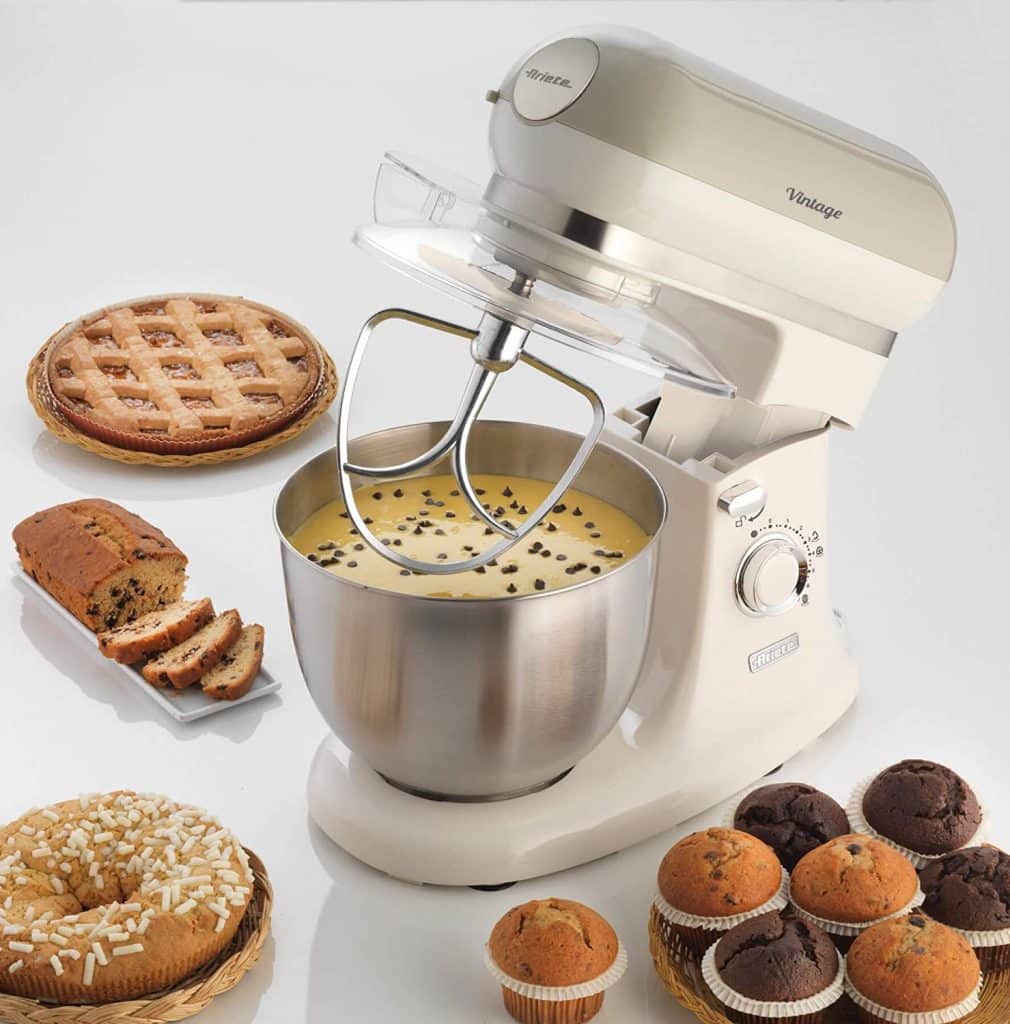 Disadvantages of the Vintage Ram Robot
Among its few drawbacks, it could be mentioned that it does not come with a recipe book, something that could make it difficult to handle during the first sessions, since at first some users feel more comfortable using the recipes recommended by the manufacturer.
Maybe you are interested
If what you are looking for is a special mixer for pastry and bakery, this Ariete Vintage 1588-03 kitchen robot is what you need. If you want to see some more model to compare or because you require other benefits, we can offer you the Bomann KM 6009 Mixer, for which you can read all the information you need there and see which model or brand is the one that best suits your needs. .