The Tommee Tippee Kitchen Robot is a robot specialized in cooking and grinding food for the first stages of solid feeding for babies, after starting their weaning period. It is a very simple to use, and highly functional robot that performs the two basic functions that babies will need for their first feeding stages: steaming and mashing.
It is a good idea of ​​purchase and gift for parents who are also starting in this first stage of feeding their baby. Tommee Tippee is one of those brands with a long and proven track record in the manufacture of baby products, which we value very positively. After all, when it comes to feeding the smallest of the house, we want to make sure that we do it with all the guarantees. So… Let's see this food processor!
Materials and capacity
The robot is made of high quality materials, free of BPA, which guarantees absolute safety in feeding the baby, and has a measuring jug with a capacity of 500 ml and a water tank of 450 ml.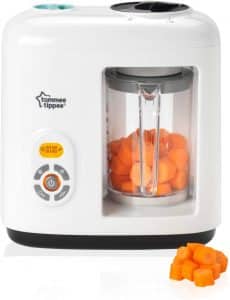 Main characteristics of the Tommee Tippee Kitchen Robot
The Tommee Tippe Kitchen Robot is a special robot for feeding the baby, especially in the early stages of weaning. It is very useful for carrying out the most basic functions that babies need in their first experience with solid feeding: shredding into different textures and steaming. Its use is very simple and its main characteristics are the following:
Steam cooks food to preserve all its flavor and essential nutrients
Shredding function, with different textures, adapted to the baby's age and weaning stages

It has few accessories, to facilitate its cleaning and assembly

Self- timer function . The robot will turn off when cooking is finished, so it does not need supervision and the food will always be at its doneness point.

Possibility of stopping the robot if a food has been forgotten, which can be added at any time during cooking.

Cook and grind in the same jar. Once crushed, the food can be cooked directly.

Can process and steam fruits, vegetables, meats and some fish

Accessories: Contains the food processor and measuring jug, a spatula and a container for purees.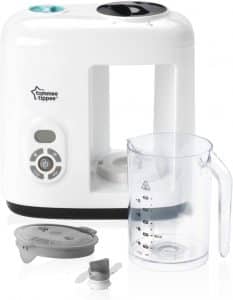 Advantages of the Tommee Tippee Food processor
The Tommee Tippee Kitchen Robot is very simple and functional, for parents who are starting this stage and need the textures of purees to be perfect, according to the feeding age of the baby. Among its main advantages are the following:
With just two buttons, one for steaming and the other for grinding, with two manual buttons to choose the levels, we will always obtain a perfect puree in textures depending on the age of the baby.
Blends to perfection, without lumps or chunks of food, for babies who are younger and in their first stages of feeding. Possibility of setting a maximum of 5, so that the puree is without chunks.

Baby food will be ready in just 10-15 minutes, including mashing and steaming, and depending on the hardness of the food.

It is very convenient to use, since in a single container both tasks are carried out, making it a very clean way of cooking.

Steaming is perfect, and it keeps all the flavor of the ingredients. In addition, it preserves all the nutrients, essential for feeding babies.

The jug has a safety system to prevent it from accidentally leaving the appliance.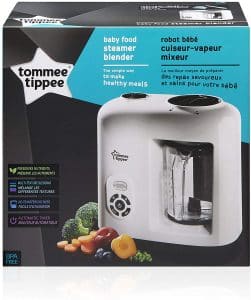 Disadvantages of the Tommee Tippee Kitchen Robot
Two problems have been detected in the robot. The first is that it does not have much capacity to make purees, and a maximum of two can be made in a single operation. On the other hand, it is missing that the robot includes a book of lines.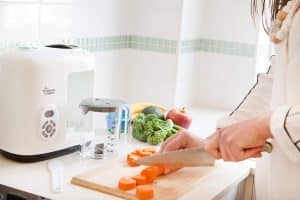 Between you and me
This robot is very easy to use, you just have to introduce the food into the jug, fill the water in the tank, and press the grind and steam buttons, selecting the level (from one to 5) of food texture. that we want to process and cook. In less than 15 minutes we will have the baby's puree ready, with all its flavor and the necessary nutrients for feeding.
In addition, steaming is the healthiest way to puree, and the intense flavor and texture are noticeable compared to a traditional way of cooking. Due to its simplicity and speed of use, it is highly recommended for parents who start this feeding stage together with their children. On the other hand, since we have few accessories and that the measuring jug is used for both operations, its use is very practical and clean, we will only need our spatula to move the puree and the container to store or serve.
Thanks to its timer, there is no need to worry, as the robot will stop working when the food is ready. No supervision is necessary. It has few accessories, and they are easy to wash, always at hand except for the measuring jug.
Its value for money is excellent. Its materials are of high quality and resistance, taking into account that it will be used very frequently in the baby's daily kitchen.
Maybe you are interested
If the Tommee Tippee Kitchen Robot is not exactly what you were looking for, you may be interested in taking a look at the Philips Avent Kitchen Robot, with characteristics similar to this robot, but with more capacity in its tank and jug of water (1 liter) . It has the functions of steaming and grinding food. You can puree or leave larger chunks, depending on the baby's developmental stages. It is very easy to fill thanks to the large opening of its water tank. In addition, it does not need supervision, since when the cooking has finished, the robot will give an alarm. Its accessories are also dishwasher safe, and the steaming container is suitable for defrosting and reheating baby purees.