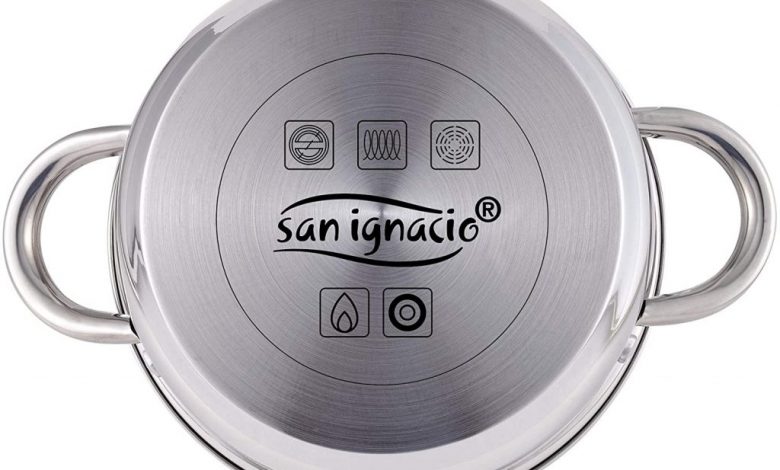 If what you are looking for is a complete cookware, San Ignacio Cassel's is one of those interesting and inexpensive options that we can find in the market. A set of saucepans, pot, pans and other elements is not something that is acquired daily; On the contrary, it is an investment that is made for almost a lifetime. For this reason, it is necessary to look for quality products that are resistant and offer good results when cooking any recipe, so that at least you will not have to buy a new battery for many years.
San Ignacio is a company of Spanish origin, born in Guipúzcoa, which was founded in 1944. The brand's seven decades of work are reflected in the quality of its products, from the first enameled models to those that can be purchased today. . Currently, San Ignacio is present in a wide variety of countries, such as Italy, France or Germany, which allows you to search for any of its products without difficulty.
On this occasion, we are talking about this Cassel de San Ignacio cookware of which we can find a set of 5 pieces, one of 7, or a more complete one of 7 pieces, with 5 kitchen utensils and a set of 3 pans. It is a very complete and simple set that meets the needs of any family, as it provides elements that help to make complete recipes. Therefore, in this article we are going to focus on analyzing each of them.
San Ignacio battery materials
An important aspect to take into account before buying a cookware is the material with which the different elements have been made; in this case we have:
Pots and saucepans: the set consists of 3 pots and a saucepan made of high quality stainless steel, which gives the pieces great strength and greater durability. All three saucepans come with heavy-duty glass lids. Thanks to its transparency, it will be much more comfortable and safe to cook.
Set of three pans: they are made of pressed aluminum. They have a black outer coating that resists high temperatures, and inside they are non-stick. The mango is classified as "always cold", to ensure safety while cooking.
Kitchen utensils: complete the set the utensil set consisting of a slotted spatula, a saucepan, a slotted spoon, a ladle and a spaghetti server. They are made from black nylon, which is much more hygienic than wood and also more respectful than metallic ones.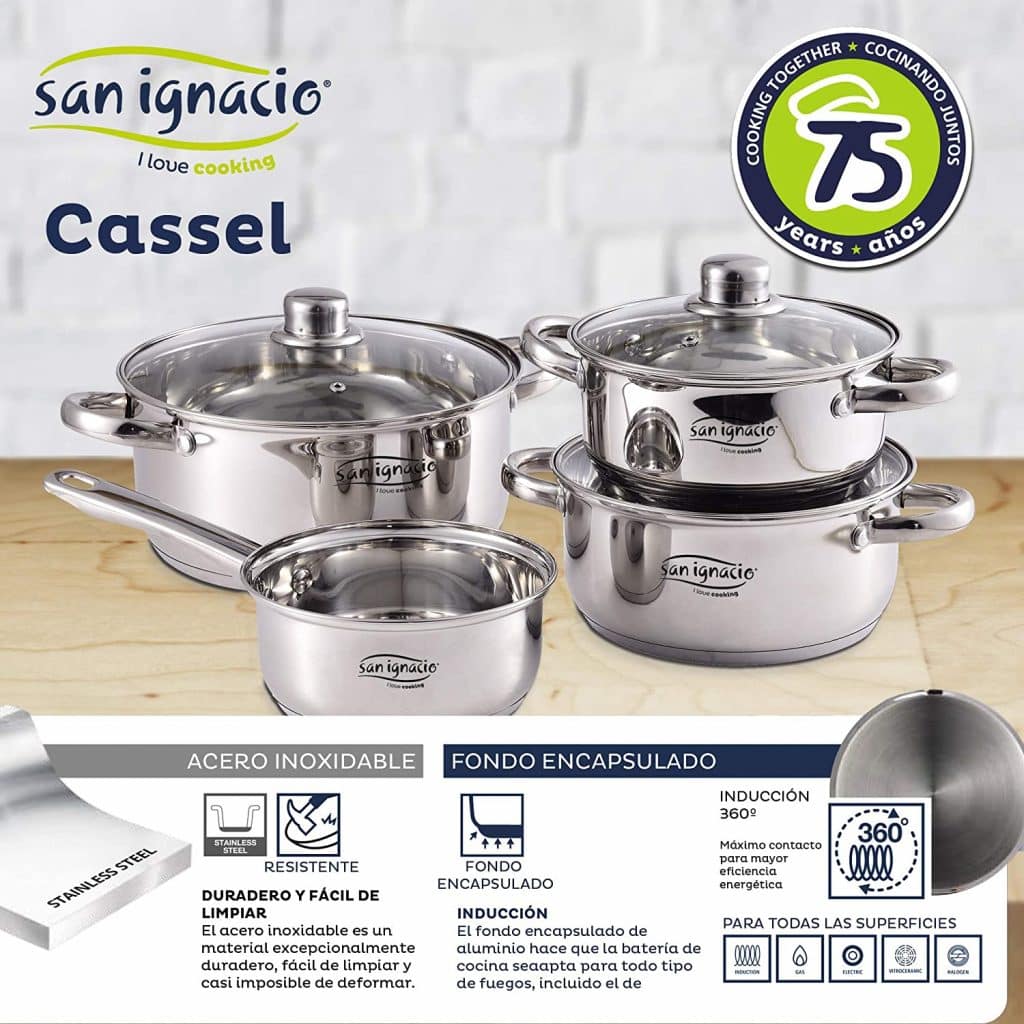 Kitchen compatibility
Both the set of pots and pans and the set of pans are compatible with all types of hobs, whether they are gas, electric, glass-ceramic or induction. They have an encapsulated bottom for induction, which has been specially designed to provide rapid and homogeneous heating. This allows for faster and easier cooking while saving energy by significantly reducing waiting minutes.
Size and layout
Being such a large group of pieces, you can find a great variety of formats and sizes. This is perfect, since it allows you to use each element to cover a need:
Pots and saucepan: the saucepan, which does not have a lid, has a measurement of 16 × 7.5 centimeters and a capacity of 1.5 liters. One of the saucepans with a lid measures 18 × 8.5 centimeters and holds up to 2 liters. Another, which also has a lid, has a measurement of 20 × 9.5 centimeters and a capacity of 3 liters. Finally, the largest, which also has a lid, measures 24 × 11.5 centimeters and can be filled with up to 4 liters.
Pans: from smallest to largest, the pans have the following measurements: 16 × 3.5; 20 × 4.5; and 24 × 4.5 centimeters.
Utensils : they measure approximately 35 centimeters long.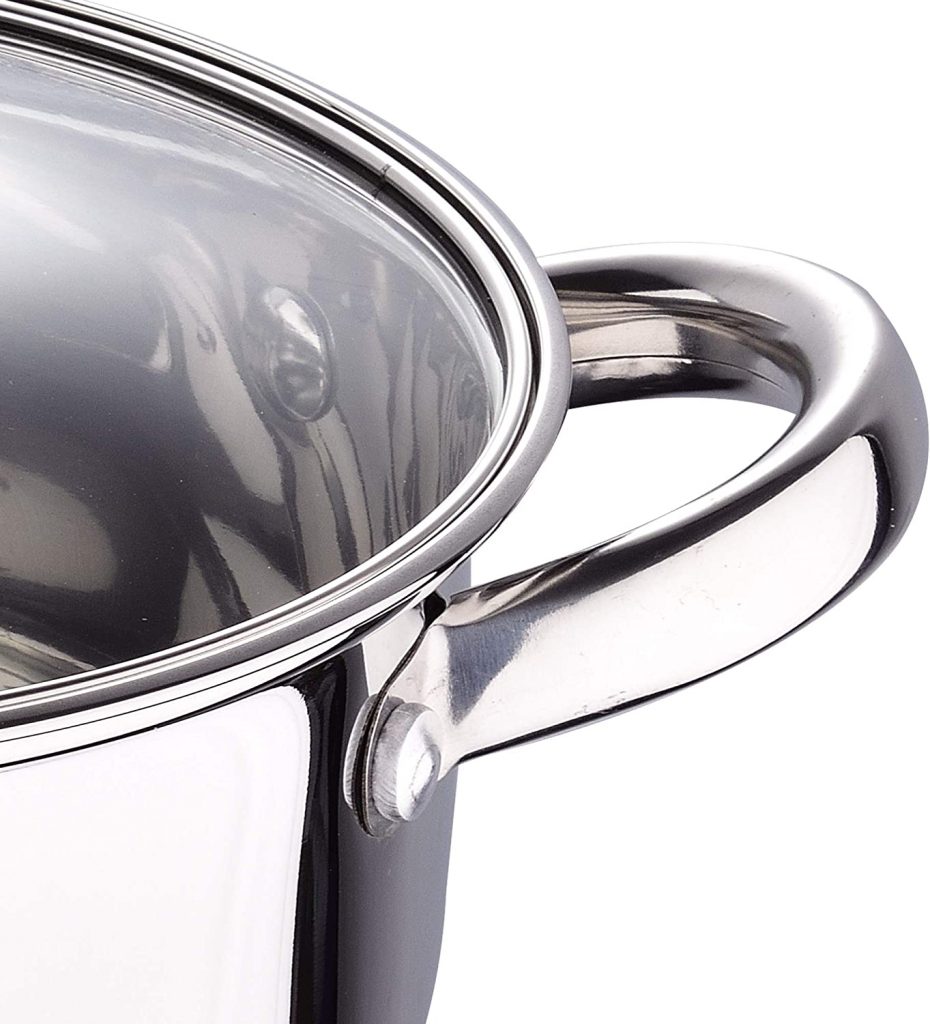 The three pots have a glass lid from the Cassel collection. They have been manufactured with top quality materials. The transparent lids are much more comfortable, because, without having to uncover the pot, they allow you to see the evolution of the recipes.
Main features
Summary of the main characteristics of the San Ignacio Cassel cookware:
It is a game that has a set of three pots with a glass lid, a saucepan, three pans of different sizes and a pack of utensils.
They are made of high quality stainless steel.
They are suitable for all types of kitchens.
They have an encapsulated bottom for induction.
The utensils are made of black nylon.
They are easy to maintain and highly durable, so they remain intact for a lifetime.
Current and compact design.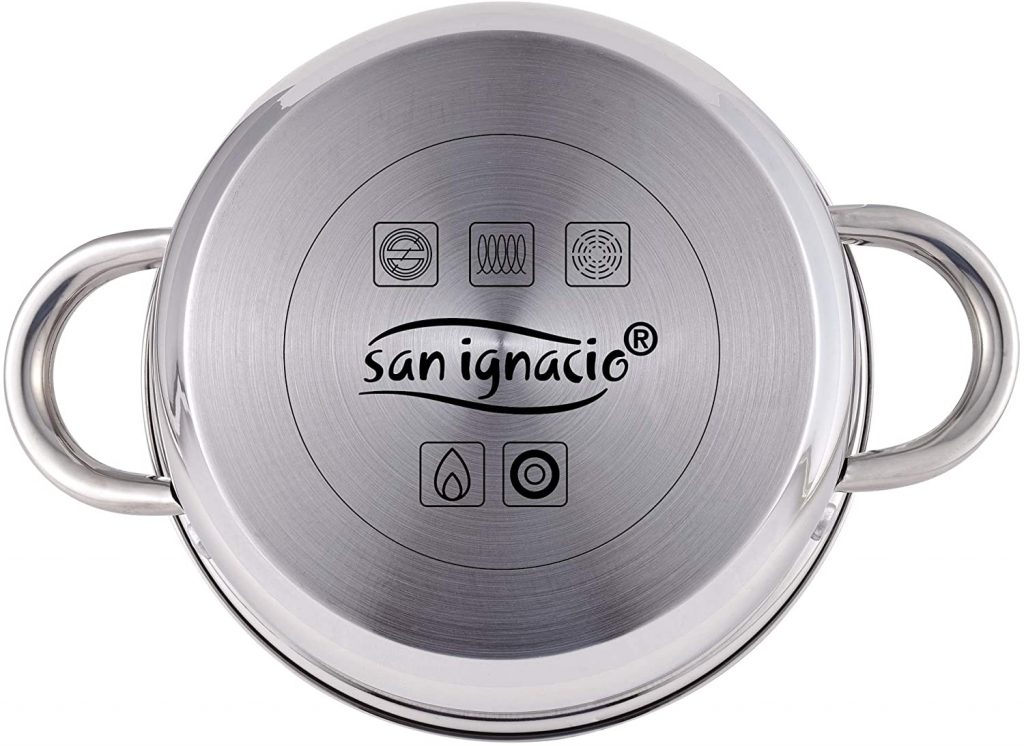 Advantages of the San Ignacio Cassel cookware
Next, we will analyze the advantages of acquiring this cookware over others:
It is a very complete set that houses pots, saucepan, pans and utensils: in a single purchase you get everything you need for the kitchen.
It saves energy thanks to its designed bottom, which helps to heat up much faster.
The lids are made of glass so you can see what is cooking.
The manufacturer is world famous.
The handle of the pans does not get hot during cooking.
Good value for money
Being made of nylon, the utensils respect the bottom of the pots and pans.
Disadvantages of San Ignacio Cassel cookware
Next, we will analyze the disadvantages of acquiring this cookware:
The pot handles are made of metal.
Sometimes, due to its great popularity, it is not in stock.
It can be too big a game for some families.
The build quality presents a good quality / price ratio, but it is not the best.
As can be seen, this game has few drawbacks, since beyond the two points mentioned, everything else will vary depending on the needs of each family.
Maybe you are interested
Not all games are designed for everyone; therefore, it is important that each one evaluate their preferences and acquire the one that best suits them. Therefore, if you are looking for something of higher quality, there are other better options such as Zwilling Prime, a German manufacturer with several centuries of history and known for making the best kitchen stainless steel in the world.