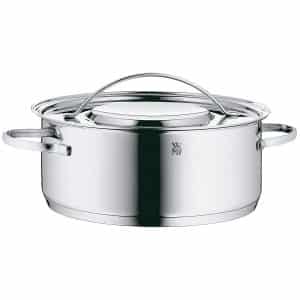 Do you want to buy a cookware but don't know which one to choose? Today we are talking about the WMF Gala Plus.
A set of saucepans and pots is not something you buy every day. Normally, we look for a quality, durable product that offers excellent results for cooking on a day-to-day basis, so that we do not have to buy another cookware ever again or at least not for many years. Therefore, this WMF Gala Plus cookware is the best you will find right now and we want you to know it.
Furthermore, behind these pans is a German company founded in 1853 in Geislingen, WMF. In its beginnings, they already produced different metal articles and it is a company with offices around the world and that stands out for its products of high quality, resistance and design. So let's get to know this WMF Gala Plus cookware :
Materials
When buying a cookware, one of the aspects to consider is the material. In this case, we have some pots and pans that are made of 18/10 cromargan stainless steel, so they are robust, scratch resistant and easy to clean to maintain. Ideal to use on a day-to-day basis and to be kept as the first.
It is a material that you can put in the dishwasher without any problem, so you don't have to waste time washing by hand.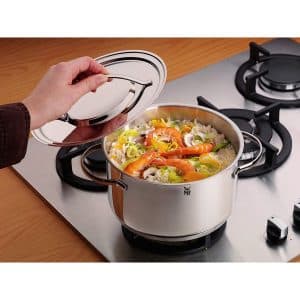 Also, this material is suitable to put in the oven and resists heat up to 250 degrees without a lid or 180 degrees with a lid.
The lid is also made of stainless steel. It is one of the best valued materials in this type of kitchen products, because it has all advantages.
Compatibility
The issue of pot compatibility is also important, especially when you make the jump to induction and discover that your old cookers do not work for you. Therefore, you should know that the WMF Gala Plus cookware is compatible with all types of induction cookers. They come with a transtherm base so you can use them in any kitchen.
In addition, they are also compatible with the oven and the dishwasher, as we mentioned in the previous point.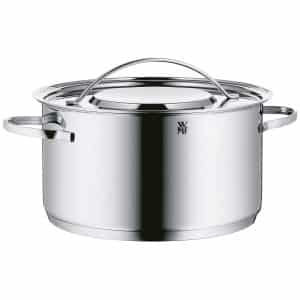 Main features of the WMF Gala Plus
What features does the WMF Gala Plus have? These are the main ones:
It is a set of 7 pots: 1 low pot of 20 cm, 3 high pots of 16, 20 and 24 cm (all with a lid), 1 saucepan without a lid and 1 steam cooker of 20 cm.
Made of 18/10 chrome-plated stainless steel, ultra resistant and robust
Thanks to transtherm technology for all burners, it distributes the heat evenly and quickly
Dishwasher safe for quick cleaning
They can be baked up to 250ºC without a lid and 180ºC with a lid
They work with all types of cookers, also induction
Come with stainless steel lid
Easy maintenance and high durability
A modern design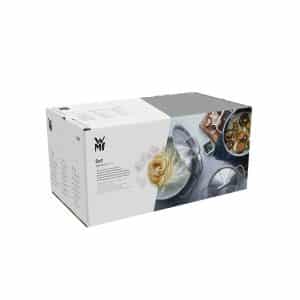 Advantages of the WMF Gala Plus cookware
All the pots or pans you need on a day-to-day basis, to cook for yourself or for your family – a total of 7 pieces so that you don't miss anything
Made of stainless steel
Long handle for easy grip
A product with very good ratings
Great value for money
Pots can be stacked to save space
Its washing in the dishwasher saves time
The design is attractive, so that you also cook with your eyes
There are many advantages of this WMF Gala Plus cookware, so many, that you will be very motivated to start cooking different and innovative dishes. So a good kitchen base always helps to get down to work and thus eat better, in a varied and balanced way.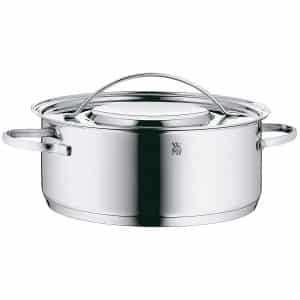 Disadvantages of the WMF Gala Plus cookware
The lid does not allow you to see what is inside
It is the only drawback that we find inside this set of pots and pans. It all depends on what you prefer!
Between you and me
This 7-piece set is very complete and you won't need more. You will have pots, pans and even a steam cooking source, so you can make a wide variety of meals; all kinds of stews, meats, pasta, fish, etc. And for many people, because it includes small pots for 1-2 people but also large ones for 4, 6 people or more. Also, the value for money is fantastic, making it a round purchase so you never have to worry about buying kitchen pots again.
Maybe you are interested
Is this saucepan set not for you? Do not worry. We are always looking for the best options and we propose you the Zwiling Focus cookware. This game has the advantage that the lids have glass, so you can see what is inside or how it is cooking without having to lift it. In addition, there are a total of 5 pieces, in case you don't need 7.
We hope we have helped you!