WMF is a brand recognized around the world, founded in Germany in 1853. Being one of the leaders in the manufacture of high quality kitchen utensils for more than 160 years. It offers versatile and multipurpose products, like these WMF Quality One, for all types of users and buyers. Not surprisingly, despite the years, the brand has continued to solidify and stand tall like no other.
Among its range of products we find the WMF Quality One series . A set of saucepans made up of 4 to 5 pieces of Cromargan stainless steel with the quality that represents WMF.
The Quality One from WMF has a really elegant domed design. Through small holes in the lid it allows the steam not to accumulate inside the pans. Its pouring edge makes pouring liquids easy and straightforward. In addition, thanks to the built-in Cool + technology, the handles do not get hot for a second when food is cooking.
It is suitable for all types of cookers, including induction and even ovens, being able to resist up to 130 degrees Celsius. Also, of course, they can be washed in the dishwasher.
MATERIALS
The WMF Quality One cookware is made of 18/10 stainless steel or also called Cromargan. This is stronger and more durable than other types of pans made of stainless steel.
They are easy to clean and have a stylish kitchen touch. They are also durable and resistant to all types of acids and cleaning agents; its surface makes it a non-stick par excellence, it also does not pollute or leave residue after cooking.
This type of Quality One pans are structured by the exact alignment of 18% chromium and 10% nickel. With this, they become all warriors in the kitchen.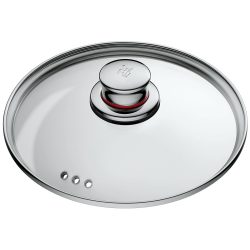 Being suitable for all types of kitchens and utensils, they open the way to healthy eating away from external chemicals that tend to remain in the food with the wear of the pans; with 18/10 stainless steel this is not a threat.
Regarding the compatibility of the WMF Quality One, as we mentioned earlier, it comes out very well. It is compatible with everything! They will work on glass-ceramic, gas, induction and electric cookers. You can also put this saucepan in the oven and nothing will happen to it.
And then straight into the dishwasher. We can safely say that in addition to an elegant cookware, it is a true all-rounder.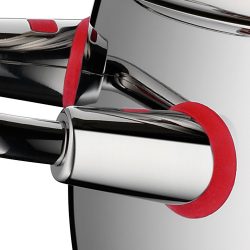 ANTI-ADHERENCE
Just by mentioning that the WMF Quality One cookware is made with stainless steel, we can already deduce that it is a non-stick par excellence. Without any added chemicals or extra surfaces, it achieves a natural non-stick. These types of pans make the cooking experience not only easier and easier, but also much healthier.
Many types of pans cause the chemicals in their nonstick to break off and go directly into the food. This is bad for your health in the long term. However, in these Quality One it is not a problem, which is quite characteristic of the WMF brand. Even with the passage of time, they remain more durable and above all free of substances such as PFOA and PTFES.
SPECIAL FEATURES
Cool + technology: The handles of the pans have the innovative Cool + technology, which reduces heat during cooking making it easier to handle.
Opening in the lid: In the lid of the pans we can see an opening that is where the excess steam comes out, making the food cook evenly and preventing the liquids from overflowing.
TransTherm Base: This universal base allows heat to be distributed evenly around the surface quickly no matter how high temperatures are exposed. In addition, it makes this set of saucepans versatile for all types of kitchens including ovens.
Wide pouring edge: This special design makes pouring liquids straight from the saucepan easy and simple; free from hazards or splashes.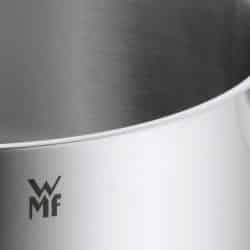 BETWEEN YOU AND ME
This set of pans can be made up of 4 to 5 pans in total. They are available in 16, 20 and 24 centimeters. A fairly varied battery to cover all the needs in the kitchen and prepare all kinds of recipes.
Sometimes quality has to be paid for, and this is the case with this WMF cookware. It is not the most expensive cookware, but it is not cheap either. Now, with the quality of this German firm, buying this battery you will be able to forget about changing your pans for the next fifteen years.
ADVANTAGES OF THE WMF QUALITY ONE KITCHEN BATTERY
They are sturdy and durable for a long time.

There is no risk of contamination thanks to its stainless steel surface.

Thanks to TransTherm technology, heat is distributed evenly.

It's easy to pour and cook with this battery; besides that it is still elegant to look at thanks to its design.
DISADVANTAGES OF THE WMF QUALITY ONE KITCHEN BATTERY
Its price is high, although in line with the quality of this battery.

The heat is distributed quickly and you have to be careful because it can reach very high temperatures.
YOU MAY BE INTERESTED
If you like this cookware, and you like the WMF signature but it seems too high a price, there are alternatives. We advise you to look at the WMF Diadem Plus. They are simpler, with a more sober aesthetic, but much cheaper.
If on the contrary the price is not a problem, there are excellent alternatives. For example, the Zwilling Twin Classic cookware , made in Germany, is of extraordinary quality. As for the price, it is not cheap, but we are talking about a kitchenware of the highest quality.