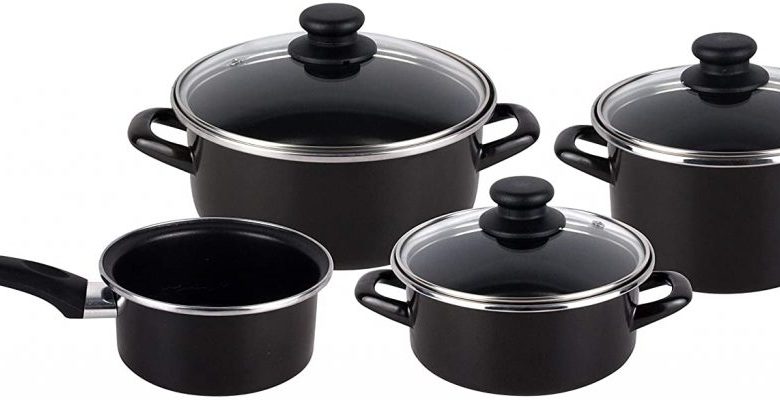 Magefesa is a famous high quality Spanish brand, which has allowed it to expand all over the world. They are experts in making products made from steel, which is considered the best material that exists for the manufacture of kitchen elements due to its benefits. One of their most popular products is the Magefesa Kenya Black cookware.
Quality cookware is one of the most desired products. Finding a versatile, comfortable and functional game is not always easy; Therefore, in this article we will talk about one of the best options on the market: the Magefesa Kenia Negra. It is a very complete set of saucepans, covering different sizes and models, which allows you to make different dishes at the same time.
It is a simple game, but of good quality and very well composed; In addition, it has an elegant design in black, with a glass lid, something very comfortable when cooking. It can be easily purchased, since the Magefesa brand is very popular, especially in Spain.
Magefesa Kenya materials
Magefesa Kenia cookware is made of 850º vitrified steel, also known as enameled or porcelain steel. It is a steel sheet with a vitreous coating that provides resistance to the product and makes it more durable over time. A very important detail to consider about these enameled steel pieces is the energy savings they represent. This is due to the fact that they heat up very quickly and allow cooking with medium or low powers without losing quality, using less electricity or gas.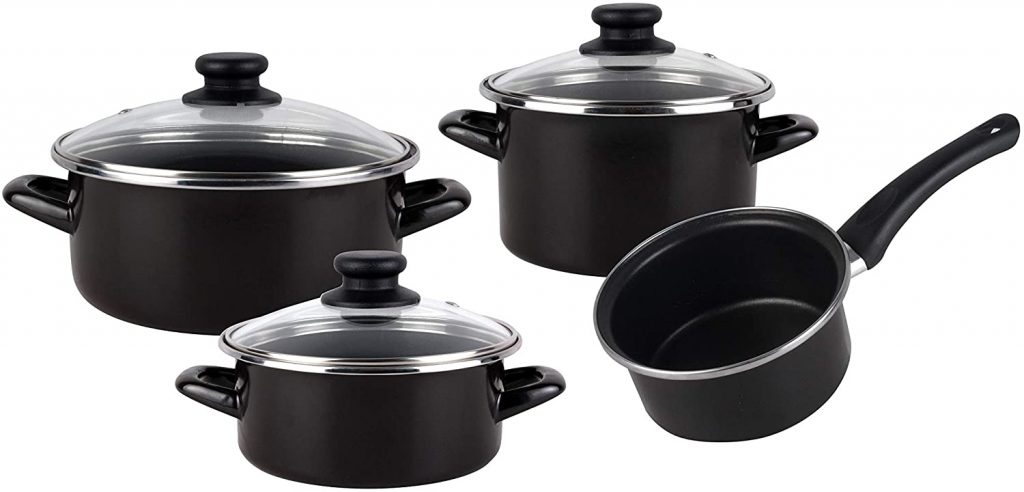 The black color gives them an elegant touch, something very important for those who highly value the aesthetics of their kitchen. In addition, thanks to these materials, it is much easier both to cook and to clean, as it helps to prevent food from sticking to the pans.
Easy cleaning
As mentioned in previous paragraphs, its cleaning is very simple thanks to the material with which all the pieces are made. All pots and saucepan are dishwasher safe, allowing for more thorough cleaning while being easy.
Many brands claim that their products are suitable for dishwashers, but they end up deteriorating in the long run. In this case, the Magefesa brand guarantees the quality and adaptability of its products, with the help of the guarantee it provides.
Design and size of Magefesa Kenya
The Magefesa Kenia Negra battery is a kitchen set that consists of four elements: three pots of different sizes with their respective glass lids and a small saucepan without a lid.
The measures are varied to provide the user with a wide repertoire with which to cook different foods in different quantities. The largest pot has a diameter of 20 centimeters; the other has 16 centimeters; and both the small pot and the saucepan have 14 centimeters in diameter.
The glass lids that accompany three of the four pieces have rings and outlets for steam, which makes them safer when cooking. The handles or fittings are ergonomic, made of metal, since in this way the pots can be inserted into the oven, which allows the user to prepare or finalize recipes without having to change to another container that is suitable for ovens. This simple detail makes everyday cooking a more comfortable and practical act. But you have to be careful: the saucepan cannot be used for an oven, as its handle is not made of steel.
Adaptability
All the parts that this cookware has are suitable for any kitchen model, whether electric, glass-ceramic, gas or induction. Perhaps this last option is the most desired by users, since the sale of induction hobs has increased considerably in recent years and, therefore, owners are looking for options that adapt to their new tool.
They have a fund called 100% Full Induction. This means that, being made of steel, they are fully compatible with induction. They can be adapted to all the diameters of any plate, without the need to add an additional extension.

Non-stick from Magefesa Kenya
The most important thing in a kitchenware is that any food can be cooked and that it does not end up burned and stuck to the bottom. Therefore, non-stick is the key so that this does not happen.
The non-stick, PFOA-free interior coating is considered high-end and ensures that nothing will stick to its surface; in addition, it is resistant to scratches and abrasion.
Special features
Four pieces with different dimensions and accessories.
Energy savings of up to 50% thanks to its 100% Full Induction base, which allows cooking at medium temperature and achieving the best results.
The pots have metal handles, which allows the pans to be inserted into the oven without a lid to be able to cook with other heat sources.
It has two-layer non-stick.
Elegant design in glossy black and with vitrified style.
PFOA Free Nonstick – This means that nothing will stick to food during cooking.
Dishwasher safe.
Adaptable to any kitchen model: vitroceramics, gas cookers, electric and induction hobs.
Very affordable price and easy to buy product.
Maybe you are interested
If this cookware does not convince you and you consider going to a higher range, for very little more we would advise you to look at the WMF Diadem Plus cookware .
WMF is the oldest manufacturer of cookware with almost three centuries of experience behind it. The price is slightly higher, obviously, but always obtaining the best quality. This is something that will mean not only better health for you and your family, but also greater comfort when cooking.