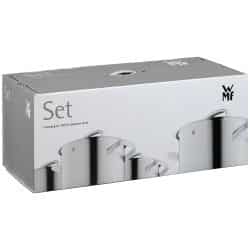 The renowned WMF Group brand , founded in 1853 in Germany, has been known for creating high-quality international cuisine products for more than 160 years. The WMF Premium One series is one of them, a set of saucepans made up of 4 or 6 pieces of excellent quality stainless steel.
She was the winner of the iF Design Award for her technological advancements in the production of kitchen products. The handles of this series, also made of stainless steel, bring with them the patented Cool + technology , which allows it to be held while cooking without the need for gloves or utensils.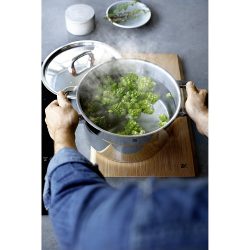 The lids of the WMF Premium One have a small hole. The steam comes out through it to control the temperature and, furthermore, as it is fully adjusted, it prevents drops of liquid from falling into the kitchen. Its base is for all types of kitchens, it heats up quickly and evenly distributes the heat throughout the pot.
We leave you with a short video. The texts are in German, but it is perfect to give you a more visual idea of ​​the finishes and qualities. Regarding its characteristics, we detail them below!