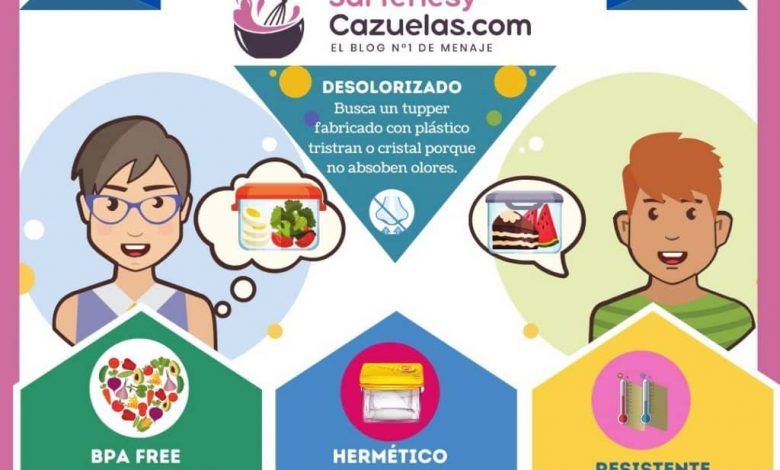 Tuppers | Shopping guide
When buying tuppers it is normal that you have many doubts and do not know which model to choose. Therefore, in this guide we help you step by step to make a round purchase. The tuppers are containers that we use everyday to store food. They are very comfortable because they allow us to keep food for a few days and transport it comfortably to the office or our workplace. Like if you have a son in college and you want to send him some homemade food in a tupperware. They are great!
Of course, not all lunch boxes or containers are the same. There are tuppers of higher quality and less, that close better, that preserve food better, that are more attractive, comfortable, etc. In the following guide we help you choose the ideal model for you, because buying tuppers is not something that is done every day and if you want to make a good purchase, this interests you:
Best tuppers
One of the best ways to preserve food is to use a tupperware. It is a container that can be hermetically closed to store food. Normally, it is stored in the refrigerator and taken out to eat at work, transport or to consume food.
And it is that, each person uses the tuppers in their own way, as they are more comfortable, since they are versatile and allow many possibilities. For example, if you make food for several days, you can always store it in the tuppers and take them out when you go to eat it. Or even keep it in the freezer.
For how many days is the food kept in the tupper and in the refrigerator? It depends on the type of food, but normally 2 to 4 days refrigerated in an airtight container. It is always better to use a suitable container, to extend the shelf life of the food for longer.
Based on all this information, it is time for you to meet the best tuppers. Because when buying tuppers it is normal that you have doubts and do not know which ones to choose, we hope the following will help you:
AmazonBasics Tuppers
It is common to see how Amazon launches its own versions of popular products, at very interesting prices and with above-average qualities. On this occasion, we have the AmazonBasics tuppers.
It has a very tempting price and there are no more and no less than 10 pieces, 5 transparent food-grade plastic containers and their 5 lids. Regarding the capacities, it includes 2 containers of 120 ml, 2 of 400 ml and 1 of 1000 ml; different sizes to store food for one or more people or for one or more days.
The lids are sealed and prevent leaks, so you can safely transport liquids, knowing that it will not spill. In addition, they are completely microwave and dishwasher safe. In such a way that you can heat the food in the container itself and wash it completely just by putting it in the dishwasher.
Tritan plastic is strong and does not retain odors or stains. They are also BPA free. So it only remains for you to try them and save the foods that you want.
If you prefer a larger pack, larger than this 10-piece set, there are 14 and 22.
As we say, one of the best valued sets of tuppers and with a better quality / price.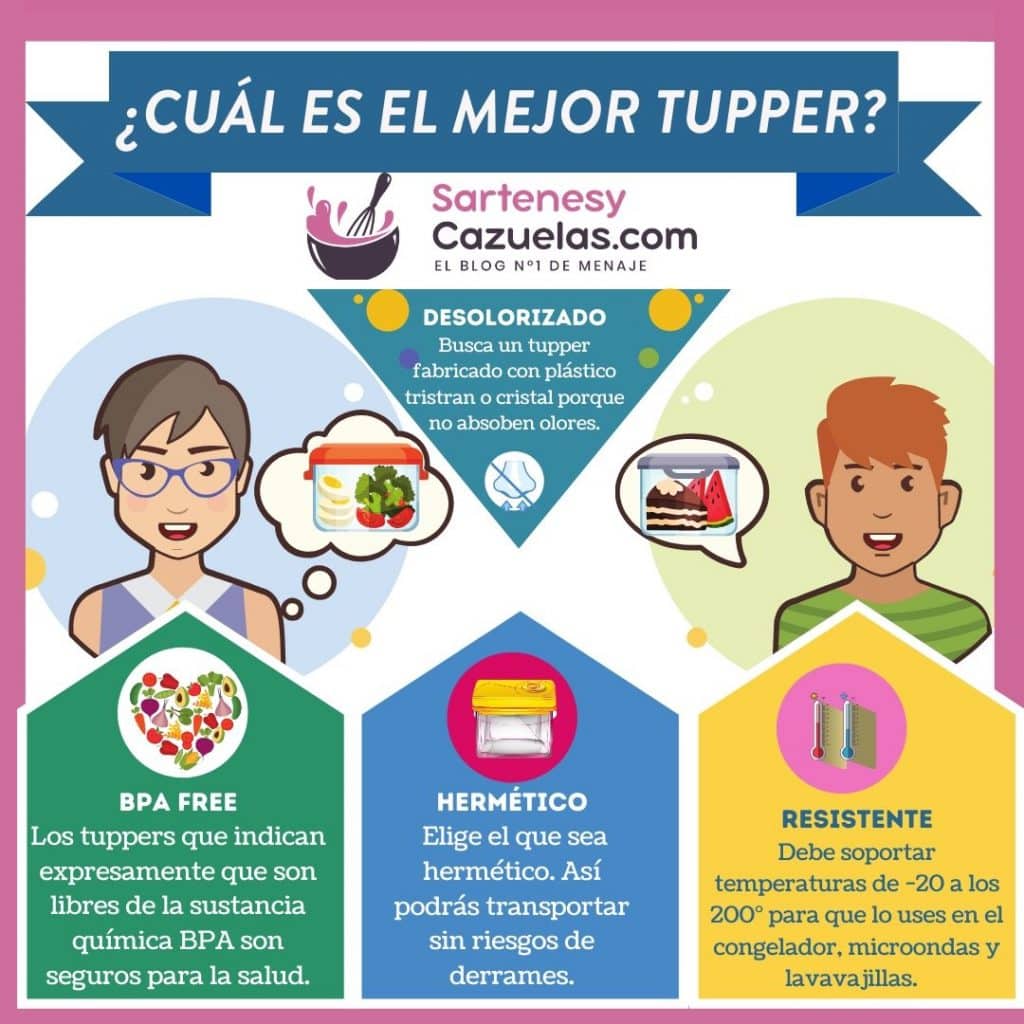 Utopia Kitchen Tuppers
Lastly, we propose this pack of tuppers from Utopia Kitchen. It is very well priced because there are a total of 6 pieces (3 containers and 3 caps). It contains three 840 ml capacity tuppers, which is the perfect size to take to work or to store a serving.
They are transparent and durable glass containers, for a hermetic and waterproof seal, leak-proof. Plus, the lids are also see-through and perfect for seeing what's inside. They are BPA free and are ideal for use in restaurants or for home use.
Among its qualities, these tuppers allow you to keep food fresh while traveling or simply stored in the fridge. They are also suitable for the oven without a lid (they hold up to 400ºC) and are safe to store in the freezer, making them ideal for long-term food storage. That is, you can cook and store large amounts of homemade food whenever you want, which does its job.
Also, you can wash them in the dishwasher. It is no coincidence that we are facing one of the best-selling and most popular tuppers. So if you plan to buy tuppers, we invite you to take a look at this model. It is the best you will find right now.
Valira Tuppers
If you want to buy a lifelong tupper, that's what Valira's are. Many users define them that way, because their design transports us to another era. Of course, although they are simple, they are very durable, resistant and most importantly, they preserve food well. They are made in Spain and with a premium plastic, without BPA.
It is an airtight container that is available in many different colors and also in different capacities : 0.4 liters, 0.5 liters, 0.75 liters and 1 liter, so you can choose them based on the food you want to store. In addition, they are 100% hermetic, do not deform, do not catch odors, do not stain and are very safe.
The manufacturer himself claims that they are as safe as glass and as light as plastic. So if you are going to transport them and the weight is a problem, they are ideal. In addition, the lid is translucent and has a window so you can see the inside well, to know what is in each tupper. And you can use them with the microwave, dishwasher or freezer. It allows from -20 to 200ºC.
It is ideal if you want to buy a tupper by itself and the size you want, instead of a pack (sometimes we buy a large batch of tuppers to save, because it is cheaper per unit, but we end up using only 1 …). Of course, if you prefer several sizes, you can always add several of Valira to the cart and that's it.
Deik Tuppers
The Deik lunchboxes are another great option to consider when tuppers buy. It is a good purchase if you want to buy a set of tuppers, because they come 16 pieces (8 tuppers and 8 lids), with varied sizes: 4 rectangular of 0.24 l, 0.5 l, 1 l and 1.5 l, 2 squares of 0.4 and 0.7 liters and two rounds of 0.4 and 0.8 liters.
They are airtight, BPA free, and dishwasher, microwave and freezer safe. As for the colors, they are transparent, so you can see what's inside at all times (without having to open the lid to check it) and they have a blue lid. They are easy to clean and transport.
These tuppers guarantee a good seal and no odors, so you always have fresh food. In addition, they are so durable and reliable that the manufacturer itself points out a 30-day money-back guarantee and a 2-year guarantee, in case you have any problem or are not convinced.
If you want to buy tuppers by pack to have several of different types and sizes, it is one of the best options in value for money.
Tupper Emsa
If you need a set of 3 tuppers, these from the Emsa Clip & Close brand look great.
These rectangular containers are perfect for storing food. They have a capacity of 1 liter, so you can store the food you make whenever you prefer. In addition, although they are made of plastic, they are resistant, hermetic and of great quality, since they do not retain odors or flavors. Of course, they are completely BPA free.
Aesthetically, they are transparent (ideal to see what is inside) and with details in blue. And of course you can put them in the dishwasher to wash them quickly and use them in the microwave to heat food or in the freezer to store them for longer. So it is very complete.
The manufacturer also ensures that they are suitable tuppers for storing baby food. So if you have a child you can also consider them. It is one of the most popular airtight plastic food storage containers on Amazon.
Tupper Prep Naturals
These Prep Naturals food containers are another store- bought staple, and you have a reason for their extraordinary value for money. This is a set of 5 tuppers with the same capacity, 1064 ml each. They are made of glass and with hermetic lids, ideal for keeping food well for several days.
They are versatile because you can use them in the oven, in the microwave, in the freezer and wash in the dishwasher. Furthermore, as they are made of high quality glass and with a good hermetic closure technology, you will not have to worry about leaks; because food storage is safe during transportation. Also, it is BPA free.
By allowing so many possibilities, you will be able to cook one day when you have time and heat the food in the oven or in the microwave, to always have a delicious lasagna, a stew or whatever food you prepare ready. Everything will be delicious and well preserved.
In addition, in these containers you can also keep fruits, vegetables and other foods. Not just what you cook !!
You can now buy tuppers safely and at the best price
We hope this guide has been helpful when buying tuppers online, online and at the best price. At Amazon we find many high-quality models that offer excellent results. In addition, you can check the reviews of users who have already tried it and who confirm it to us.
Now that you know which are some of the best tuppers you can buy, it only remains for you to tell us in the comments which pack you prefer.
We hope we have helped you choose!