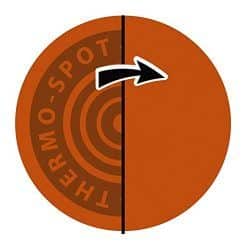 If you have come this far it is because you want to buy some pans and it is not worth it if they are very good, you also demand that they take care of the details and the design, right? Well, as you may have already seen, the Tefal Emotion are really nice pans, but are they also good? Let's see it.
Analyzing its exterior, we realize that we are dealing with very high quality pans . In fact, few have been the pans manufactured by Tefal that did not end up being a resounding success. The French firm is one of the oldest and most expert in the manufacture of pans, and in each model they know how to reflect the best of themselves.
MAIN FEATURES
STAINLESS STEEL ! Yes, they have once again opted for this material for the manufacture of Tefal Emotion pans , why? Because it is a very resistant material and distributes heat very well. In this way, although almost all Tefal pans are made of aluminum, in this case, along with Envy and Jamie Oliver, they have opted for stainless steel. The interior of the Tefal Emotion is still made of aluminum, but its entire exterior has been covered in steel.
Do you want to know more about stainless steel? By clicking here we take you to the Blog!
These Emotion by Tefal are frying pans with clean lines, with polished 18/10 stainless steel and without decorative artifacts. The height of these pans is 7 centimeters, a medium-high height to be able to move food more easily.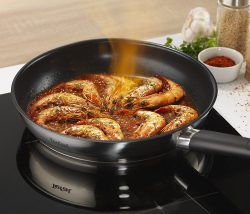 ELEGANT
It is noteworthy the cleanliness of its forms. These Tefal Emotion do not have rivets or connection screws, which results in greater resistance as there are no moving parts and, above all, facilitates their cleaning. The fact of not having joints with rivets, prevents food scraps from being stored and passing a napkin is very simple. A napkin? Yes, we will explain later why a napkin and not a scouring pad.
The built-in handle is really elegant, has a soft touch and is very ergonomic. It has a hole to hang the pan. It may seem silly, but you don't know if in your next house you will hang the pans on the wall!
This handle is fixed, it is not removable as in other pans such as the Tefal Ingenio, the Castey Fundix or the Woll Titanium Nowo. There are those who like to be dismantled and those who do not. Matter of taste.
Of course, we are looking at high-end pans so they are fully compatible with any kitchen, be it induction, hob, gas or electric.
And can I put them in the oven ? Also! Of course, up to 175 ºC. This temperature is enough to finish the recipe by poaching an egg or gratinating some cheese.
Regarding washing, it is also possible to throw these Emotion pans directly into the dishwasher, however we do not recommend it. Below we tell you why.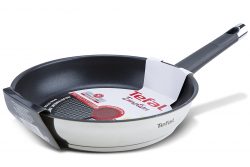 MATERIALS
As we said, the construction of the Emotion frying pan is made of stainless steel on the outside and aluminum on the inside. The main advantage of this is the robustness of the assembly. Steel is one of the most resistant materials and using it to make a frying pan guarantees a very long life.
The main disadvantage of stainless steel is that it is heavier than aluminum. But this is not the case… The way Tefal engineers reduce the weight of these pans seems like a real work of R&D. Little A kilo !
This, together with the ergonomic handle, allows the Tefal Emotion frying pan to be operated with one hand even by very old people.
The handle, meanwhile, is also made of stainless steel. This gives the Emotion even greater resistance.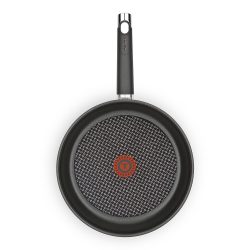 ANTI-ADHERENCE
As for its non-stick, Tefal uses, how could it be otherwise, its own non-stick. For these Emotion pans and this product range they have chosen Tefal Resistium. This is in the high range of non-stick finishes. It has no less than six layers and is reinforced with the precious material: Titanium.
We know that few things in the kitchen are more resistant than titanium. Therefore, we can mistreat the pans using utensils of any kind, giving it intensive use, taking the pan to high temperatures … Few things are capable of damaging these Tefal Emotion. Now, titanium has a price… later we see it.
As for whether they are healthy. Yes, they are and a lot. The non-stick surface is free of PFOAS, so we can cook with the peace of mind that no toxic substances will transfer to our food.
On the other hand, health and non-stickiness go hand in hand. And is that these Emotion pans allow you to cook with a single drop of oil. Its non-stickiness is excellent and that will allow us to prepare recipes with the minimum amount of fat.
Last point in favor of non-stick: cleanliness. As we said before, these pans are compatible with dishwashers, however we do not recommend their use. Why? Very simple, its non-stick is so good that nothing will stick to the pan. In this way, when you finish cooking (and it has cooled down a bit), just putting it under the tap is enough. We pass it a napkin and it is ready for the next use.
Of course you can put it in the dishwasher, or lather it up and give it ten minutes with the scouring pad … But really, it is not necessary.
TECHNOLOGIES
It has some of the novelties that we already know from the French firm:
Thermospot : This technology is nothing more than a circumference in the center of the pan that reacts with temperature. What it allows is that the Emotion frying pan warns you when the oil is at 180ºC ready to cook. With this we achieve the perfect cooking point and that the food seals perfectly.
18/10 stainless steel : This material stands out for its resistance, but also for its lightness. The alloy achieved by Tefal combines the durability of steel with (almost) the lightness of aluminum. This is obviously up to each individual – lightness or strength – but these Tefal Emotion represent an outstanding balance.
Extra reinforced base : Tefal has been working on this for many years. There are pans that are compatible with induction and work perfectly, but with the passage of time due to the high temperatures they deform. If the base is not perfectly flat, it loses thermal efficiency and stops working with induction hobs. Well, the base of the Emotion pans is specially reinforced so that it never warps and its energy efficiency and induction compatibility remain intact.
Ergonomic handle : It is not usually given the importance it has, when it is the only thing that comes into contact with us. It is important that it is robust and ergonomic. The advantage of this handle, which is not removable, is that it lacks visible joints with the pan. This greatly facilitates cleaning by not having to clean the debris that accumulates on the rivets.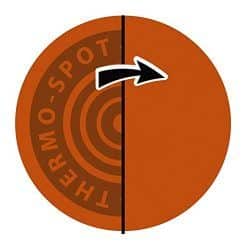 BETWEEN YOU AND ME
These Tefal Emotion are high-end frying pans from the French firm. They have the best technologies of the brand and are different from the rest of the range by being made of stainless steel. This material is more expensive than aluminum, but it is also much stronger and more durable, although slightly heavier.
We think it is a perfect skillet for an intensive medium-high user. The extreme resistance of its non-stick Titanium allows us to be somewhat irresponsible in the care of the pan, they will withstand daily jogs very well.
ADVANTAGES OF THE TEFAL EMOTION PAN
The strength of its 18/10 stainless steel construction is indisputable
Tefal offers a 10-year warranty on these pans
The ThermoSpot is a very useful technology for beginners and experts
It lacks joints or rivets where debris can accumulate, facilitating cleaning.
DISADVANTAGES OF THE TEFAL EMOTION
Its price is somewhat higher than other pans of the same brand
They are slightly heavier than aluminum pans
YOU MAY BE INTERESTED
If you like stainless steel pans but want to value something cheaper, we recommend that you read the Tefal Envy analysis . They are also stainless steel pans although their design is not as perfect as these, they are pans that are very worthwhile.
On the contrary, if you are willing to slightly increase the budget, for little more you could find a Swiss pans Kuhn Rikon Silver Star, made of stainless steel and Titanium. A real gem.
We give you the information and you make the final decision!