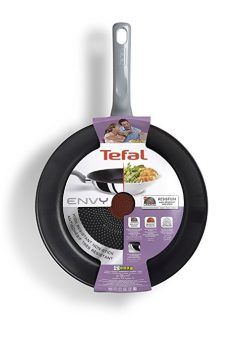 Continuing with its launch streak, Tefal presents this Envy model, and the first thing that catches our attention is its careful design. These Tefal Envy have an aluminum frame and a shiny and pristine surface of polished 18/10 stainless steel, worthy of the kitchen of a Michelin star.
Regardless of the qualities of this pan, which we will see in this article, it visually enters through the eyes. This pan, in addition to cooking, decorates.
Let's see if it is just aesthetics, or if the characteristics of this Envy model from Tefal accompany this great image.
MATERIALS
The Envy frying pan, for its construction, as opposed to other models (and most pans) uses stainless steel for its exterior. Most of the pans are made entirely of aluminum, as it is cheaper and lighter. In contrast, stainless steel is slightly heavier, more expensive, but infinitely stronger. What does this mean? Regarding its construction, it guarantees a frying pan for life.
On the other hand, stainless steel is perfectly compatible with induction cookers . It does not have the downside of aluminum pans that do not work with this technology. This Envy pan, therefore, is compatible with all types of kitchens, all types! This includes ceramic, induction, gas and electric cookers. If you move tomorrow, you know that wherever you go, your pans can go with you.
ANTI-ADHERENCE
As good upper-mid-range that it is, Tefal puts all the meat on the grill with these Envy pans, stocked with the latest Resistium non-stick material . It is a non-stick surface of its own construction, which ensures great resistance to scratches thanks to its (no less) than six layers.
Likewise, another added advantage of Tefal Envy is that they require a minimum amount of oil to cook. To avoid grating the non-stick surface, we must use suitable kitchen utensils. We have talked about it on the blog, and it is that if we put an iron spatula in a pan like that, we can spoil it. Although obviously, those of a range like this, will resist much better the damage that we strive to cause it.

Regarding whether it has any toxic substance, we can comment here that the Resistium non-stick material is free of substances such as PFOAS. Tefal uses aluminum only for the structure of the pan, its outer part being made of stainless steel. The aluminum, meanwhile, will be well protected by the layer nonstick, provided it is in good condition.
It should also be noted in the health section the fact that the Envy pan requires very little oil to cook. Our dishes cooked in this model will be much healthier. All this as long as we have not damaged the non-stick surface with a knife or with a strong sharp blow.
TECHNOLOGY
As we said, Tefal has wanted to take care of these pans and therefore has put all its technology into them :
Ultra-resistant 18/10 polished steel, which gives it sublime resistance. It is also very easy to clean and of course, it can be put in the dishwasher without problem.
Resistium non-stick: located in the high rung of Tefal non-sticks. Very non-stick and really resistant to any abuse.
Bakelite handle : makes it extremely easy to hold the Tefal Envy pan . It is not the lightest on the market, as are the aluminum ones, but it can be handled perfectly with one hand. Its short handle also facilitates storage in narrow drawers.
Thermospot 4, which will notify us when the pan reaches the optimum cooking temperature by means of the red circle inside the pan. This is really practical; for example, to know exactly when to put the fillet so that it is perfectly sealed and does not lose water.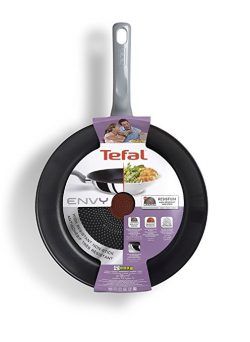 IN SUMMARY
Tefal places this set of Envy pans in its top 3, undoubtedly all its technology, qualities and materials make us realize that in addition to finding ourselves in front of some really precious pans for their polished steel, they are super resistant, durable and effective. Without a doubt one of the best pans we can buy today. These are presented in three measures of 20, 24 and 26 centimeters.
You have a double guarantee, the guarantee of the No. 1 manufacturer of pans and that of satisfied customers, which are many.
[content-egg module = Amazon template = list]
ADVANTAGES TEFAL ENVY:
The structure of the pan is very resistant, perfectly resists shocks and uses.
It has the latest Tefal technology (Thermospot 4, Resistium non-stick …)
Its aesthetics are one of the pans with the most careful design that we have seen.
DISADVANTAGES TEFAL ENVY
Care must be taken not to damage the non-stick with knives or metal utensils.
They are somewhat heavier than aluminum pans, although not as heavy as iron ones.
YOU MAY BE INTERESTED
If you are looking for a set of pans with similar characteristics, but you want them to be reinforced with Titanium, you can read the complete analysis we did of the Tefal Expertise. These Expertises are distinguished by having a 7-layer Titanium Excellence surface and an improved design.
Finally, with a design similar to these Tefal Envy and also made of stainless steel, Tefal has launched the new Tefal Jamie Oliver. A special edition with the best qualities. It is somewhat more expensive and its characteristics are similar, but its design is outstanding.