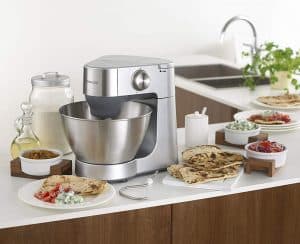 The British Kenwood, leader in the manufacture of kitchen robots, especially kneaders and food processors, presents Kenwood Prospero, a compact high-quality kitchen robot, with a series of accessories that will facilitate the use of the robot in your kitchen to process large quantity of food, which makes this robot, in its category, one of the most versatile and complete on the market.
This Kenwood Prospero Kitchen Machine is the perfect assistant, saving you a lot of mechanical and tedious tasks, and also a lot of time if you did them manually. For those who want not to invest a lot of money, and have a robot with a large number of features, this can be the perfect robot.
Ranking Top3 Best Kitchen Robots
Materials
It is made of high quality plastic, and metal. Its bowl is made of brushed stainless steel, which ensures its resistance and durability over time.
Capacity and Power
It has a capacity of 4.3 l and a power of 900W. Enough to fully comply with all the functions that we can demand from this kitchen robot.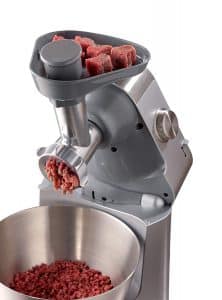 Main functions of the Kenwood Prospero food processor
The Kenwood Prospero kitchen robot can process a large amount of food, to facilitate our work in the kitchen: breads, doughs of all kinds, desserts, cakes, etc. It is a highly recommended robot for use in baking. Its main functions include the following:
Functions to squeeze, chop food, beat, grate, cut and blend, thanks to all its accessories.
Accessories: glass blender, wire mixer, dough hook, food processor with three discs, meat mincer, blender, spatula and anti-splash cover.
Planetary action function of the mixture, to ensure that the texture of the dough is correct and that all the ingredients mix perfectly, in addition to that the product will not stick to the walls of the bowl.
Total locking function of the robot for greater safety in its use.
All its accessories are easy to clean and dishwasher safe.
This food processor includes three grating / chopping discs, for coarse trimming / chopping, fine chopping / chopping, and a grating disc. In addition, it also includes optional discs to cut vegetables in julienne, standard cut and extra thick mincer disc.
Kneading function for doughs of bread, pizzas or pastries. Any texture will be perfect thanks to its dough hook, which works with total precision.
Perfect for whipping egg whites, cream, making sauces or making smoothies of all kinds with a perfect texture.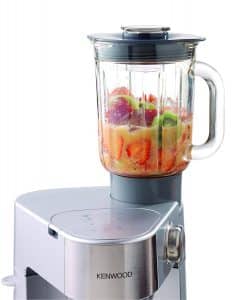 Advantages of the Kenwood Prospero food processor
Its compact design is specially designed to save space in the kitchen or for small kitchens.
It is a very stable robot on any surface
The assembly and disassembly of all its accessories is easy and convenient.
The robot is easy and intuitive, it is handled in a very comfortable and uncomplicated way in its initial learning.
The doughs of bread, pizza and crepes are perfect in texture with little effort thanks to its dough hook. It is an exceptionally good processor for making doughs of all kinds, which will always be perfect.
It has the adequate power to make the best pastry dough. In addition, the bowl does not overflow and thanks to the anti-splash lid, you can knead, mix and chop with complete peace of mind.
The hooks and rods are very resistant for continuous use, they do not deteriorate.
Harder foods such as nuts can be ground without any difficulty, thanks to the power of its motor.
The mincer is perfect to be able to chop meat for hamburgers, and thin or thicker vegetables according to our taste, thanks to its three built-in discs, which save a lot of time in the kitchen.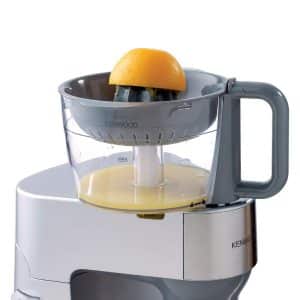 Disadvantages of the Kenwood Prospero kitchen robot
It is a robot that works very well, it is light and versatile and compact, but it is somewhat noisy when processing certain types of food, compared to other robots that are completely silent.
Between you and me
The Kenwood Prospero kitchen robot is perfect for people who do not have much knowledge of kitchen robots and want to start learning with a simple and handy robot. It is very versatile and easy to use out of the box, because it does not have very sophisticated functions that require specific knowledge. It is also perfect, due to its compact design that takes up little space in the kitchen, or for small kitchens. In addition, it is a very light robot.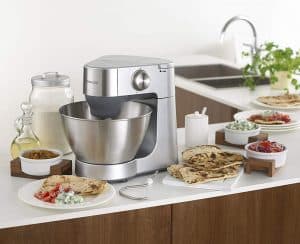 It is a household appliance that is quite economical, given its many functions, features and accessories, so its value for money is unbeatable. In addition, the Kenwood brand guarantees total satisfaction and guarantee in mass processing, its specialty, since this brand is a veteran in the manufacture of robots for this type of functions. In addition, its materials and its finish guarantee resistance in use and durability over time.
Maybe you are interested
If the Kenwood Prospero Kitchen Machine does not suit your needs, you may want to take a look at the Kenwood Multione Kitchen Machine, which has more features and is more sophisticated. Among its food processing functions, it can mince, whisk, squeeze, blend, cut and grate. It has two distinct areas, the preparation area and the mixing area. In the preparation area you can prepare all kinds of food, thanks to its 1.2L capacity bowl. It also has five variable speeds to prepare foods such as cakes, soufflés, cakes, puddings, etc. It has an electronic speed control and has a "pulse" function to expand capacities in the food preparation area.
Like Kenwood Prospero, it has a 360º planetary movement for mixing ingredients, which makes it easy for all the doughs to be worked with a homogeneous texture and stick to the walls of the container. It is a somewhat more sophisticated robot than the previous one, with a somewhat higher price.