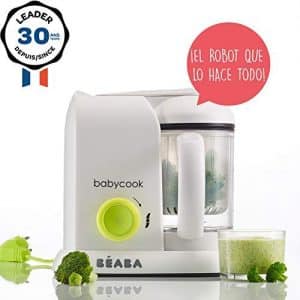 The Béaba Babycook Original Plus and Babycook Solo kitchen robots are specialized for babies, with the most important functions for their first feeding stages: they can defrost, heat, whisk, and steam. The Babycook Original Plus has six functions, two more than the Babycook Solo (it can heat bottles and sterilize). Both robots are made of high-quality BPA-free material to ensure absolute safety in feeding the smallest of the house.
Béaba is a British brand specialized in the production of household appliances and accessories for babies, and in this case they include two English plugs with an F-type adapter included. We will analyze the characteristics of each robot separately, so that parents can compare and make their best choice.
We leave you with a short video about how it works. Inside video!
BEABA – Instrucciones de uso: Babycook® Solo & Duo
Characteristics of the Béaba Babycook Original Plus
This robot has 6 functions in a single appliance : it steams, crushes food, defrosts, heats, warms bottles and sterilizes

It has a water dispenser built into its main carafe

Function of steaming food in just 15 minutes, to preserve nutrients and vitamins.

The jug has a capacity of 800 ml, to prepare larger quantities of food in one go.

Automatic stop with sound and light signal that indicates the end of cooking.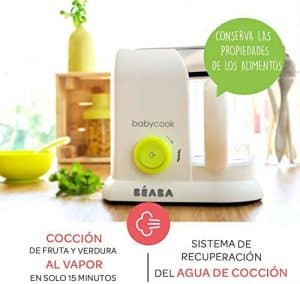 Characteristics of the Béaba Babycook Solo
Robot with 4 functions in one device : steam, grind, defrost and heat.

Steamed in 15 minutes, to preserve vitamins and nutrients in food.

Jar with a capacity of 1,100ml, to prepare large quantities of food in one go

Your water dispenser is built into the jug

Automatic stop with sound and light signal that indicates the end of cooking.

Blend foods with different textures (into softer, thicker or chunky purees) that adapt to the different stages of feeding the baby.

Has a single button panel with cook-grind functions

It has a cooking basket that can be removed to be able to reuse the cooking water
Integrated functions to be able to mix and cook at the same time, in less than 20 minutes

Includes recipe book, spatula and lid for mixing in the jar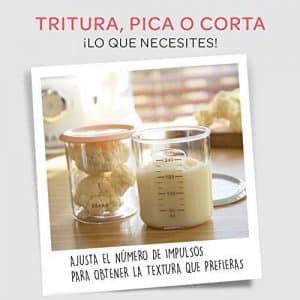 Advantages of Béaba BabyCook Kitchen Robots
They are very comfortable and easy-to-use robots, thanks to their unique function control.

Its cleaning is very easy and fast, and thanks to its main jug, which is used for cooking and grinding, other kitchen utensils are saved, as well as preparation time.

The steam cooking is excellent. Food comes out just cooked without losing nutrients or vitamins.

The Babycooks make the purees in different textures (soft, thicker or with pieces of food) to adapt to the baby's feeding stages.

The cooking basket collects the liquids from the steamed food, with all its vitamins and nutrients.

Its accessories are easy to disassemble. The ease of removing the blades and cleaning them in complete safety stands out.

Also noteworthy is the high quality of the manufacturing materials, which are very resistant. They allow the continued use of the robot over time, and on a daily basis.

Large capacity of the jars of both robots (800 ml and 100 ml) so that more than two purees can be made at one time.
Being compact robots, its storage is easy, and it is even easy to transport if we go on a trip and we are going to need it.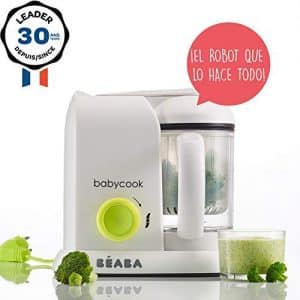 Disadvantages of

the Béaba Babycook
The main drawback is the price, which is somewhat higher than that of other robots with similar characteristics.
Between you and me
The Béaba Babycook Kitchen Robots are having great success in the Spanish market, given that the brand is a veteran in the manufacture and production of household appliances and baby equipment, providing security and guarantee in any product of the firm.
These robots perform the main functions that a baby needs in the early stages of feeding: steaming, beating, heating, and defrosting. The Babycook Original Plus can also sterilize and warm baby bottles. It's quick (15 minutes to steam and 20 minutes to mash and steam) because you can perform both functions at the same time in the main carafe. In addition, his jug, on both robots, includes the quantity meter, and he can make more than two servings.
Thanks to its mixer, with blades that are easy to disassemble and clean, you can make purees of various textures in a short time, adapted to the baby's feeding needs. In addition, it is a compact robot that is not too large in size, so it is easy to store, even transport.
Maybe you are interested
If the BabyCook Original Plus or Solo Kitchen Robot models are not the ones that interest you the most, you may want to take a look at the Babymoov Nutribaby Kitchen Robot, which has five functions: steam cooking, blender, bottle warmer, defrosting and sterilization. It has an LCD screen with a button for each function, so using it is very simple. Its mixer has three speeds to beat the baby purees in different textures. In addition, it also has a receptacle that collects the cooking juices.
It has the capacity to cook and whisk at the same time, and it has a timer and automatic stop of the robot so that each ingredient can cook according to the time it needs. One of its main advantages is its large capacity (2200 ml jar distributed in 1500 ml for cooking and 700 ml for the mixer) so it can steam cook for more members of the family. One of its great advantages is steaming in two separate baskets. The gentle steam cooking is ideal for cooking food for just the right amount of time: eggs, fruits and vegetables.