The Kenwood Cooking Chef Induction Kitchen Robot is one of the most versatile and avant-garde on the market. Thanks to its induction cooker, fast heating and energy saving, and all its high-quality accessories, you can prepare really professional recipes. Very suitable for the foodies, and for its ability, for those who have many diners at home, large families or for those who like to save them time c ocinando and freezing.
We leave you with a short video where you can clearly see all the best features of this Kenwood Kitchen Robot, within video!
Conoce el robot de cocina más polivalente: Cooking Chef | Kenwood
Ranking Top3 Best Kitchen Robots
Capacity and Power
The Kenwood Cooking Chef Kitchen Robot has a power of 1,500W, more than enough to carry out your multiple cooking tasks. His bowl is huge, one of the largest we have seen on the market. It has a total capacity of 6.7L, which allows you to prepare dishes for up to 10 people (or cook for two and fill the freezer!)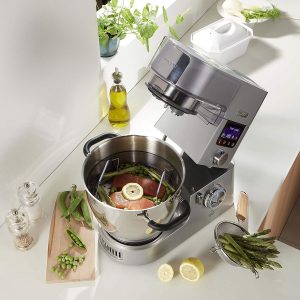 Materials
The Kenwood Cooking Chef Induction Kitchen Robot is made of high quality stainless steel, both its main bowl and its accessories. This material is innocuous and guarantees the greatest safety in the kitchen. Stainless steel does not transmit odors or flavors, and it is also very easy to clean.


Features of the Kenwood Cooking Chef Kitchen Robot
The Kenwood Cooking Chef Induction Kitchen Robot provides a new induction cooker that saves a considerable amount of energy in its cooking functions. This is one of the most energy efficient new kitchen technologies, and it really pays off. Among its main characteristics, the following stand out:
Robot designed to cook by induction, at temperatures between 20ºC

and 180ºC (from low temperatures to high temperatures for frying) adjustable degree by degree.

LCD screen

Accessories included: ThermoResist Blender, Food Processor with 6 discs, steam basket and hooks for kneading, stirring, flexible mixer, K-mixer and rod mixer.

Programmable cooking time up to 8 hours

Planetary action function for mixes, perfect for all foods to be processed and not stuck in the bowl.

More than 30 additional accessories that allow you to make endless elaborations.

Thanks to its induction heat you can melt butter, sauté, fry, or melt foods and sauces.

Its flexible mixer is special for mixing sauces and creams; its stirring hook is used for fast and slow cooking; it has a sophisticated K blender to obtain gourmet mixtures, with homogeneous textures; its rod blender is special for emulsifying; dough hook for mixing and aerating and a food processor with blade and 6 discs.

It has more than 20 cooking and food processing programs, to be able to cook, knead, emulsify, fry or whisk and all kitchen tasks, from the most basic to the most sophisticated.

It has a variable speed control in 8 positions.

Its

more than 30 accessories allow you to make everything you can imagine: juicing, mincing meat and nuts, making fresh homemade pasta … it has endless possibilities.

Sophisticated techniques to make shortcrust doughs, bread, sauces and textured gelatins, and all kinds of products with almost professional results.

It has a quick recipes function among its 20 programs, to have a dish ready in less than 30 minutes.

All its accessories are easy to clean, assemble and disassemble.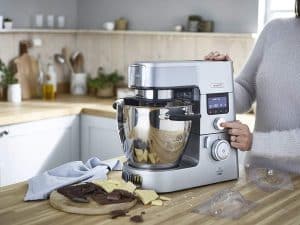 Advantages of the Kenwood Cooking Chef Kitchen Robot
The Kenwood Cooking Chef Kitchen Robot provides numerous advantages due to its ability to prepare multiple recipes, saving energy in the kitchen, and with almost professional results. Its main advantages include the following:
Thanks to its included accessories (it has another 30 additional accessories) it is possible to prepare the most sophisticated and delicious recipes with little effort.

Ideal for enjoying a healthy and healthy kitchen, thanks to the possibility of steam cooking in its steam basket.

You can program your cooking up to 8 hours, a very useful option to have the dishes ready and at their point at the desired time.

Its induction cooker allows you to cook efficiently, saving energy, and in less time than traditional cooking, with perfect results, as a professional chef.

You can prepare healthy and balanced steam cooking for a healthy diet.

It has the capacity to prepare countless culinary preparations thanks to its 20 programs: frying, stir-frying, making sauces, melting chocolate, making fresh pasta and pastry puff pastry, etc.

The accessories are easy to clean, and are easy to assemble and disassemble.

Disadvantages of the Kenwood Cooking Chef Kitchen Robot
The only notable drawback, for looking for a but, is that it does not have Wi-Fi. If this is not a must for you, it is a perfect purchase 🙂
Between you and me
The Kenwood Cooking Chef Induction Kitchen Robot is a true chef, capable of cooking the most difficult recipes, although it is not basic in its handling, and users need to have a minimum of knowledge and experience in the kitchen to be able to prepare the recipes. perfect cooking and recipes. It is a very suitable robot for people who want to experience new textures and flavors, due to the great sophistication of its elaborations. It is a very suitable robot for families with many diners, or hosts who have guests very often. And for the chefs of the house, unconditional of good food, it is the perfect robot to experiment with new recipes and new flavors in the kitchen.
Maybe you are interested
If the Kenwood Cooking Chef Induction Kitchen Robot is not the one that best suits your needs, you may be interested in taking a look at the Cecotec Mambo 9090, a very complete robot. It has 30 cooking and food processor functions, and is capable of reheating, reheating, mashing, emulsifying, low-temperature cooking, poaching, confit, and kneading, among other functions. It has two zero speed functions, to cook and fry without setting speed, and turbo speed.
In addition, you can cook without a lid, emulating the cooking of traditional stews. It incorporates a precision scale to be able to obtain the exact quantities in culinary elaborations. It has an innovative stir-fry function to brown food at maximum temperatures and with maximum power. One of its main advantages is that it can cook up to four dishes at the same time in its different accessories: its jug, the boiling basket and the steamer on two levels. It is also a great choice for families with many diners.