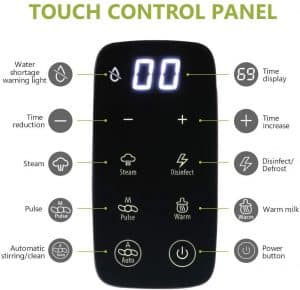 The Zanmini Kitchen Robot is a very useful baby food processor to relieve parents of continuous tasks in feeding their baby, such as sterilizing bottles, shaking their contents, blending food, heating milk or steaming food, for which is very useful for families with babies.
In these Kitchen Robots for babies premium, in its construction, hygiene. They are special for babies because all their pieces pass the strictest quality controls, are BPA free and are completely disassembled to wash piece by piece in the dishwasher. Nothing is left to chance when it comes to preparing food for the little one in the family. Let's see this Zanmini!
Materials, power and capacity
The Zanmini baby food processor has a heating power of 300W and a stirring power of 130W. It is sufficient power for the functions of this processor, which is made of BPA-free material . Its water tank capacity is 200ml and it has a stirring capacity of 300ml.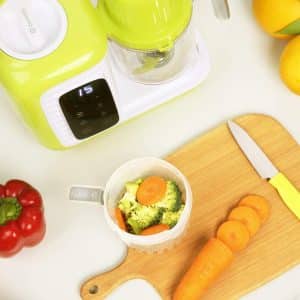 Main Features of the Zanmini Baby Food Processor
The Zanmini kitchen robot is a device designed for the most basic and common needs of babies in their feeding. For parents, it is a really comfortable and very useful appliance in its daily use, since it performs functions that take time if they are done manually. Among its technical characteristics, the most important are the following:
Multifunctional food processor, with functions of steaming, blending, sterilizing, blending, defrosting and heating.

It has a timer function.
Sterilization function with manual time selection, by pressing the "disinfect" button.

Function of mixing bottles and food manually or automatically.

Contains 600ml and 400ml steam baskets

Digital touch screen for ease of use

Safety systems : anti-burn handles to avoid accidents when handling; the processor will start after locking the steamer basket, closing the shake cup and the water tank. Warning system when there is little water left to heat in the tank, and if there is not enough water, the processor will not heat.
Automatic cleaning system: It is not necessary to wash by hand, thanks to its built-in self-cleaning system. Simply add water to the shaker cup, and press the "auto" cleaning button

to clean the steam baskets and blades. These accessories are also dishwasher safe.

Accessories included: steamer baskets, shaker cup, and blades.

Precise measurement of the shaker cup: 100ml, 200ml or 300ml.

Low energy consumption

It includes recipes (the Spanish version is sent by email): age ranges from 4

to 6 months, from 7 to 9 months and from 10 months.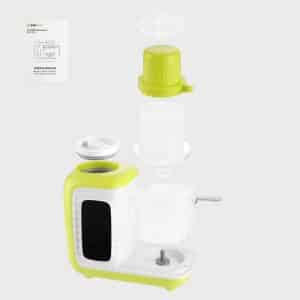 Advantages of the Zanmini Kitchen Robot
The Zanmini Baby Food Processor is a very useful household appliance for parents. In addition to performing many of the daily functions needed for feeding babies, the self-cleaning and sterilization functions are very useful to ensure the complete hygiene of the baby's everyday items. Its advantages include the following:
One of the most important is the sterilization function of the articles and accessories included in the processor, for complete safety in feeding babies, by pressing the "disinfect" button and setting the desired time manually.

It has very common functions for feeding babies, which save parents a lot of work: steaming, blending, sterilizing, blending, defrosting and heating.

The precision of the shaker cup is also very helpful in determining the exact measurements of baby bottles or baby food.

The automatic cleaning function is also one of its greatest advantages, as it ensures the correct sterilization of all the utensils used. Simply fill the water tank, and insert the accessories.

Safety systems to avoid burns in the kitchen, and warning that there is little water in the tank.

Low energy consumption. In addition, it is a fairly quiet processor.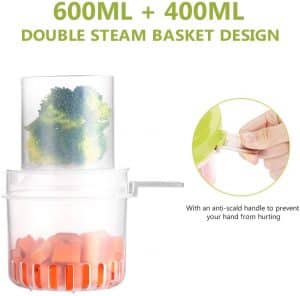 Disadvantages of the Zanmini Kitchen Robot
Users who have already tried it are delighted with the benefits of this processor for babies, but they miss that both the instruction manual and the recipes that are included in the purchase pack are not in Spanish, although the company already indicates that they are sent by email. But it is more convenient to have a paper format in our language when purchasing the product, and this is a point for improvement.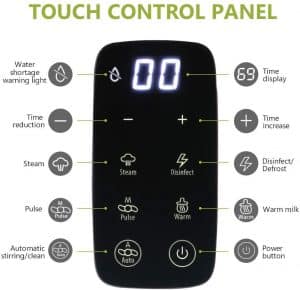 Between you and me
The Zanmini Baby Food Processor is a great gift or shopping idea for parents who have little time for special tasks in caring for their baby's feeding. With a food processor that automatically performs the functions of blending, shaking, cooking or sterilizing, among other functions, manual tasks are carried out that save parents a lot of time in the kitchen, and that ensure a hygienic and adequate feeding for the baby, thanks to its sterilization function.
It is a processor that performs the most repetitive and daily tasks for the care of the baby in its feeding. And its handling is very safe, with hygiene measures one hundred percent safe, so that the peace of mind of parents in matters of hygiene in food is fully assured. In addition, your recipe book is very useful to know what recipes can be made and what foods are suitable for babies, according to their age range.
Maybe you are interested
If an exclusively baby food processor is not what you are looking for, then you may be interested in looking at other more complete ones such as the Kenwook MultiOne robot , with complete food processor functions: whisk, squeeze, blend, cut, grate or chop. It has five speeds with electronic speed control, and includes a host of accessories, all dishwasher safe: juicer, blender, blender, chopping blades, shredding, slicing and cutting discs, dough hook, and accessories for make juices and cut potatoes.
In addition, it has two different processing areas : the preparation area, to prepare all kinds of food, thanks to its 1.2L capacity bowl, and the mixing area to mix the food to be prepared.