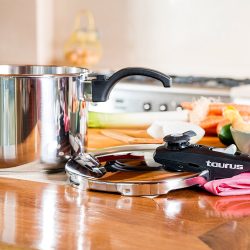 Taurus is a very recognized brand worldwide when it comes to tools for our kitchen. It has been in the market for more than 50 years and is present in a large number of countries. So it gives us the assurance that its products are very well prepared and guaranteed. The goal of Taurus is to cover all the needs that the world's families may have at home. And with that intention they present the Taurus Ontime rapid 7HB pressure cooker. Will it be worth it?
This is a high quality pressure cooker that comes in different capacities, the 8 liter and the 10 liter pot. All the people who have tried what it is to cook with this pot come to the same conclusion. The Taurus OnTime Rapid 7H cooker is of excellent quality. That means that we will not waste so much time cooking and we will share much more with our family.
One of the great advantages of this pot is that the price for such excellent quality is very good and it competes directly with other similar products in the higher-end market.
MATERIALS
The Taurus Ontime Rapid 7HB cooker is built with the best materials. The Taurus house guarantees that its products have a very long useful life and that we will have a very good product for a long time in our homes. It is made of 18/10 stainless steel. An outstanding quality.
In addition, it has an ergonomic Bakelite handle that has a perfect safety lock for handling the pot without the need to burn our hands.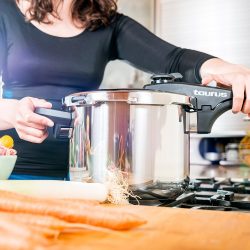 COMPATIBILITY
The Taurus Ontime Rapid 7HB pressure cooker is a compatible cooker for all types of cookers including induction cookers. This is an excellent tool for every household in the world. On the other hand, it can also be used in the dishwasher without major problem, so you will not have any inconvenience in its use.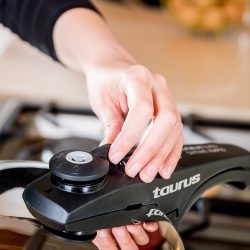 MAIN FEATURES
This is an ultra-fast pressure cooker, which will help us to reduce the cooking of our food in half the time. Compared to a traditional express pot. It will ensure that we have much more time with our family and less time preparing food.
As it is a pressure cooker, the Taurus OnTime Rapid 7HB allows us to cook our food much faster. But also that these retain a large amount of their nutrients and vitamins. Ensuring not only a healthy meal, but also a tasty meal.
It has two pressure levels for cooking. Both will allow us to prepare all kinds of food, we will preserve all their properties and you can choose between 60 kPa and 100 kPa. We recommend that you choose the first one for vegetables and softer foods. And, the second, for meat and fish.
It has a double steam evacuation valve. This will give us total assurance that the lid will not blow up in the event that steam builds up. This is a completely safe pot for all users. The steam output is vertical, which is much better than the horizontal systems that we can see on the market.
Its ergonomic Bakelite handle is built so that we can transport our pot without problems. And it has a safety closure with automatic lock to avoid any accident. Even if we forget to secure the lock ourselves.
One of the features that many users will appreciate is the signage inside the pot for filling. So you can measure the amount of water you want for each food you are cooking. Without using many more kitchen tools.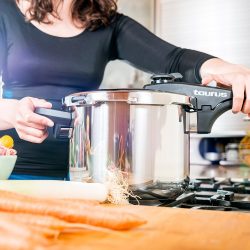 BETWEEN YOU AND ME
The Taurus Ontime Rapid 7HB Pressure Cooker is an excellent option for all those who want a large capacity cooker in their homes. That not only gives you volume, but also safety and speed when cooking. This is a pot that will save us time in the kitchen and that will allow us to generate more and more delicious dishes. It will preserve all the nutrients and vitamins of the food we want to cook.
This is an ideal pot for larger families. And, as it is compatible with all types of kitchens, it will guarantee that we can use it anywhere. Even if we travel, move or change kitchens. On the other hand, Taurus assures us that these pots are made to perfection. So that all users can use it for a very long period.
ADVANTAGES OF THE TAURUS ONTIME RAPID 7HB
1-. The main advantage of the Taurus Ontime Rapid 7HB pot is that it gives us the ease of cooking food in a very short time. With this pot we can ensure that the food retains its flavor. And above all, all the nutrients they have to offer us.
two-. On the other hand, this is an excellent pot for handling. Even for the most inexperienced in the kitchen. This pot will allow us to be sure and completely calm that we will not have any accident or discomfort when preparing our food.
3-. Finally, it is a pot that is compatible with all types of kitchens. This is a point that often worries many of the users. And that can make them decide between one product or another. But the Taurus Ontime Rapid 7HB pressure cooker gives us the possibility of having an excellent cooker. In the same way, we can use it for a long time anywhere.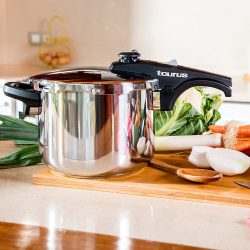 DISADVANTAGES OF THE TAURUS ONTIME RAPID 7HB
1-. The main drawback of this pot is that we cannot easily find information about it online. But we have solved that and you can learn everything about the Taurus Ontime Rapid 7HB pot here.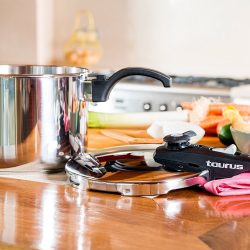 YOU MAY BE INTERESTED
If you have not been convinced or are looking for a cooker for the hotel industry, one of our recommendations is the Magefesa Chef. This is a pot that has a capacity of 15, and 22 liters. Which will allow us to prepare large amounts of food. This is designed for hospitality services due to its large size. Being this only compatible with the gas stove. It cannot be washed in the dishwasher, but it is an elegant and functional pot.