Pans
Monix Martin Berasategui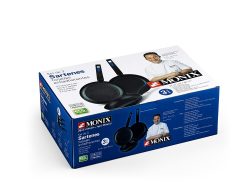 Buying a set of pans and getting it right is not always easy. Luckily, sometimes lifelong manufacturers surprise us with groundbreaking collections. These are characterized because in addition to being endorsed by a firm with an impeccable track record, such as Monix, they are signed by authentic masters. In this case, the Monix Martin Berasategui pans are endorsed by no less than eight Michelin stars.
What does it really mean for one of the best chefs in the world to put his name on pans? Well, nothing less than himself endorses the quality of this product with his own name. We are sure that if the product were to disappoint, in no case would you want to associate it with your surname Berasategui.
Are Martin Berasategui de Monix good pans then ? How are they different from the others? Let's see it.
MATERIALS
The Martin Berasategui by Monix is a set of three pans made of forged aluminum of the highest quality. Aluminum provides them with a very remarkable resistance with an outstanding lightness. Moving an aluminum frying pan with one hand is a really easy task for anyone, even the sick or very old.
The handle is made of Bakelite. This ensures excellent antipyretic qualities, so that in no case will the heat of the pan be transferred to our hands. It is a rubbery-looking handle with a blue detail. In addition to being really elegant, it ensures that when we handle the pan with wet hands or with oil it does not slip.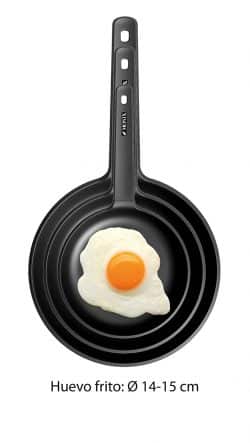 The Monix Martin Berasategui Set that we are analyzing today is made up of three pans of different sizes. The smallest, 18mm, is perfect for servings for one or two people. The other two, already larger, are 22 and 26 centimeters, so we have the option of choosing the most suitable pan at all times.
COMPATIBILITY
This is a very important, if not vital, aspect in all the latest releases. People increasingly renew their kitchens and opt for new technologies. This is the case with induction, and many users find that their pans will not work with their new hob.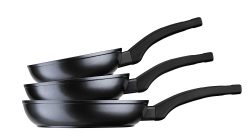 These Monix Martín Berasategui pans are perfectly compatible with induction, hob, gas, electric … You will have no problem making them work in any kitchen.
As for the dishwasher, you don't have to worry either. They are fully compatible with use in a dishwasher. As soon as you finish using them you can enter them for an automatic wash without the slightest problem; Although as we will see below, in most cases it will not be necessary. Now we tell you why.
ANTI-ADHERENCE.
Monix is ​​a firm committed to the environment and the health of its users. This is why it has long since stopped using controversial PFOAs on its non-stick surfaces. The non-stick used by these Monix Martin Berasategui is ecological, free of any toxic substance.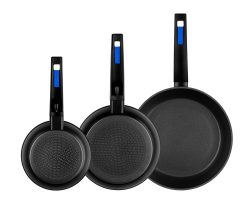 Its non-stickiness is outstanding, you can cook any food with very little oil without the risk of anything sticking to you. Of course, as always, we advise not to use metal utensils and to use saucepans if you are going to store some pans on top of others.
When you finish using the Martin Berasategui de Monix pans , as we told you before, it is possible to put them in the dishwasher. However, you will see that it is not necessary. By putting them under the tap for a couple of seconds and passing a kitchen paper over them, they will be impeccable and ready for the next use.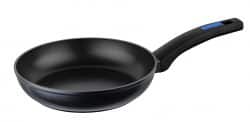 MAIN FEATURES
This is the cheapest kitchen set you can find.
It is endorsed by one of the best chefs in the world with 8 Michelin Stars.
Its non-stickiness is outstanding.
The forged aluminum construction allows the weight of the pan to be extremely low.
They are compatible with all types of cookers, including induction of course.
They can be washed in the dishwasher, although it is not necessary thanks to the very good non-stick.
The handle is made of Bakelite, so it ensures that your hands will be safe at all times.
The non-stick surface is environmentally friendly free of any toxic substance.
BETWEEN YOU AND ME
When we buy a set of pans we do it a bit blindly. We do not know very well what so much data means or if we will make a good purchase. However, we must attach importance to lifelong manufacturers. And Monix is ​​one of them, as they have been manufacturing pans in Spain for more than 60 years. And if they now release a new product like this Martin Berasategui Set, which endorses one of the best Chefs in the world, they set it up to be a bestseller.
The disadvantage that these products endorsed by reputed chefs usually have is the price. However, it is now possible to find introductory deals on this set of pans for a really knockdown price. We, like Martín Berasategui, recommend it!
ADVANTAGES OF THE MONIX MARTIN BERASATEGUI PAN
They are manufactured by Monix, which has more than 60 years of experience in our country.
They are endorsed by one of the best Chefs in the world with 8 Michelin Stars.
Their aluminum construction makes them super light.
The price they have is outstanding in relation to its quality.
The non-stick surface is free of any toxic substances.
It is compatible with all types of cookers, including induction ones.
So is the dishwasher.
It has a 4 mm thick base, which guarantees optimal heat distribution and energy savings.
DISADVANTAGES OF THE MONIX MARTIN BERASATEGUI PANELS
It is not easy to find them in department stores.
Using metal utensils or knives on the non-stick surface may damage them.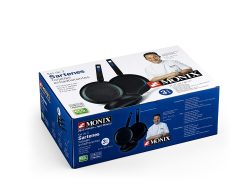 YOU MAY BE INTERESTED
If after evaluating this set of pans you are not convinced, there are more options. From the same brand, we find the Monix Mineral pans with a stone effect finish. It is a set of pans that differ by being reinforced with titanium. They are similar to these in concept, but of course, they have a somewhat higher price (not much). But we can assure you that the finish and resistance that Titanium gives to some pans are worth it in almost all cases.