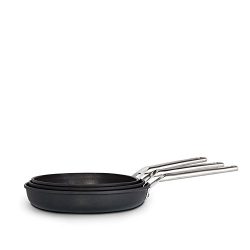 The Valira Aire model is the latest from the Spanish firm, an expert producer of pans, casseroles and even portable food containers for everyday use. It is a frying pan designed for fat-free cooking and which ensures even heat distribution when cooking.
The model has different sizes from 20cm to the largest of 30cm. This makes the Aire de Valira model adaptable to any need.
They have strong commercial campaigns that try to convey to us the idea that anyone can cook like a chef using Valira pans. Is this true?
The Valira brand is well known by now for making 100% Spanish products. It was founded in 1970 and is characterized by the production of pots and pans made of liquid aluminum.
We leave you a brief video of the frying pan at its best: in action. This is a video preparing a recipe in these Aire de Valira pans.
VIDEO
Pizza con la Sartén Aire Valira
MATERIALS
Valira offers us this Aire model made of cast aluminum, a common material in the manufacture of pans, which makes it a little thicker than other materials.
This type of production allows the heat to be better distributed in the pan; This is also why it is compatible with all types of cookers, including induction ones.
It should be noted that not only the Valira Aire is composed of this material, but practically its entire range of products. It is a characteristic material of the Valira brand production.
The handle of the Aire de Valira is made of stainless steel and does not transmit heat while we are working with the pan.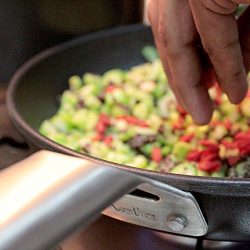 It is suitable for use in the oven, but it is not compatible with microwaves. It can be easily and conveniently washed in the dishwasher.
Its production is quite interesting, since this type of pans are made directly using a mold into which the melted aluminum is poured. Later they go through their respective refining process to correct imperfects and give them the characteristic color.
They are quite careful with the production of each of the pans and that is a plus.
Here you have a video about the manufacturing process of the Aire de Valira model. As we can see, it is still quite handmade.
VIDEO
Fabricación Grill Aire Valira
ANTI-ADHERENCE
The Valira Aire frying pan has several layers of ecological non-stick coating, which is designed for prolonged use and avoid changing it regularly.
What makes it environmentally friendly is that it is free of PFOA (perfluorooctanoic acid ) active in the production of Teflon. This type of non-stick makes meals healthier since they do not fall apart like the others, although they are a slightly more expensive material to acquire.
It is quite neutral with food and helps regulate the temperature while we cook. That is why, despite being a robust pan, it is quite light.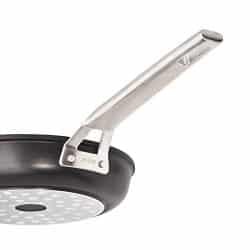 SPECIAL FEATURES
Injected with TAI Technology: The advanced Induction technology when manufacturing the Aire de Valira model, makes it a frying pan with greater heat resistance, uniform temperature distribution and total compatibility with induction.
Non-deformable Cast Aluminum:

Thanks to the fact that this Valira Aire is made of cast Aluminum, it allows its structure not to deform at high temperatures.

Stainless steel

handle

:

Something that should be noted about the Valira Aire is that its steel handle is hollow, so it reduces heat transmission to this area and prevents burns.

Glass lid (optional):

It adapts perfectly to the Valira Aire and not only allows us to visualize the food while it is being prepared, but also helps to keep the heat

compressed.

WOK finish : Valira has thought of all and all the recipes. For this reason, he has developed a practical WOK to unleash our imagination.
BETWEEN YOU AND ME
These Aire de Valira pans are a perfect option for our day to day. There are better pans, but much more expensive. For the price they present, they seem like a very interesting option. The good quality / price ratio is favored because being manufactured in Spain saves many import costs.
Being careful not to use metal utensils on its non-stick surface, we will have the pan in perfect condition for many years. Valira is a lifelong brand and it shows in the quality of its products and the satisfaction of its customers.
ADVANTAGES OF VALIRA AIR:
The ecological non-stick allows it to be long-lasting and we also take care of the environment while we cook.

For the previous point, it is healthier to cook with ecological materials since the non-stick from other pans come off; They enter our food and cling to PFOA, which is harmful to our health. With these Valira Aire pans we will be totally safe.

Although it is thicker and larger than other pans, the cast aluminum makes it a lightweight skillet.

When making the pan, they make sure to reinforce the non-stick layers to also make it resistant to heat deformation and protect it from scratches.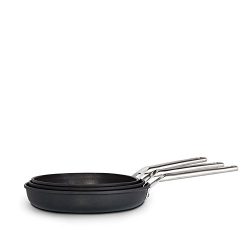 DISADVANTAGES OF VALIRA AIR
Although they claim that it is quite light, many buyers say that it is the opposite. A 20cm frying pan can weigh much more than 800g which is heavy for a cast aluminum frying pan. Is it a manufacturing defect?

Sometimes the handle can be defective and break easily. However, there are few cases in which they have occurred, it is not frequent.

It is not a cheap frying pan. It costs a few euros above the average pans or other brand products.

Its thick shape makes it less aesthetic and elegant to look at than other types of pans.
YOU MAY BE INTERESTED
If you have not yet decided on the Valira Aire, you should know that there are other similar options at a good price.
The Valira Black frying pan is another option within the same brand. It also has a much thicker base and is also very easy to clean. The size can vary between 16cm to 18cm and is 6mm thick. It is still viable to prepare all kinds of recipes with the highest energy efficiency.
And like the Valira Aire, it is under the health and safety regulations of the European Union. This guarantees us that you do not represent any risk at all.
Another difference we found is the premium non-stick. It is more reinforced than that of the Valira Aire and continues to be of ecological quality and good for our health.
It allows an even distribution of heat and prevents it from overheating thanks to its especially wide base that distributes heat. It is not so light, but thanks to its handle it is easy to handle even if we are amateurs in the kitchen.