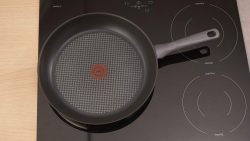 A high-end firm such as Tefal must always be attentive to what the public demands. And this Tefal Daily Cook pan set is proof of that. Some of the toughest pans have always been stainless steel, but they had a problem: they lacked nonstick.
And the few models that are made of stainless steel and have a non-stick surface, are priced quite high. Well, the French firm has turned this whole thing around, put its teams to work and has developed an outstanding set of pans. Made of stainless steel, reinforced with titanium and at a crazy price. The result? These outstanding Daily Cook from Tefal
Let's see it a little more in depth with a short video.
Daily Cook by Tefal
Materials
As we said, for its construction the French firm has opted for stainless steel. Is it better than aluminum? Not necessarily: it is different.
Aluminum is a lighter and more manageable material. It is usually finer, so it makes the whole weigh much less than any other pan. Stainless steel, meanwhile, is much stronger (and heavier).
These Tefal Daily Cook pans are therefore sturdier and heavier than any other aluminum skillet, although not as much as an iron skillet. Still, you can easily handle them with one hand without major problem.
The advantage of all this is that you will have pans for many years. Its base is reinforced against any type of impact. They will withstand the daily abuse of your kitchen without flinching. Over the years they will become those pans that you do n't even remember when you bought them.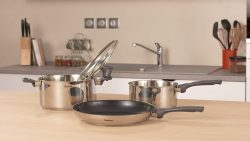 Compatibility
An advantage that comes from the hand of stainless steel is the compatibility of this material with all types of kitchens. Without the need for any adapter or anything, they will work perfectly on all types of fires. By this, we mean induction, glass-ceramic, electric or gas cookers.
As for washing, it is also perfectly possible to put this pan in the dishwasher. They are specially prepared to withstand high water pressure and high temperatures. It will be really difficult for you to get damaged these Daily Cook pans.
And thirdly, in terms of compatibility with the oven, you will not have any problems either. Of course, keep in mind that these pans only support up to 175ºC. If you plan to use them at higher temperatures inside the oven, you should look at other models.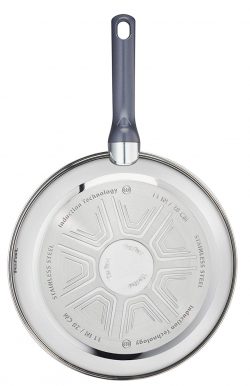 Non-stick
In this regard, as always, Tefal is one of those that does not disappoint. We can divide the entire range of Tefal pans into two: those with titanium and those without. Among those that do not (which are few), we highlight its low price and medium resistance.
Those with Titanium, meanwhile, have the same non-stick (outstanding) but with incomparable resistance to shocks and scratches.
These Tefal Daily Cook pans are coated with Titanium. This guarantees that the non-stick that we will have on the first day will be preserved over the years. The Titanium layer is nothing more than a surface that is placed on the original non-stick to protect it. Thus, if it receives a bump or scratch, it will never affect the non-stick surface.
And for added peace of mind, these Tefal Daily Cook pans are certified free of toxic substances such as PFOAS, Lead or Cadmium.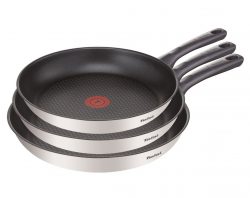 Main features
Made of the highest quality stainless steel : this material is somewhat heavier than aluminum but guarantees outstanding strength and durability.
They have ThermoSport 5 technology: This consists of a circle in the center of the pan that alerts us when it has reached the optimum temperature to start cooking.
Absolute compatibility with everything we demand (Induction + Dishwasher + Oven).
Reinforced anti-impact base: most pans are damaged because the base is deformed, either by changes in temperature or by shocks. And when this happens, the pan is useless. This skillet has a reinforced base so this never happens.
Titanium finish to protect the non-stick surface.
Skillet free of any toxic substances such as Lead, Cadmium or the controversial PFOAS.
Advantages of the Tefal Daily Cook
The very high resistance and durability : year after year they will continue as new.
ThermoSpot technology is a great help in cooking for beginners and is very comfortable for experts.
The non-stick surface is reinforced with Titanium, so you don't need to be so careful.
They are all-rounder compatible with everything.
The guarantee construction of Tefal. A high-end firm like this is a guarantee of quality.
Completely harmless for your health. Buying some rare brand pans, it may contain harmful substances. These Tefal are 100% free of PFOAS, Cadmium and Lead.
Disadvantages of the Tefal Daily Cook
It is not easy to find them in large areas.
Its weight is slightly higher than that of aluminum pans.
Between you and me
Tefal's family of pans is very extensive. It has pans for day to day and pans for expert cooking. If we were to pigeonhole this Tefal Daily Cook pan set somewhere, we'd say it's an upper-middle range. We would place it behind the highest range of Tefal such as the Tefal Expertise.
However, for what these Daily Cook pans cost and the resistance they offer, they have an outstanding value for money. If your budget is not enough for some Expertise, rest assured that these Daily Cook will not disappoint you. Of course, they are infinitely better than any skillet you can find in a department store. After all, the triple combination TEFAL + TITANIUM + STAINLESS STEEL is and will be a guarantee of success.
Maybe you are interested
As we discussed a little above, if you want to value top-of-the-range tefal pans, for very little more you can find the Tefal Expertise.
And if you are looking for something similar in price, and also with titanium, you can take a look at the Monix Cooper pans . They are from the Spanish firm that have been with us for some time with extraordinary results. They have impeccable reviews and for the price they have they are also a perfect purchase.