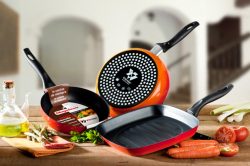 If you are looking for some pans and you like Carlos Arguiñano, you have most likely heard about the new Vitrex Gourmet pans . The television Chef uses utensils from this Spanish firm to prepare his recipes, and we must say that with great success, but are they worth it?
As in everything, there is a marketing part and a reality part. The Vitrex firm is, for those who do not yet know it, a Spanish brand backed by Magefesa. Therefore, these Vitrex Gourmet pans have an unsurpassed guarantee and are already born with a star. But like everything in life, everything has a price.
They are very showy pans, with bright colors and light materials. And in terms of their range, we would place them as a medium or medium-high range. Why? We tell you:
MATERIALS
In this regard, Vitrex Gourmet pans have inherited the tradition from their alma mater, Magefesa. We refer to the steel-reinforced aluminum frame.
This is a 4mm thick (fairly thick) aluminum construction . When we have them in front of us we will notice that they are thick and that, far from being a problem, they are an important advantage that we will see below.
Perhaps the only downside that we could find is that the weight will be somewhat higher than an aluminum pan with less density, but in any case they will be lighter than stainless steel or iron pans.
As for the handle of the Vitrex Gourmet, it is riveted to the pan. It is a rubbery, ergonomic and slightly curved handle that provides an optimal grip. The rubber finish ensures a perfect grip even with wet or oil-stained hands.

COMPATIBILITY
Vitrex Gourmet pans achieve a full in this section. As for washing in the dishwasher, we can do it daily without fear of deterioration, since the firm itself endorses the resistance to pressure and high temperature generated by this appliance.
Despite having the rubber handles, it is possible to put this Vitrex pan in the oven to finish our recipe with a gratin. It is not advisable to do it at very high temperatures, always below 200ºC.
Finally, as for the type of kitchens that are compatible with this model of frying pan, they are all. We can use Vitrex Gourmet pans in gas, glass-ceramic, electric or induction pans .
In this aspect, a ten!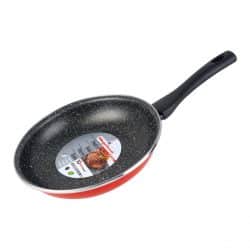 ANTI-ADHERENCE
The non- stickness of these Vitrex Gourmet pans is entrusted to a Bi-Layer surface developed for this model, 100% free of PFOAS. For us to understand each other, it would be something similar to Teflon and therefore totally non-stick but with some nuances.
The non-stick is and will be, without a doubt, outstanding. But for this to continue to be the case over time we must be careful, as this model does not have reinforcements in Titanium.
Therefore, we must take two precautions. First of all, do not use metal utensils on the non-stick surface of the Vitrex Gourmet, as it will irreparably damage it and it will be unusable. Instead, we should ideally use silicone or wooden utensils, which will in no way lift the protective surface of the non-stick coating.
And secondly, by storing them. It is usual that this aspect is not taken care of much and we end up supporting some pans on others, scratching each other and spoiling their non-stick layers. To avoid this, it is as simple as using rags or pans that cost very little and last a lifetime.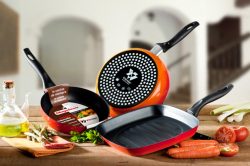 MAIN FEATURES
Diffuser base: it is a base that guarantees the optimal diffusion of the temperature over the entire surface of the pan. With this, what is achieved is that the ends of the pan have exactly the same temperature as the center. In this way, we will prevent the same piece from burning in the center and being under-done at the ends.
High thickness aluminum : this adds some weight to the set, but on the other hand gives these Vitrex Gourmet pansextraordinary resistance. He assures us that despite the blows and daily abuse, we will have pans for years.
Energy efficiency : it is one of the best qualities. And the fact is that the rapid acquisition of temperature together with the ability of high-thickness aluminum to retain heat, allows you to start cooking earlier and to be able to turn off the pan for a long time before finishing the recipe, ending it with residual heat.
Total compatibility : another point in favor is that it is fully compatible with induction cookers, with the dishwasher and that it can be placed in the oven.
BETWEEN YOU AND ME
We are before some pans that, in addition to being used by Carlos Arguiñano, have all the qualities to be our day-to-day pans. We are sure that a renowned chef like Arguiñano would not put his name and image on bad pans.
Vitrex Gourmet pans are relatively light, very resistant, very non-stick model and that, if we take the care that we have mentioned above, they will last us for many years.
OTHER OPTIONS: CAKE AND PAN
ADVANTAGES OF VITREX GOURMET PANS
They are very resistant, thanks to their thick layer of aluminum.
They allow us to save on our energy consumption.
They are healthy as they lack toxic PFOAS compounds .
The price is very tight despite the cost of commercial campaigns.
They are compatible with everything: oven, dishwasher and induction.
DISADVANTAGES OF VITREX GOURMET PANS
In exchange for the added resistance, they weigh a bit more than lower density aluminum pans.
Care must be taken to avoid using knives on the non-stick surface.
YOU MAY BE INTERESTED
If you are not convinced by these pans and are looking for something similar in price, we advise you to take a look at the Castey Fundix pans. It is also a Spanish manufacturer that makes pieces with extraordinary qualities. This particular model is very similar to the Vitrex but with a detachable handle.
And on the other hand, if you don't mind increasing your budget a bit (very little), you can find some stainless steel pans and reinforced with Titanium. These would be indestructible and support metal utensils, knives and whatever you want to throw at them. These are the Tefal Emotion, which we have talked about at length.