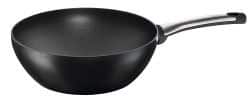 All brands have a flagship, a product that has done extraordinarily well for them and its good results have placed it in the place it deserves. This is the case of the Tefal Talent Pro, manufactured in France, without leaving the European borders and with the quality standards of the Gallic country.
Since they became part of the Tefal catalog a few years ago, they have managed to stay in the Top of the pans preferred by chefs around the world. Why this success?
They are not the cheapest pans on the market. However, all the technologies that they incorporate and for the price they have, place them as high-end pans at a mid-range price.
Do you want to see what is the key to success? You can see in this short video the quality controls that each Talent Pro pan is subjected to . Here we begin to understand everything.
VIDEO
Tefal – Talent Pro
MATERIALS
For the manufacture of the Talent Pro pans, Tefal has opted for a material that it has already tested in most of its pans. It is an aluminum alloy, with which it achieves a robust material but above all, very light.
Tefal cares a lot about the ergonomics of its pans, so it takes care to the extreme that they are very manageable, and this is achieved by combining two factors: the weight and the ergonomics of the handle.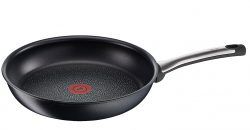 In terms of weight, they are really light pans . Anyone can handle them with one hand, even those who are especially weak or very old.
For its part, the " Chef Handle " incorporated in the Talent Pro is finished in stainless steel. It is long, slim and ergonomic for easy grip and handling.
At the base of the pan we find an integrated ferromagnetic stainless steel disc to make them compatible with all types of kitchens. In this way, they will work perfectly in induction, glass-ceramic, gas or electric cookers.
In addition, it is possible to place these pans in the oven up to a temperature of 175º C.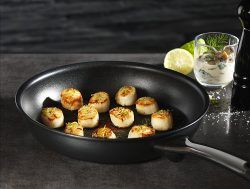 ANTI-ADHERENCE
The non-stick section is essential for a pan manufacturer, and in practice it is where its good reputation is really at stake. Beautiful pans are of little use, with the best materials and finishes, if afterwards cooking becomes an ordeal.
Tefal is the first kitchenware manufacturer in the world, and that is why it was able to develop its own non-stick coating without using Teflon. And so, combining the best materials, he developed an extraordinarily good non-stick surface: Titanium PRO.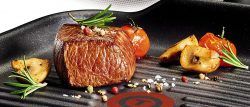 As its name suggests, this non-stick surface is made up of Titanium inserts. This makes the pan resistant to almost everything (bumps, scratches, scratches …). As we have seen in the previous video, in the resistance tests this pan is scratched more than 40 times with an iron spatula, and nothing.
Another great advantage is that this non-stick surface also applies to its outside. In this way, if any food gets dirty on the outside of the pan, it will not stick and will be removed with a little water.
Thus, the non-stick surface of the Tefal Talent Pro pans will be protected by the resistant Titanium, and the non- stick surface of the first day will preserve it for many years even if it is subjected to daily abuse (12 years, according to Tefal).
Here you can see a video presentation of Tefal of the Titanium PRO technology:
Tefal Talent with Titanium Pro coating
HEALTHY
On the other hand, it is important to remember that the non-stick surface of these pans is free of PFOAS, so no toxic substance will be transferred to our food. In addition, they will allow us to take care of our health by being able to cook with a single drop of oil.
To close the non-stick section, we must mention something that we consider very important: their non-stick surface is not limited to the inside of the pan, they are also non-stick on the outside. What does this mean? That nothing will stick either on the outside.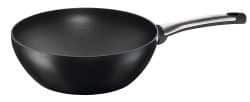 This is really interesting because many times the food comes out of the pan, sticks on hot steel or aluminum and then cleaning it is really difficult. With these Tefal Talent Pro pans, cleaning them after cooking is child's play: just put them under the tap and pass them a napkin, they will be clean and ready for the next use. Since nothing sticks, nothing rubs.
TECHNOLOGIES
This is where Tefal always manages to distinguish itself from other manufacturers. The French firm must be one of those with the most hyperactive Research and Development departments in the sector. Let's see what these Talent Pro incorporate:
ThermoSpot 4 : The latest and greatest ThermoSpot from Tefal. This consists of a visual cue in the center of the pan that indicates the exact time to start cooking. By means of a circle that is activated in red when the pan reaches 180ºC in temperature, we will always know the exact moment to put the food in and prevent it from cooking or losing water. It is really practical both for novices and for kitchens that when they cook they are a thousand things.
Material alloys : The material of some 10 pans must have three conditions: be light, be resistant, be compatible with induction. Tefal is aware of this and that is why it devised this alloy. The structure of the Tefal Talent Pro is made of aluminum, to give them resistance and especially lightness. On the other hand, the base of the pan is made of stainless steel to make them compatible with induction.
4.5mm diffuser base : This ferritic base disc has a very important function: to save us time and money. It is made of stainless steel. It allows the pan to heat up very quickly and distribute it evenly over the entire surface of the pan. This achieves significant time savings and energy savings.
DIFFERENT FINISHES OF THE TEFAL TALENT PRO
The technology that Tefal has applied to the Talent Pro did not limit them to a few pans. It has created a complete family of kitchenware with the same characteristics. Let's see a bit what we can find.
Pans
They are available in various diameters and have a height of 8 centimeters from the base of the pan to the edge. This means that they are quite deep, which will allow us to cook for several people with a single pan.
Grill Grill
On the other hand we can find a square grill of 26 x 25 centimeters. Its base is not smooth, it has a grated surface to penetrate food with greater intensity and give it that extra heat.
It also has the Titanium PRO non-stick surface and the ThermoSpot 4. And of course, it is compatible with all types of kitchens.
Crepe maker
Have you ever caught someone making crepes on a Sunday morning? It is easier than you think! The Tefal Talent Pro also include a fantastic crepe pan with which to prepare crepes is extraordinarily easy. Nothing sticks and is done in a matter of minutes. This frying pan is a bit of a whim, but why not?
Pan
Finally, we also find a 10.5-centimeter deep frying pan with a lid. It is halfway between a saucepan and a frying pan. Tefal really categorizes it as a deep frying pan. It is not ideal for making lentils, but it is perfect for making small recipes for 1 or 2 people quickly and easily.
BETWEEN YOU AND ME
With the Tefal Talent Pro family, the French firm hit the spot. This was already a few years ago, but the success achieved by word of mouth led to these pans being updated until today they become one of the first options for many families.
This success has not been accidental, and the excellent reviews they have on the internet are the best guarantee. We believe that they are one of the best aluminum pans that you can buy, along with the Tefal Ingenio. Both pans are similar in materials but different in concept.
ADVANTAGES OF TEFAL TALENT PRO SKINS
They are very light and ergonomic, they can be operated with one hand without any difficulty.
The Titanium coating guarantees the best protection and durability.
Its non-stick surface is outstanding.
DISADVANTAGES OF TEFAL TALENT PRO SKINS
In the furnace they are limited to a temperature of 175 ºC (cast iron ones withstand higher temperatures).
The handle is fixed and cannot be disassembled.
YOU MAY BE INTERESTED
If you are not convinced by the design of these pans, you can take a look at the Tefal Expertise pans . They are very similar in construction and materials, but slightly change the design. Its price is similar.
On the contrary, if you are looking for a Titanium pan that withstands higher temperatures in the oven and whose handle can be disassembled, we recommend that you take a look at the Woll Titanium NOWO pan .