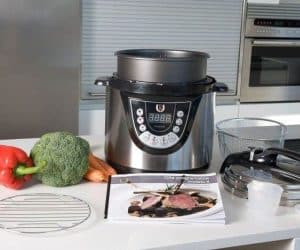 The Valencian brand Cecotec launched the GM Model D Pot, its simplest and most basic range, which has been working with great success for years. It is a commitment to easy cooking for those who are not initiated, as well as clean, because with hardly any accessories or staining, you will have the best dishes ready for you and yours. It is a multifunction kitchen robot with a programmable system and nine different ways of cooking.
The GM Model D Pot is one of the simplest models on the market. It is very easy to use and its parts are dishwasher safe. It is the ideal option for those less expert in culinary work, who are not very familiar with new technologies, or who are very busy and do not want to waste a lot of time in the kitchen.
OFFICIAL GM STORE
See here the updated price of the GM Model D Pot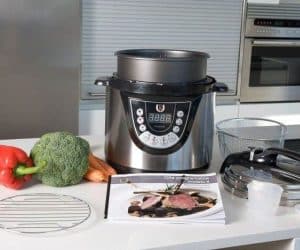 Materials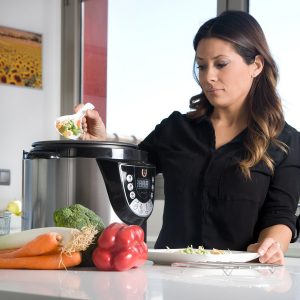 The GM Model D pot is made of stainless steel, making it easy to clean. This model, the most veteran of the range, has a Daikin series tray, made of Teflon, double-sided and with a special non-stick coating, which makes it particularly resistant and highly durable over time.
Capacity and Power
The GM Model D Pot has a capacity of 6 liters, ideal for a large family, or for a group of up to 12 people. It has a power of 1000W, perfect for grilling, frying, stews, soups and oven, among other functions.
Special Features
It has 7 cooking functions with their programs and temperatures already pre-configured and two different pressures: griddle, fry, program for chicken and meat, program for legumes, oven, stews and soups, and cooking pasta and rice.
Option to manually change the cooking times already programmed.
Guaranteed safety system, which prevents opening the lid if there is pressure inside
Internal memory system to restart the cooking process where it left off, in the event of a power failure
Function to keep food warm after cooking.
It has a very simple screen, with illuminated LEDs that show each option. It is very easy, once programmed, to control with its display if the pot is cooking, has finished or if it is in keep warm mode.
It has a delayed start function up to 24 hours, so you can program the meal of the previous day. The food is introduced, the type of cooking is programmed and the hours remaining to have the dish to be prepared ready.
It includes a cookbook with specific recipes for cooking in the GM Model D pot, although the user can also be part of the GM Pot community and enjoy all the recipes on the Cecotec website.
It has a voice guidance. The pot emits sounds to inform which program has been selected, and also warns when the cooking process has finished, and informs if it has been canceled. It is very useful for people with vision difficulties.
Contains the following accessories: Daikin non-stick pan, frying basket, nylon ladle to avoid damaging the pan, measuring cup and baking rack.
Its parts are dishwasher safe.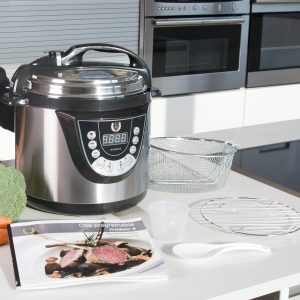 Advantages of the GM Model D pot
The Model D of the GM Pots is the pioneer model of Cecotec, the simplest of its range of pots, but it has, but it has many advantages when it comes to cooking easily:
It is a very functional pot, because with its 9 cooking programs you can prepare a large number of recipes, with all the necessary foods and ingredients.
It is a very simple pot to use, due to its simple and intuitive screen, with an illuminated led.
It has a safety system that prevents opening the lid if there is still pressure in the pot
Its accessories are very easy to clean, all are dishwasher safe, and the bucket can be washed very easily with a damp cloth and a few drops of soap.
Its delayed start function up to 24 hours, allows you to cook the recipe of the day, and have it ready when the food is to be consumed
Excellent value for money, given its benefits
It is a pot with a lot of durability, thanks to the high quality of the materials with which it is made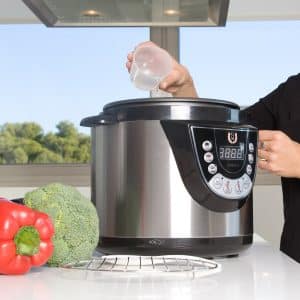 Disadvantages of the GM Model D robot
Perhaps it is something basic for those who want to prepare a greater variety of recipes, or for those who also want to have the functions of a more complete robot, such as blending or chopping.
Between you and me
The GM model D pot is the most basic and simple model in terms of performance and operation of the Spanish brand Cecotec, which has evolved towards more modern models, and which apply the latest technologies in small kitchen appliances.
However, its cooking features are very varied for those who have little time in the kitchen or are simply not very amateur cooks. In addition, its large capacity makes it suitable for cooking for up to 12 people, and you have the option of keeping food warm. Its accessories are very easy to clean. The value for money is more than interesting, and it has a lot of durability over time.
Perhaps it falls short of features for those who are more fond of cooking and enjoying more sophisticated recipes, but it remains, despite the years it has been on the market, one of the most popular kitchen appliances due to its ease of use and excellent results it provides.
OFFICIAL GM STORE
See here the updated price of the GM Model D Pot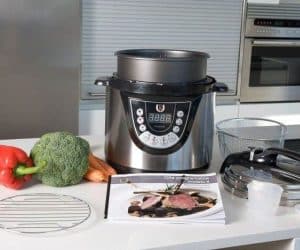 Maybe you are interested
If this pot is not the best fit for your needs, you may be interested in looking at its older brother, the GM Model H Pot. Its automatic programs prepare complete and exquisite cooking recipes, without the need to control the process. It features a premium quality non-stick Excelsior bucket and loads of accessories so you can literally do whatever you want with it.