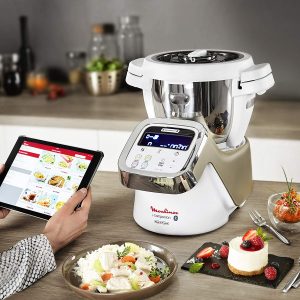 The Moulinex I-Companion food processor is a more sophisticated and complete version of the fantastic Moulinex Cuisine robot, which works exceptionally well. It is the first cousin of this robot, only with some more sophisticated features, which will leave the most demanding in the kitchen with their mouths open. This robot is a true high-end marvel designed for the most professional chefs.
The Moulinex firm, with more than forty years of experience, is a flagship in the manufacture of small household appliances. Always applying new technologies in their work, this Moulinex I-Companion Kitchen Robot is the most innovative and efficient that they have put on the market, and it is truly worth it.
As always, we leave you with a short video presentation of this robot. Here's why it's the latest from Moulinex!
Presentación del nuevo robot de Moulinex: i-Companion, con Jordi Cruz
Ranking Top3 Best Kitchen Robots
Materials
The glass is made of stainless steel. Its lid made of transparent plastic (BPA free) stands out, making it easier to control the cooking process. The steamer basket is a stainless steel accessory.
Capacity and power
The Moulinex Robot i-Companion glass has a 4.5 liter capacity, ideal for 6 people. It has a power of 1,550W, of which 100W are for the electric heating element and 550W for the motor. This means that it is a very powerful kitchen robot, not only for cooking but also for making any culinary preparation.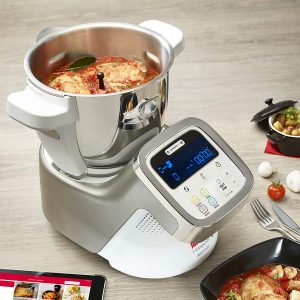 Special Features
There are many functions of this Moulinex i-companion robot, very versatile and practically autonomous in the kitchen, but among them the following stand out:
Wide panel of options to select the type of cooking, with an LCD screen where the values ​​of temperature, time and speed appear.
A total of 18 programs: six for sauce, two for soups, three for slow cooking, two for steam cooking, three programs for kneading, one for desserts and one for creating your own recipes.

Set of five accessories designed for the preparation of all imaginable recipes, both automatic and manual.

Ultrablade chopper blade accessory for cutting and mixing.
A mixer for mixing ingredients, very useful for delicate foods, such as butter, pasta or chocolates.
Accessory beater to beat just right products and stronger (mount snow egg whites or whipping cream)
A kneader / grinder for heavy doughs such as bread, or finer ones such as crepes or other pastry ingredients. It has a lot of power to chop nuts or ice.
Steam accessory with upper steamer, for steaming with minimum and maximum regulation for the preparation of different dishes that require maximum heat (soups, purees, etc.) or minimum heat (sauces)
Intelligent recipe preparation system, through an app with bluetooth technology that transfers the speed, temperature and time parameters of any recipe that we want to prepare to the robot. If an ingredient has to be added in the process, the app will send a notice to the mobile. The app is very simple and intuitive.

Adjustable temperature from 30ºC to 130º in 5 degree steps.

Function of keeping warm, with a maximum duration of 45 minutes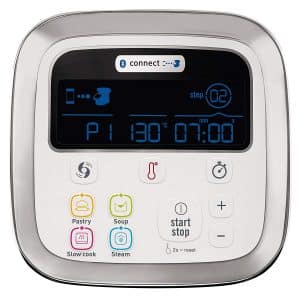 Advantages of the Moulinex I
–
Companion
The advantages of the Moulinex I-Companion kitchen robot are many, although practically all are based on the fact that it is designed to cook by us in practically all culinary processes, with a minimum level of demand, although the most outstanding are the following:
Its 18 cooking programs allow you to make all imaginable cooking recipes, using the least amount of effort.

Its five kitchen accessories that replace up to twelve utensils, which provides savings in work, space and cleaning.

It is a very intuitive and easy-to-use robot, and its price is very tight, given its many features.
The intelligent recipe preparation system, with buetooth technology, is the latest and most sophisticated kitchen advance, which allows us to know the cooking process, they are alarms to the mobile, while we carry out other tasks

Dishwasher safe utensils, except blades.

Case to store your set of blades and keep them out of the reach of the little ones

Possibility of obtaining all possible degrees of temperature, to prepare more delicate dishes such as dessert mousses or sophisticated pastry dishes, at higher temperatures for vegetable stews and soups.
The keep warm function is very useful to keep food in perfect condition until it is consumed

Very reasonable price, like all Moulinex appliances, despite its many advances and available features.

Thanks to the upper steamer, the steam cooking utensil allows you to prepare a complete menu, cooking two dishes at the same time, or a second with garnish, both at the same time.

Its weight is light and it does not take up much space in the kitchen.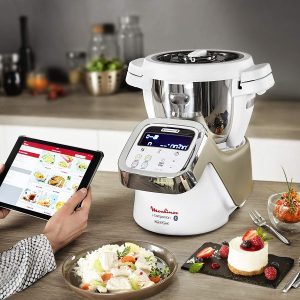 Drawbacks
None have been detected. It is easy to use, and does all the imaginable tasks in the kitchen.
Between you and me
The Moulinex I – Companion Kitchen Robot is a true multidisciplinary and very versatile robot. He does it all in the kitchen with minimal supervision, preparing endless recipes, suitable for the most demanding palates, and for the most sophisticated chefs. It is a very simple and intuitive robot to use and the possibilities for creating new recipes are endless. Its upper steamer is very useful for those who want to steam two dishes at the same time, so lovers of healthy cooking are in luck, because it is another energy-saving option in the kitchen.
Maybe you are interested
If this is not the robot that best suits your needs, you may be interested in taking a look at the previous version, Moulinex Cuisine Companion, quite similar, except that it does not have an upper steamer, and it will be the best option for those who do not go to get the most out of it, and want to spend a little less on buying a robot. For the rest, this robot has all the necessary cooking functions, without having to use other kitchen utensils.