Tips
Typical dishes of Andalusia
The typical dishes of Andalusia constitute one of its main tourist attractions. In addition, in each province it is possible to find a wide range of flavors and ingredients. Therefore, its gastronomy is very varied and with notable differences between the different regions.
What distinguishes the gastronomy of Andalusia: its typical dishes
Many of the traditional Andalusian dishes are prepared with olive oil. And as it happens with the typical dishes of Spain. Andalusian gastronomy is also influenced by other cultures. Mainly from the Muslim.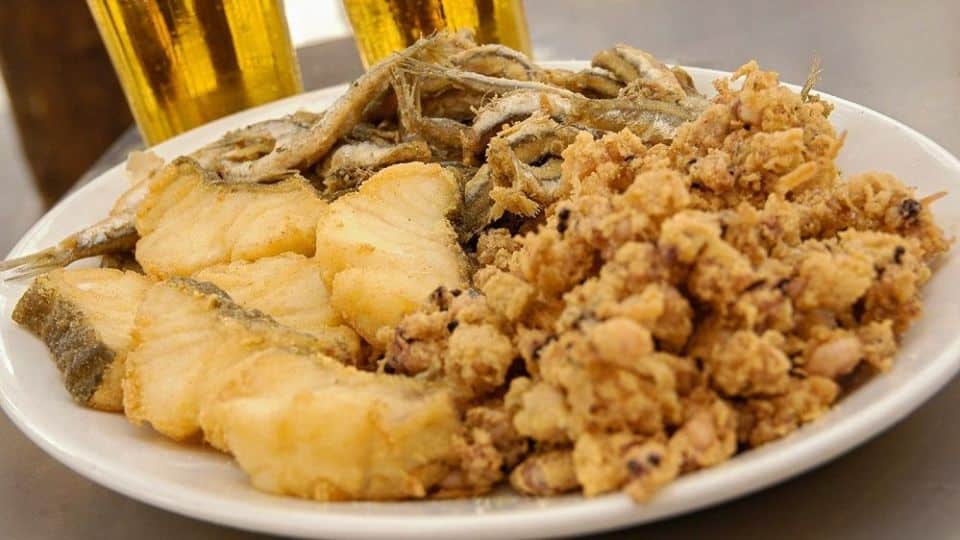 The olive oil with which many of the typical Andalusian foods are made. It is grown in the provinces of Huelva, Cádiz, Córdoba and Jaén. Thanks to this, Andalusians are considered experts in a cooking technique called "Fritura".
As for ingredients, fish and shellfish are essential in Andalusian cuisine. Shrimp, red tuna and shrimp are usually part of the most popular dishes in Andalusia.
To this we must add the Iberian pig and game. Of course there are also meals that are prepared based on vegetables and cereals.
6 typical Andalusian dishes that you must try
Considering the above, there are many traditional Andalusian dishes that you should definitely try. Here we share our recommendations of typical foods that you should not miss.
Fried fish
This is in fact one of the most popular typical dishes of Seville in Andalusia. It is often known as Andalusian frying, although it is cooked with little oil. The key to this dish is that it should always be crispy and juicy.
Different types of fish can be used in its preparation . For example, red mullet, dogfish, prawns, anchovies and squid are the most used. You should also use olive oil, as well as a little flour for frying.
The fish is cleaned and must be very dry before passing it through the flour. Then it should be soaked in the hot oil. It is recommended to use
Shrimp fritters
It is one of the most typical dishes of Andalusia and also one of the most delicious. These tortillas are usually thin enough to have a crunchy texture and are made using raw shrimp.
In its preparation, wheat flour or chickpea flour are also required, as well as fresh parsley, chives and cold water. The flour is mixed with the parsley, shrimp and chives.
A little turmeric is often added to give the dough a yellow color. Then cold water is added and everything is mixed using the rods. Then the dough is left to rest for about 30 minutes.
Finally, in a pan add enough extra virgin olive oil. Then just add small portions of dough and wait for them to set.
Beans with ham
It is a bean stew with ham, very popular in the province of Granada. It is a traditional Andalusian food that is served very hot. It is prepared with Serrano ham, broad beans, onion, as well as salt and extra virgin olive oil.
The onion should be cut into cubes and then added to a saucepan with oil and fry over low heat. The ham should also be cut into cubes and added to the saucepan with the onion. After this a little water is added and the beans are incorporated, along with a little salt.
Then you just have to let all the ingredients cook and when everything is ready it is served hot.
Sardine skewers
It is one of the most popular traditional Andalusian dishes. It is also one of the most popular typical foods in Malaga. It is characterized as a typical dish that consists of sardines skewered on a cane that are cooked over a fire.
In its preparation, sea salt, water are used, as well as a cane for each of the skewers that are going to be prepared. For this dish to have its characteristic flavor, it is important to salt the sardines using coarse salt.
After this, the sardines must be skewered on the canes from the belly. It is advisable to string between 6 to 7 sardines on each cane. After this the sardines are placed on the fire and cooked for two minutes on each side.
The sardines should be perfectly golden and once they are ready they are served to enjoy.
White garlic, one of the most popular typical dishes of Andalusia
Although white garlic is one of the most traditional dishes of Andalusia. It is actually very popular in the province of Malaga. It is a cold soup that even has its own annual festival in Andalusia.
This dish is made using raw and peeled almonds, garlic cloves, and stale breadcrumbs. Wine vinegar is also used, as well as extra virgin olive oil, as well as cold water. Optionally you can add ham, grapes or melon.
To prepare it, you just have to mash the almonds and garlic with a little salt. Then the breadcrumbs soaked in water are added. All this is mixed until you have a paste to which a little olive oil is added.
Then the vinegar and cold water are incorporated to obtain a creamy consistency. The preparation is left to cool in the fridge and when served it can be served with the aforementioned ingredients: ham, melon or grapes.
Gazpacho
Andalusian Gazpacho is also one of the popular foods of Andalusia. It is very different from gazpacho pastor, one of the typical dishes of Cuenca. In this case it is prepared with hard loaf bread, pear tomato, Italian green pepper, if I eat garlic and olive oil.
For its preparation, all the ingredients must be chopped and add olive oil. Sherry vinegar and water are also added. Afterwards everything is crushed in a blender. The resulting gazpacho must be passed through a strainer and then placed in the fridge.
The dish is served cold and can be served with fried bread croutons.