Tips
Typical Swiss dishes: The 6 most popular in the country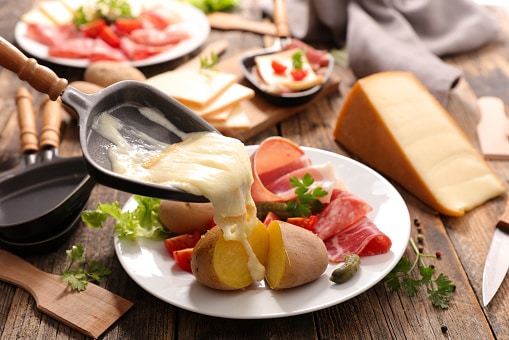 Swiss gastronomy is not usually appreciated in its entirety in the world, being a particular reference in only two products, cheese and chocolate. However, giving typical Swiss dishes a try can be a rewarding experience.
Like any country in Western Europe, Switzerland stands out for its multiculturalism ; same that allows you to exhibit influences from France, Germany and Italy, the border countries of the Alpine nation par excellence. However, Swiss gastronomy is more than a mixture of influences from other cultures, it is a wonderful mixture that includes its own, regional and national elements, which allow it to develop a unique identity. Again, Swiss dishes are based on products brought from the countryside, which provide simplicity, freshness and quality to their dishes.
Some typical Swiss dishes are:
The fondue
I will tell you first about the most recognized dishes in Swiss gastronomy, to then delve into the less famous exponents, although no less special for that.
The fondue consists of a garnish of melted cheese, which is slowly melted in a ceramic pot known as Caquelon. This can be garnished with cognac and spices to give an additional touch of flavor to the creamy sauce that remains as a result of melting cheeses such as Emmental or Gruyere. However, the international character of the dish has made it common to find varieties with all types of cheeses and mixes, since any cheese to melt can be used.
It is usually accompanied by small pieces of bread to soak and taste the flavor of traditional Swiss cheese in all its splendor.
Swiss chocolate
Swiss chocolate is among the most appreciated worldwide, reaching the status of being the best in the world for many. This product made with cocoa beans from the Americas, is tremendously popular among the population of the country; who consume several kilograms of it a year, although foreigners are not far behind.
Swiss chocolate has great importance in the history of European gastronomy. The first factories began to open in the early nineteenth century in the transalpine country, and it was not long before Swiss chocolates and chocolatiers were a recognized export product. The latter opened chocolate shops with a great tradition in France, Russia, Belgium and Scandinavia, creating a dynasty supported by the great creativity of Swiss chocolate artisans, who are responsible for the invention of milk chocolate and many other sweets.
The Raclette
Raclette is another typical dish that features melted cheese. It finds its origin in the practices of the ancient Swiss shepherds, who brought the cheese to the fire and then placed it on the potatoes that they roasted in the same bonfire. It is generally made with the homonymous cheese of the region, although, again, any melting cheese can be used.
Today the dish is so popular throughout Switzerland that there is a utensil dedicated solely to the preparation of this dish, which consists of a series of racks or trays placed one on top of the other, with the intention that the products to be bathed by the melted cheese is placed on the top, and the melted cheese on the bottom. Currently, a great variety of vegetables, meats and sausages are used for La Raclette, however, potatoes roasted with their skin can never be absent.
These hot dishes have a great cultural importance for the Swiss, since they have their origin in the need to deal with the cold and difficult mountainous climate, which has been a fundamental piece in shaping the gastronomy and culture of the country.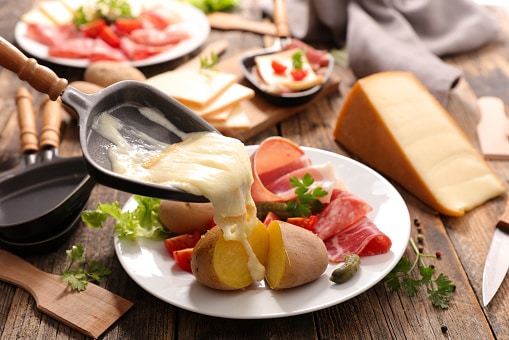 Birchermüesli
The Birchermüesli has its origin in a doctor who was deeply interested in the traditional diet of the Swiss shepherds; He wanted to make a preparation of natural ingredients that included fresh products from the field, and had the ability to provide energy in a healthy way.
This can be made with different combinations of ingredients, but the main idea is to use cereals such as wheat or oats as a porridge as a base ; subsequently fresh and dried fruits are added that can range from apples, hazelnuts, strawberries, raisins and more.
It makes a great, healthy, low-calorie breakfast or dinner.
Älplermagronen
Älplermagronen is a curious dish that has an unusual combination of ingredients. However, those who have given it a chance assure that it is the best you can try in a typical Swiss restaurant. It is a multicultural dish, which shows Italian, French and German influences in a unique amalgam with the particular Swiss touch.
It consists of small macaroni cooked in the traditional way, which are garnished with a potato gratin, Gruyere cheese, cream, onions, fresh herbs and a particular accompaniment: a sweet apple porridge.
Rösti
Another hot dish that features the much appreciated potato; Rösti is an omelette made in the Swiss style, made with grated potatoes, which can be raw or cooked, which are fried in a pan using animal fat or butter. These are usually consumed as is or by adding bacon, onions, cheese and aromatic herbs to the preparation; remaining with a crispy texture and full of flavor.
It is a simple dish, which today is used mostly as a side; but even so it has not lost prominence as the main element of many tables throughout Switzerland.
Typical Swiss dishes: a gastronomy full of influences and stories
Being surrounded by several of the most relevant countries in Europe, foreign influence has been notorious in the development of the culture, gastronomy and language of the Swiss. However, they have managed to develop a particular identity that is manifested with a great variety of nuances in their excellent gastronomy, which changes from Canton (the Swiss territorial divisions) to Canton and can be related to the history of a particularly cold country that enjoys Greatly of a good hot meal.