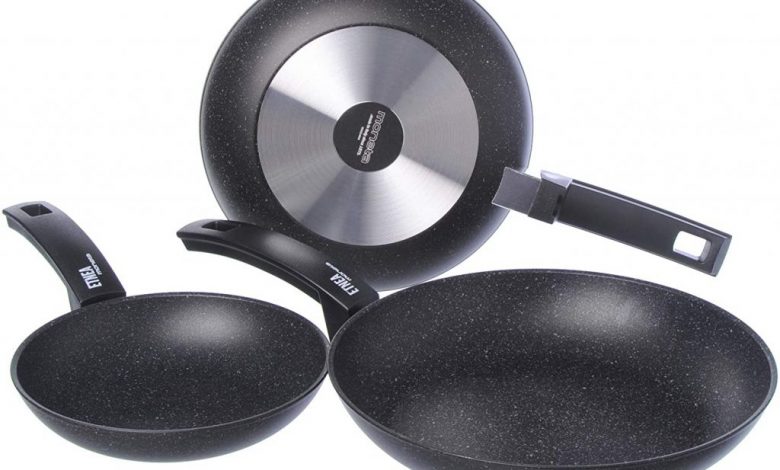 This time we want to tell you about the Moneta Etnea pan set. These are 3 pans made of aluminum, and available in black. It is a set of pans suitable for a family of 4, due to the capacity of each pan.
It is worth mentioning that the Italian brand Moneta. It has been manufacturing and marketing kitchenware since 1875. This means that it is a brand with more than 145 years of experience in the kitchenware industry.
This brand also offers a wide variety of pans, cookware. With different designs, styles, finishes and non-stick coatings. Their focus is developing eco-friendly solutions and using only the highest performing materials.
Simply put, it is a trusted skillet brand. Whose quality is supported by the large number of positive comments on Amazon about this and other products.
Materials of Moneta Etnea pans
As always, we like to start the analysis of the pans with the manufacturing materials. In this particular case, they are aluminum pans with handles made of Bakelite.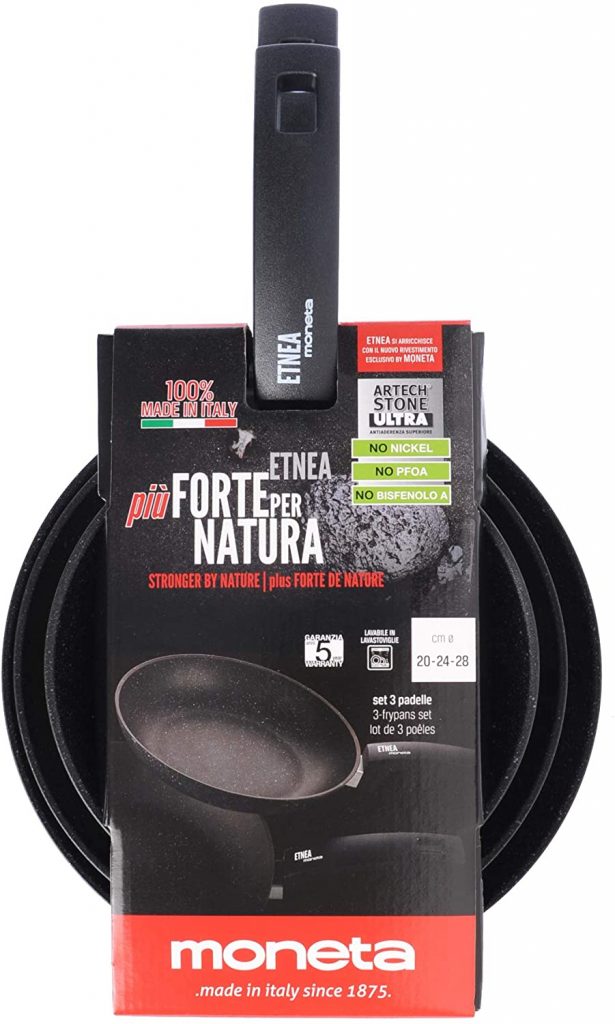 These materials have their own characteristics and properties. In both cases, they are materials that offer great performance in the use of pans.
Aluminum
Aluminum is a widely used material in the kitchenware industry. The reason has to do with its multiple properties beyond resistance and durability. For one thing, pans made of aluminum tend to be very light and easy to handle.
Additionally, the aluminum in the pans translates into greater resistance to corrosion. Therefore, no matter how many times you expose them to acidic foods. Even regular contact with liquids like water. They will never rust.
Another benefit of using aluminum pans is related to its toughness and low weight. Unlike stainless steel pans, some are very heavy. Moneta Etnea aluminum pans are durable and practically weightless when held.
Last but not least, aluminum is an excellent conduit r of heat and electricity. This means that you will need less time to cook your food. Even by distributing the heat evenly, your food cooks without delay.
In the specific case of Moneta Etnea pans. High thickness aluminum (4 mm) has been used . Therefore, the heat is distributed over the entire cooking surface in a more even way.
Bakelite
Bakelite is a material that is present in practically all quality pans. The reason has to do with its thermal and resistance properties. Being a thermosetting polymer, Bakelite cannot be molded by applying heat to it.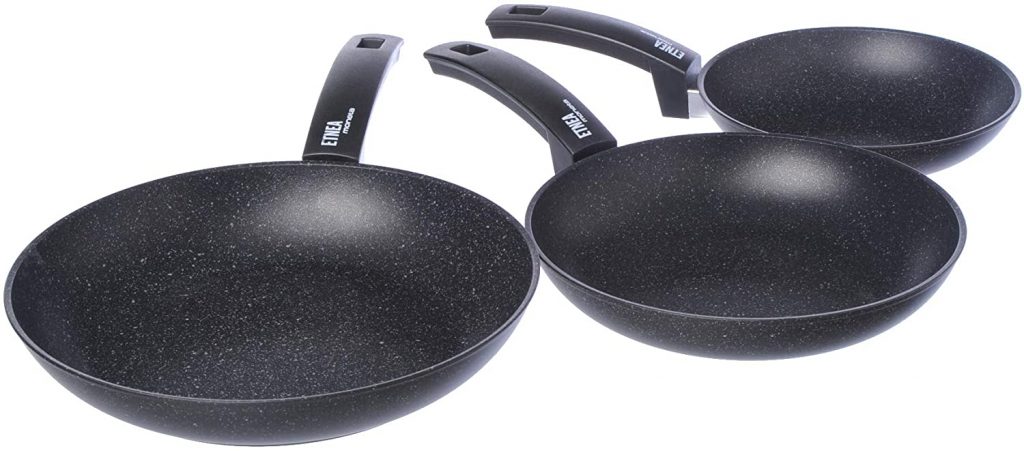 For this reason it is frequently used in the handles of pans, because it remains non-deformable. Even if you prepare your food at high temperatures, the handles of the Moneta Etnea pans will remain in their original shape.
More importantly, you won't get burned holding the pans. That is, Bakelite is a poor conductor of heat and electricity. Furthermore, this material can easily resist the corrosive effect of certain agents.
Non-stick pans Moneta Etnea
Let's talk now about the non-stick type of Moneta Etnea pans. In this case, the manufacturer has used a non-stick coating called Artech Stone Ultra.
One of the highlights is that it provides a stone effect to the entire non-stick surface. The rough texture of the surface is even more non-stick and resistant. Mainly because of its structure composed of three layers.
The first coating layer is made up of mineral particles. For its part, the second layer is reinforced, also with mineral particles, but in this case of a larger size.
Hence, this second layer of non-stick coating. Provides increased surface resistance against scratches and abrasions. Finally, the third coating layer corresponds to the micro-crystal finish.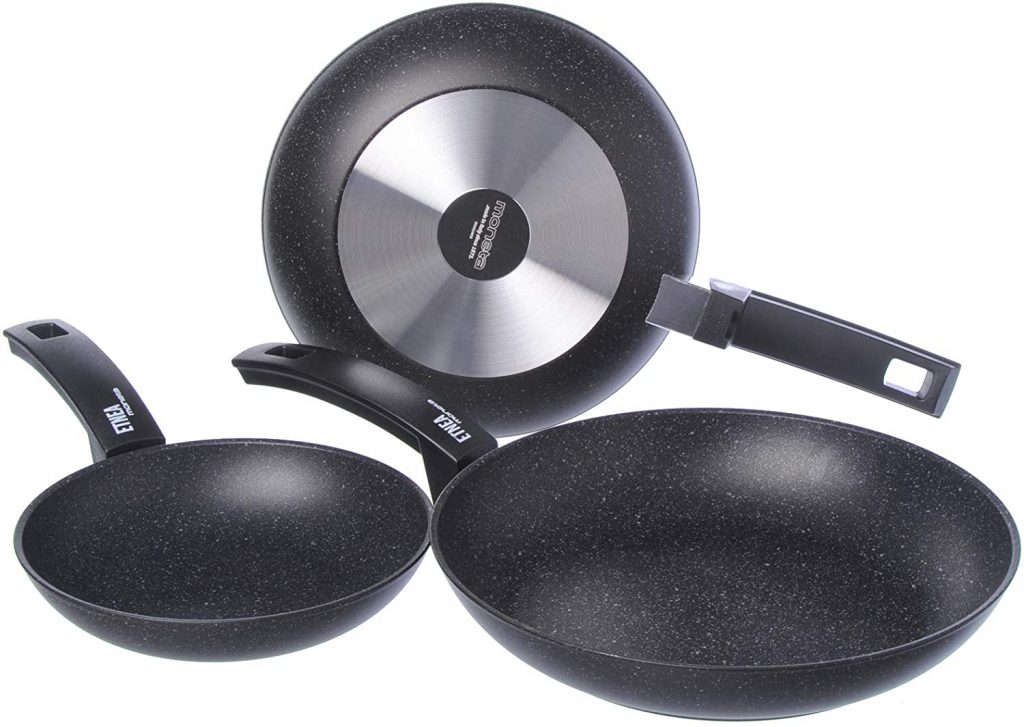 Thanks to this non-stick coating on the Moneta Etnea Pans. You can be sure that the food will not stick to the pan. Therefore, they are ideal pans for cooking with minimal oil.
They can even be used without problems to scald and skip food quickly. Additionally, the coating does not contain any type of toxic substances such as Nickel, PFOA, Bisphenol A, or other heavy metals.
Additional characteristics
As we have seen, this is a set of 3 aluminum pans with Bakelite handles. Each pan has its own dimensions and can be used for different food preparations.
The largest pan has a diameter of 28 cm. The medium frying pan measures 24 cm in diameter, and the smallest frying pan has a diameter of 20 cm.
Other features include:
Compatibility with all types of cooktops, with the exception of induction hobs.
All pans are available in an elegant black color, which is made more attractive by the effect of stone and mineral particles.
They have an Italian-style design that facilitates their handling.
In the case of Bakelite handles, this design allows for a smooth and secure grip surface.
Advantages of Moneta Etnea pans
These are pans made of light and strong aluminum. Its entire structure provides a more uniform and efficient heat distribution.
The cooking surface of the pans is coated with Artech Stone Ultra non-stick coating.
There are three layers of coating that provide greater non-stickiness, and facilitate faster cooking of food.
The handles of the pans are made of Bakelite. It means that they do not heat up, they do not warp, and they are also resistant to corrosion.
Additionally, the pans can be used on gas hobs, glass ceramic and mixed hobs, but not on induction hobs.
To protect your health, these pans do not contain Nickel, PFOA, Bisphenal A, heavy metals, or any other toxic or harmful substance.
Maybe you are interested
Finally, it is possible that the Moneta Etnea pans are not what you are looking for. If so, we recommend Tefal Aroma pans , which are also made of aluminum. But in this case they are compatible with induction hobs.
In addition, the pans have a coating antiadheren like with titanium particles. They also incorporate spouts to serve without spilling, as well as an auxiliary handle for a more comfortable handling.