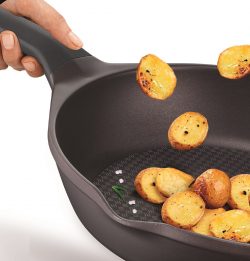 The new batches of pans have been aiming high. The French firm Tefal, the undisputed market leader, presents its latest creation: the Tefal Aroma. A very suggestive name without a doubt, but are they worth it? Let's see it.
To begin with, we must say that these pans are at the top of the range of the French firm. Specifically, they classify these Aroma pans in the «Gourmet» category. As an aperitif of these pans we can say that they are loaded with technologies, with outstanding materials and high prices (unless they are on sale) .
As always, we leave you with a short video so you can see and appreciate the main characteristics of the Aroma de Tefal pans.
Inspírate con las sartenes Aroma de Tefal
MATERIALS
Like the vast majority of pans, Tefal has opted for these pans Aroma by aluminum. As you know, this material provides a perfect balance between resistance and especially lightness. These pans have a really contained weight. They are really manageable with one hand and will not pose any problem for older people.
Much of the efforts in this new range of pans focused on the section of resistance and efficiency. It is for this reason that the base of these Aroma de Tefal pans is especially thick (25% more than usual). With this they achieve two things: they increase resistance to shocks and deformation and, on the other hand, optimize energy efficiency.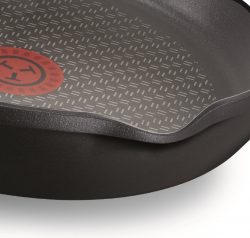 As for the handle, it comes firmly attached to the body without rivets or external screws. We value this aspect very positively, since the pans that have rivets inside make it difficult to clean. The inside of these Aroma de Tefal pans is completely smooth, so cleaning is very easy.
The most characteristic thing about this pan is the height of its walls. It has a depth of 5 cm, so it is possible to cook large quantities of food without risk of overflowing. If you want to add rice or any other food that requires liquids, you can do it without risk.
In addition, and also very peculiar, it is that it incorporates pouring edges on its sides. With this, it greatly facilitates serving and plating cooked food. They are one of those things that we could live without but that, once we have them, make things easier for us every day.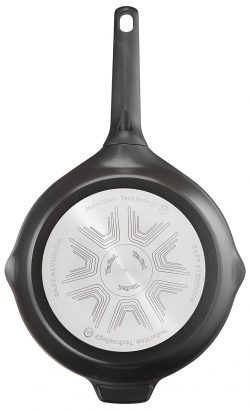 COMPATIBILITY
This aspect is something that not many buyers take into account when choosing a frying pan model, when in our opinion it is one of the most important. You may not be using any option now, but in the near future you will … Therefore, at the same price, it is better to always opt for the most compatible ones. Let's see these Tefal Aroma !
We always value three things: Induction, Oven and Dishwasher. First of all, say that these Aroma pans from Tefal work with all types of cookers : glass-ceramic, induction, gas and electric.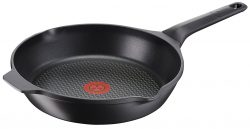 As for the dishwasher, as you would expect from some pans just released on the market, they are prepared to withstand its powerful jets. You can put it in the dishwasher every day without risk of damage, although we already anticipate that it will not be necessary. Its washing is faster and easier by putting it under the tap for a couple of seconds and passing it a napkin. Then we will tell you …
Finally, also good news: you can put the Aroma de Tefal pans in the oven. It's great to cook a recipe in the skillet and finish it with a gratin in the oven. Of course, the oven temperature cannot exceed 175 ºC.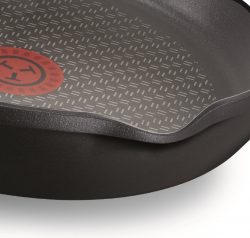 ANTI-ADHERENCE
For this aspect, and as expected from a top of the range, Tefal has chosen to reinforce its non-stick surface with the best Titanium. The non-stick of Tefal pans is not made of Teflon, but it has been the French firm itself that has developed its own surface. And to this, to prevent damage, he applies a Titanium coating.
The result is a skillet with outstanding non-stickness and even better resistance. This Aroma skillet is made to last for many, many years. The thickness of its aluminum guarantees that it will not deform and the Titanium coating ensures that the non-stick surface will not be damaged and will retain its qualities intact.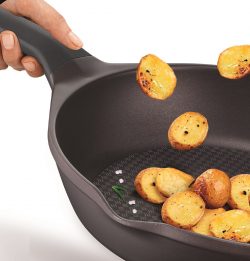 As we told you before, this is great when it comes to washing the pan. Once you finish cooking (and it has cooled down a bit), it will be enough to put it under the tap for a couple of seconds. You will see how any remaining food disappears immediately just with the water. With passing a kitchen napkin it will be clean and ready for the next use. Nothing sticks, nothing remains!
And the best thing about Tefal non-stick is the guarantee for our health: they are 100% free of PFOAS, Cadmium and Lead.
MAIN CHARACTERISTICS OF THE TEFAL AROMA
ThermoSpot Technology:

This is a circle in the center of the pan that reacts to temperature. This way, when the pan reaches the optimum temperature for cooking, it will "turn on" this circle. With this, we avoid putting the food in ahead of time and that it cooks instead of being properly sealed.

Extra thick base:

up to 25% thicker to ensure optimum resistance to impacts and deformation.

Wall height:

with a depth of 5 cm it allows to cook large quantities of food.

Pouring edges:

to facilitate the plating of dishes.

Titanium coating:

with this we achieve outstanding non-stick and resistance. These Aroma Tefal Pans are made to last and as such their non-stick is almost indestructible.

Absolute compatibility:

oven, induction and dishwasher.
BETWEEN YOU AND ME
If you are looking for some high-end pans, Tefal pans are usually a safe bet. The firm is a leader in sales but, more importantly, it is a leader in innovation. Every year he presents us with an even better version of his pans, and these Tefal Aroma collect the best of recent years in a single pan.
With full compatibility, outstanding non-stick, and nearly indestructible materials, you'll have a skillet to last for years to come. Their price is high (although hopefully you can find them at a discount), but if you divide it between the years that they will serve you, they will be very cheap.
SIZE OPTIONS
ALSO AVAILABLE IN OTHER FORMATS
GRILL TEFAL AROMA
If what you want is a Tefal Aroma Grill to cook grilled meat / fish or vegetables, this is an excellent option. With an internal diameter of 26 cm, it has longitudinal grating to give the characteristic cooking touch to our recipes on the Grill.
WOK TEFAL AROMA
And if stir fry is your thing, the WOK Tefal Aroma will allow you to cook large amounts of food thanks to its 28 centimeters. It has, of course, all the characteristics of the frying pans (titanium, thermospot …). The Tefal Aroma Wok is an excellent option also for its price.
ADVANTAGES OF THE TEFAL AROMA PAN
Very light materials
Absolute compatibility
Titanium reinforced non-stick
Very easy cleaning
Height 5 cm with pour edges.
DISADVANTAGES OF TEFAL AROMA
High price of a Gourmet frying pan.
It is still difficult to find them in physical establishments.
YOU MAY BE INTERESTED
If for whatever reason these pans have not convinced you, we leave you an analysis of the other frying pan that Tefal places in the Gourmet range: the Tefal Daily Cook. It is about identical pans to these but made in Stainless Steel and with a slightly lower price.