The veteran house Magefesa presents its "Click & Space" set, made up of kitchenware from the K2 Cristal collection. A neat and elegant set of pieces for cooking, made with resistant and durable materials, with a removable and interchangeable handle, which will allow us to save space in the kitchen thanks to its compact storage. The Magefesa K2 Cristal are a genius, we explain why!
Magefesa has been innovating and creating collections that are trend in kitchenware for more than a quarter of a century. The company focuses its efforts on being a leader in quality and design, with highly versatile collections, useful in the kitchen, and creative. Magefesa offers a wide range of cooking products, with designs that give a special touch of decoration to the kitchen. With this new set of Magefesa K2 Cristal frying pans, the company wanted to produce a versatile set, valid for many types of cooking, and which saves space in the kitchen.
Main Features of Magefesa K2 Cristal
The new Magefesa K2 Cristal 3-piece kitchenware set is a very versatile and useful kitchen set for everyday cooking. Its main features and accessories are as follows:
Set of 3 pieces : 2m saucepan, 26 cm pan and 28 cm frying pan.

Ergonomic, detachable and removable handle for greater versatility and compact storage that saves space in the kitchen.

This set is very versatile, as it is compatible with all types of cookers: gas, electric hob, ceramic hob and induction.

The handle can be removed and placed on the three pieces with one hand, with all the guarantees that in a click it is firmly attached to the piece in which it is going to cook, thanks to a fixing system that allows maximum comfort.

It is made of enameled steel vitrified at 802º, with a high energy efficiency.
Finished with two layers of exterior enamel, gray and mirror effect.

Easy to clean, as its components are suitable for the dishwasher.

Valid for gas, electric, vitro ceramic and induction cookers.

The components are also valid for ovens, even to put them in the fridge or present them on the table with the finished recipe, since they have a very attractive mirror finish to present the dish directly on the table.

Its materials guarantee resistance and maximum durability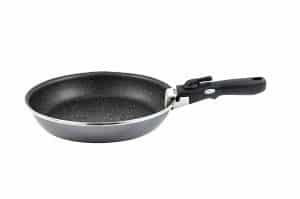 Magefesa K2 Cristal non-stick
All productions of non-stick systems of Magefesa pans are free of PFOA, which prevents the toxicity of the non-stick layers from being transmitted to the food and that the heat does not transmit toxic elements. It is vitally important, when buying pans, to verify on the manufacturing label that all non-stick materials are free of PFOA. The Magefesa K2 Cristal set is made of the following non-stick materials:
The Magefesa K2 Cristal set

has a reinforced, PFOA-free, two-layer non-stick stone coating.

Its two layers of non-stick coating are very resistant to scratching, careful with the environment, since it allows cooking with little oil, and they are also easy to clean.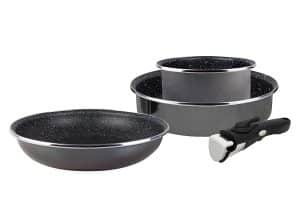 Manufacturing materials
Magefesa has designed and produced this innovative set of high quality vitrified steel, which is composed of steel sheets that have a boron vitreous coating, which guarantees a long life, without using them frequently or washing them, the material loses shine with continued use.
In addition, one of its main advantages is vitrified steel. This material is an excellent conductor of heat, so energy will be saved, although this type of pans requires cooking over medium heat, since they retain heat well, and in this way the food is cooked while maintaining all its properties.
For these pans, it is advisable to use wooden, silicone or plastic utensils, to prevent the outer layer from deteriorating.
This material also guarantees perfect hygiene both during cooking and cleaning, since its non-porous cover prevents fungi or bacteria from developing.
Its non-stick layers are free of PFOA, they prevent toxic substances from being released that pass into the food. Also, it does not absorb odors.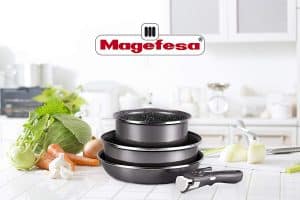 Between you and me
Magefesa K2 Cristal, 3-Piece Set "Click & Space", is a very useful and versatile kitchen set for those who want to use its three pieces (saucepan, pan and frying pan) to prepare all kinds of recipes. Its ergonomic and removable handle is very convenient to remove and put in the three pieces, and thanks to the fact that it can be stored compactly, it saves space in the kitchen. It must be remembered that to store one piece on top of another, and that the non-stick coating does not scratch or damage, it is necessary to put a kitchen paper between piece and piece, to ensure that they will not deteriorate.
Due to its characteristics, this set is valid for all types of cookers : induction, vitro ceramic, electric and gas hobs. In addition, its pieces are valid for the oven, and can be put in the fridge, even presented on the table, thanks to its elegant mirror effect finish.
Its three pieces are easy to clean, and dishwasher safe. In addition, its manufacturing materials, enameled steel vitrified at 802º, ensure energy savings when cooking, as well as its resistance and durability over time.
Its excellent value for money should be noted , taking into account that these are 3 very versatile pieces in which a multitude of recipes can be cooked.
Maybe you are interested
If this Magefesa K2 Cristal set is not what you were looking for, and you are willing to go to a higher range, this interests you. The benchmark in pans with removable handles is, without a doubt, Tefal. For many decades it has been manufacturing the Tefal Ingenio which are, as their name suggests, a genius. With a proven system over the years and a titanium non-stick surface, they are the best removable pans on the market. Of course, its price is somewhat higher.