Tips
Woll pans: better one in hand than hundreds of cheap pans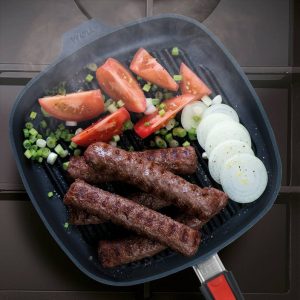 It is worth knowing why it is better to invest in a quality skillet than to continually buy cheap pans. Discover through the Woll titanium non-stick frying pan what a good frying pan is. Get to know your kitchen utensils better.
The utensils in our kitchen greatly influence the quality of what we cook and our health. For this reason there are manufacturers with a large research budget, to discover and manufacture utensils with high quality materials, which respect the cooking processes and human needs. Without a doubt, the German company Woll is one of them. And their Woll non-stick pans, the best on the market.
What are the differences between a good frying pan and a bad one?
First of all, its non-stick coating. It is the most important thing. The non-stick of a frying pan must be made in several layers and it must be very resistant, designed to last several years. It must also be free of harmful substances and PFOA.
The plate under the pan. It must be a good conductor of heat and cover as much surface as possible, to heat everywhere equally.
Its balanced. It should not be too light or too heavy. It must be easily grasped by hand and avoid burns.
The materials with which it is made. A frying pan has to be solid. That does not bend or bend easily. When choosing a frying pan, pay attention to whether it has quality seals.
Your guarantee : the bigger it is, the more the manufacturer trusts its pans.
That it also offers extras such as caps and anti-splashes that fit perfectly, removable handles, etc.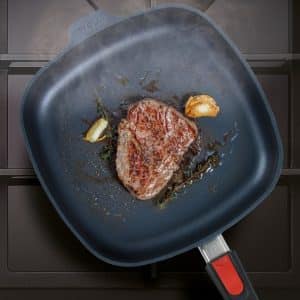 Although of course, with any non-stick pan you can use metal utensils that scratch it. Nor leave it to the fire without oil, to avoid burning its surface. Or run it through cold water as soon as it is used, because the cold-heat contrast doubles it. It is also good to keep them with a protector, so that they do not damage each other.
What are the Woll pans like?
Woll pans are German pans that not only comply with the European quality labels, but also with the most demanding German labels. The GS Mark (Geprüfte Sicherheit -Tested Safety-) certifies that Woll products are free of harmful substances and resistant to breakage.
It's a high-tech skillet . Its non-stick surface is made of 4 layers of titanium interspersed with layers of aluminum, to give it strength and durability and at the same time low weight. All high-quality materials that quickly transmit heat. Titanium has proven its harmlessness in humans, as it is the material of choice for prosthetics in medicine.
Its base plate is made of 18/10 stainless steel and has channels that help to distribute heat evenly. It is a thick layer to retain heat so that you can turn off the fire before finishing the action and take advantage of that residual heat. Or to keep food warm for a while.
It is a non-stick frying pan especially suitable for cooking with little oil or any type of fat, thanks to the high quality of its surface.
The Woll skillet also has those extras that are valued so much:
It has a removable handle, so you can also use it in the oven or you can store it taking up little space.
It has custom glass lids, protectors and matching silicone spatulas.
It has replacement handles and knobs.
And besides all this … you can wash it in the dishwasher ! Although I eat everything good, if you want to pamper it and wash it well by hand, all the better.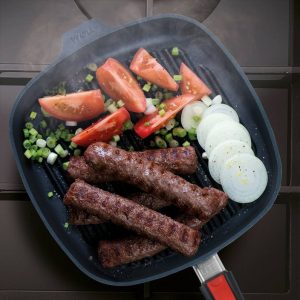 What Woll pans are there?
The classic, the Woll titanium frying pan of 20, 24, 26, 28 and 32 cm in diameter and 5 cm in height, which is NOT suitable for induction.
The Woll titanium frying pan for induction, 20, 24, 28 and 32 cm in diameter and 5 cm in height.
The Woll Diamond Lite frying pan , which combines titanium with diamond crystals, to make it lighter.
The Titanium Woll Oval 38 × 28 cm frying pan and the oval frying pan for induction.
The packs 3 gift pans with glass top.
The Woll titanium crepe maker with a diameter of 26 cm and the crepe maker for induction.
The 32 cm diameter Titanium Woll wok and the induction wok.
The deep titanium frying pan of 20, 24, 26 and 28 cm in diameter, 7 cm in height. And a 20, 24 and 28 cm diameter induction sling, which can also be used as a saucepan.
The Titanium Nowo square grill pan measuring 26 × 26 and 28x28cm and 5.5 cm high. And the square grill pan for induction of 28x28cm.
The Teppanyaki Titanium Woll plate 43x28cm.
All with removable handle.
Plus:
The Woll Diamond Active Lite super-fast cooker, a modern design that allows you to open it while cooking, with one hand, and see how it is cooking through its glass lid.
The Woll Titanium Induction pot of 20, 24 and 28 cm in diameter, 12 cm in height. Coated with a special steel patented by Woll, which distributes the heat well throughout the pot.
The Woll Titanio Baja saucepan of 20, 24, 26, 28 and 32 cm in diameter, suitable for the oven. And for induction of 24, 28 and 32 cm in diameter.
The Woll saucepan and the 18 cm induction saucepan.
The packs of 3 pots and the titanium cookware, complete.
With a small and a large frying pan you have a good base in the kitchen. It is worth trusting.
Do you want to see the prices of the Woll pans? Here you have them all!