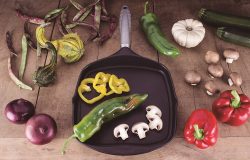 The old Valira brand, well known in Spain and which offers us a wide variety of products for the kitchen, brings the Valira Tecnoform collection .
It is an excellent collection of pans, ideal for any modern kitchen. It has an elegant design, black color and a solid and resistant composition. In addition, these Tecnoform pans have several advantages that increase their usefulness. Throughout this article we will see if they are worth it.
This collection of pans can be found in different sizes; From 16cm to 28cm. They more than fulfill their functions and are made with the materials that characterize the highest quality pans and that we will see below.
As always, we leave you with a short video where you can see the main characteristics of Tecnoform pans.
VIDEO
SARTÉN TECNOFORM – VALIRA.COM
MATERIALS
The structure of the Tecnoform frying pan is made of several materials that increase its usability, mainly aluminum.
Aluminum is one of the main elements that mid-high range pans have . It is a really light material and it does not affect the food that is in the pan. This material is melted to the bottom and not in direct contact with food.
Advantages of aluminum pans
It is a material that is economical.
Distribute the heat in the pan evenly, to perfection.
Aluminum pans have remarkable resistance.
Disadvantages of aluminum pans
The thickness of the aluminum is not very high, so it will not have the same capacity to retain heat as an iron or stainless steel pan.
If the non-stick coating exposes the aluminum, food can come into contact and be harmful to health. There will be no problem if the non-stick surface is in good condition.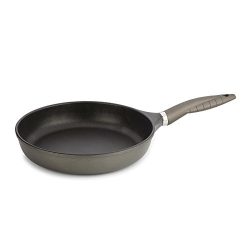 HANDLE AND ERGONOMICS
Valira Tecnoform pans have an ergonomic and lightweight handle, to achieve maximum utility with minimum effort. In addition, its touch is very soft and non-slip.
This handle is designed to make handling as comfortable as possible for anyone who is using this pan, regardless of their physical strength or age. It is located at a good distance to avoid oil splashes when preparing recipes that include fried foods.
The color of the handle is gray, it does not heat at all, and it is made with protective rubber, preventing it from slipping from your hands. Also known as the Soft Touch handle.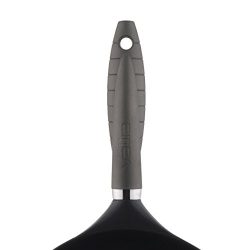 COMPATIBILITY
Another of the highlights of this collection of Valira Tecnoform pans is its compatibility, not excessively positive.
Tecnoform pans are fully dishwasher- safe . However, washing them by hand can be a good option to better protect their non-stick coating.
However, it is not compatible with induction cookers . It is the same as with the oven. The frying pan in this collection does not perform its functions well with these appliances.
In short, it is only compatible with glass-ceramic, gas and electric cookers.
ANTI-ADHERENCE
This is one of the most important features of these Tecnoform pans. Its non-stick material works perfectly so that no type of food sticks and spoils the recipe.
The non-stick material of Valira Tecnoform pans is composed of an ecological non-stick layer. This ecological surface, without specifying the manufacturer, does its job in an excellent way.
In terms of strength, it won't withstand heavy use in the same way as a titanium-reinforced skillet, but it doesn't compete on price with those types of pans. We could say that at the level of finishes it could be positioned as an alternative to medium-high range Teflon.
External non-stick
In this blog we always value very positively that the pans also include non-stick on their external face. Why? Because this will greatly facilitate cleaning tasks. If something jumps out of the pan and gets the outside dirty, it can be really hard to clean. However, if it is non-stick, with a little water and a napkin it will be impeccable.
These Tecnoform pans from Valira also have non-stick on their outer face. Perfect.
Are the Valira Tecnoform toxic free?
Absolutely. This product is completely free of toxic substances. Although it has aluminum, it is covered by the ecological non-stick surface, preventing it from coming into contact with food. On the other hand, its non-stick surface is free of PFOAS.
The pans in this collection are built under the health and safety regulations of the European Union. We remember that, for greater guarantees, they are manufactured in Spain.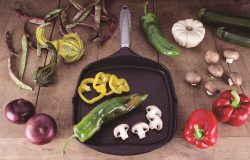 SPECIAL FEATURES
This collection does not stand out especially for having cutting-edge technologies such as Tefal pans. However, they are perfect for daily use as they have the following technologies:
Ergonomic soft touch handle

: It is one of its most outstanding features. Its Soft Touch handle makes it more comfortable to grip, and also due to its light weight, it facilitates its manipulation with one hand.

Molten aluminum layer on the bottom

: Thanks to the thin layer of aluminum found on the bottom of these pans, the temperature will be distributed over the entire surface in a balanced way. With Tecnoform pans we will avoid having one area of ​​the pan hotter than another. There will be the same temperature in the center as in the extremes.

Light weight

: Because it is made of aluminum, the weight is drastically reduced in any of its different sizes. Which, together with its Soft Touch handle, greatly facilitates its handling.

Easy cleaning:

Due to their excellent non-stickiness, cleaning these pans is really easy. With a little water and a napkin, they will be flawless for the next use.
BETWEEN YOU AND ME
In conclusion, the Valira Tecnoform pans are a very good Spanish-made product. Its simple and durable construction allows continuous and long-lasting use as long as we have a minimum of care. If we want something more resistant, we should go to stainless steel or titanium.
They are especially useful for older people, thanks to their ease of manipulation even with one hand.
OTHER MODELS AND FINISHES
In addition to frying pans, the Valira Tecnoform family goes further.
Deep frying pan : it is ideal for frying without splashing and for those dishes that include a lot of liquid, such as stews and rice dishes.
Plate 26 × 26 cm : created to perfect recipes that include grilled vegetables. Any stir-fry of vegetables, mushrooms … will be perfect with this tool.
28 × 28 cm Grill : known to all cooks, the Grill is an indispensable tool, especially for meats. Any recipe that includes a piece of meat (steaks, entrecote, loin …) will be perfect with a Grill like this one.
Fish grill : like the previous one, but instead of transversal marks, it has small holes that allow an optimal distribution of heat. The hot oil and the air will mix in these holes, promoting a perfect and uniform cooking of any fish.
Advantages of the Valira Tecnoform
Its non-stick surface works excellent out of the box.
The Valira brand, with a great tradition and manufacture in Spain, is in itself a guarantee of quality.
The diamond-polished diffuser bottom guarantees optimal heat distribution, with energy and cost savings.
Disadvantages of the Valira Tecnoform.
They are not compatible with induction hobs
They are not compatible with ovens
The non-stick surface needs to be treated with care, without using metal utensils in the pan that could damage it.
YOU MAY BE INTERESTED
If you are interested in some pans of these characteristics but are not convinced, you can find other options. If the problem is compatibility with induction and oven, we recommend Tefal Chef pans . Their price is similar and they are compatible with induction and furnaces up to 175ºC. Its non-stick is excellent, super resistant (they have Titanium ) and in any case superior to that of the Valira Tecnoform.
On the other hand, and also in the same price range, Castey Fundix pans are compatible with ovens up to 250ºC ! They are also compatible with induction hobs. Its non-stick surface is similar to these Tecnoform.
Finally, if you do not mind increasing your budget slightly, for very little more you can find pans reinforced with Titanium of the highest quality, such as the excellent Tefal Sensoria. The latter are some of the best pans available on the market and the price is not much higher than these Valira.