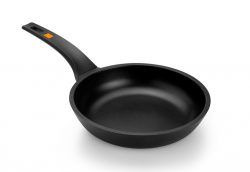 The Spanish firm BRA wants to continue surprising us and improving the quality of its pans. Therefore, surpassing itself, it presents the BRA Efficient pans . These pans are constituted as the highest range of the brand. Still, they retain a good value for money. If you are looking for opinions of BRA pans and an exhaustive analysis, this is your article Are they suitable for you? Keep reading!
To begin, we are going to leave you with a short video about these Efficient pans. As always, BRA prefers to publicize its pans with practical use.
Therefore, they prepare an exquisite recipe in these Efficient pans. So you can appreciate its non-stick qualities, edge height, finishes …
VIDEO
CHULETÓN DIANE (STEAK DIANE) | Menaje EFFICIENT de BRA
MATERIALS
This Efficient model, as in the rest, uses aluminum in its construction. The aluminum is a material resistant but above all, stands out for its extreme lightness.
The BRA Efficient really weighs little, and together with its ergonomic handle, it is very easy to manipulate it with one hand.
One of the differences with the rest of the BRA range lies in the diffuser base, which with a thickness of 6 mm guarantees greater efficiency, as we will see later. In addition, this BRA base makes it compatible with all types of kitchens. In this way, they will work perfectly in induction cookers, vitroceramics, gas and electric cookers.
Regarding their cleaning, say that these Bra efficient pans are compatible with the dishwasher. However, we do not recommend it. Why? Not because they will deteriorate, its non-stick coating is one of the best on the market, so the water in your dishwasher would not even tickle it.
We say this because its exterior and interior non-stick coating is extraordinary, and this allows that when you finish cooking you do not see any remaining food in the pan. If something had been, to put under the jet of the sink a couple of seconds and pass it a napkin, the pan will be ready for the next use.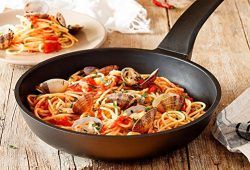 ANTI-ADHERENCE
In this regard, the Efficient pan is equipped with Teflon Platinum Plus, almost the best Teflon on the market. It is one step away from Teflon Professional but, in practice, it will be just as hard, resistant, and will guarantee many years of life.
As we know, Teflon surfaces are susceptible to damage if we cut with a knife on the pan, or if we use metal utensils. The difference between a basic Teflon and this high-end Teflon is the resistance to those cuts and bumps.
With these BRA Efficient pans, with Teflon Platinum Plus, you can give it a very intensive use, and they will not deteriorate. They perfectly withstand high temperatures and some mistreatment.

HEALTH
On the other hand, as we said, BRA Efficient pans use Teflon Platinum Plus, and as we have already mentioned, Teflon no longer uses PFOAS in the construction of its materials since 2012. These pans are already therefore free of toxic substances.
Like all Teflon, we must be careful to use the appropriate utensils so as not to damage the pan. In the blog we talk about the best kitchen utensils.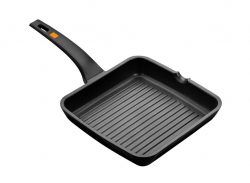 SPECIAL FEATURES
In the same way, it has a series of technologies typical of the high range that they occupy:
Save Energy System diffuser base : with a thickness of 6 mm it achieves the optimum temperature really quickly. In addition, its ability to diffuse heat is outstanding, ensuring that the entire surface of the pan will be at the same temperature, from the center to the end.
ECO + : BRA's commitment to our health and the environment is clear. With the implementation of these technologies in Efficient pans, it improves our health because thanks to its non-stickness, a single drop of oil will be enough to cook. On the other hand, with the Save Energy System we will reach the optimum temperature much faster and it will be better preserved, with the consequent energy savings.
Full Induction : this technology will guarantee complete compatibility and optimal performance on induction hobs.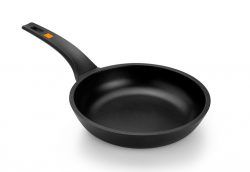 BETWEEN YOU AND ME
In short, we are facing some outstanding pans for intensive kitchen users. The initial investment is higher than standard pans, but it will ensure that with a minimum of care, we will have pans for many years.
This model has an excellent price, but if you want to add a touch of color, do not stop looking at the Efficient Orange model . They are the same pans but with a different finish, and the price is also different. It is common for the Efficient Orange finish to have significant discounts, so from SartenesyCazuelas.com we advise you to buy the Efficient Orange if they are cheaper.
Families who cook daily, use the dishwasher a lot, and cooks that have no limits will appreciate these pans.
ADVANTAGES OF THE BRA EFFICIENT PAN:
They are very light, robust and handy.
Its non-stick coating is outstanding, and the resistance of its non-stick coating is remarkable.
Its design is sober and very elegant, which will prevent us from getting tired of them and accusing the passage of time well.
DISADVANTAGES OF THE BRA EFFICIENT PAN:
Its price may seem high, since for little more we can find titanium pans.
The same pans with a different color finish ( Orange ), usually have a lower price.
YOU MAY BE INTERESTED
If you are looking for cheaper pans from the same BRA firm, we advise you to take a look at the BRA Terra. They have slightly inferior finishes but are very solvent.
If you're willing to invest a little more, pans Tefal Sensoria with Titanium are an excellent choice. Titanium is a really resistant material, it allows any use and it does not deteriorate for practically nothing.
And finally, if the budget is not a problem, we advise you to value the Le Creuset iron pans. Its acquisition cost is high but these pans play in another league.