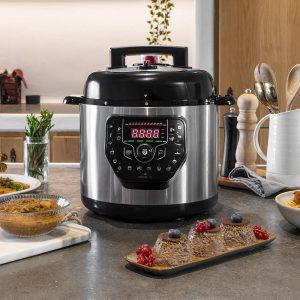 The Cecotec GM Model H Cooker is presented in different versions (Model H, Model H DeLuxe and Ovall) and have the same benefits, although different capacities and power, so that we can choose the most suitable for our needs. They are practical, comfortable, and easy to use. If we want to have tasty and varied dishes on the table, and cooked with care and to perfection, there is nothing like being encouraged to buy them! They are inexpensive, and the results are spectacular.
Who is behind the brand? Well, two enterprising brothers, the Orts, Valencians of pure strain who set up their company in 1995, and since then they have not stopped growing. They came to the fore with their magnificent Conga vacuum cleaners, with thousands of vacuum cleaners sold in just the first month, and they manufacture no less than 500 high-quality small appliances. Currently, they are one of the benchmarks of the small appliance because they are also not expensive.
We leave you with a short video where you can see all its features in action. Go ahead!