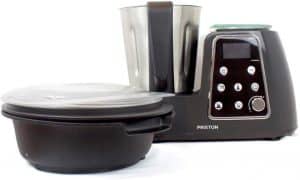 Prixton Kitchen KG200 is a very complete programmable multifunction kitchen robot, capable of doing many of the most common tasks in the kitchen, combining food processor functions (blending, chopping, grating, mixing) with other cooking functions, such as frying, cooking. steamed or cooked. With Prixton Gourmet KG200 we can prepare countless recipes, thanks to its recipe book.
We would place this Prixton KG200 Kitchen Robot in a range of entry to kitchen robots. It has a fairly affordable price for what it can do, which makes it a robot with an interesting price quality, but is it worth it? Let's see it!
Ranking Top3 Best Kitchen Robots
Materials
The glass of this Prixton KG200 Kitchen Robot and its blades are made of high quality stainless steel. This material is one of the most recommended for the manufacture of kitchen utensils, since it does not scratch, is harmless and does not transmit odors or flavors.
Its resistance, of course, is beyond doubt and unless you throw it against the wall, stainless steel is one of the most durable materials out there.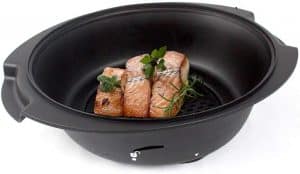 Capacity and Power
It has more than enough power for the heating functions, 1,000W; and for the processing 800W. Its glass has a capacity that is in the average of the Kitchen Robots (2.5 liters). With this you can easily prepare four servings of a single cooking (depending on the recipe and what the diners eat will come out more or less).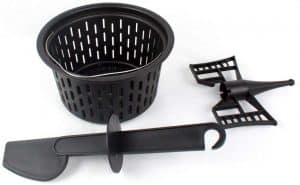 Main features of the Prixton KG200 Kitchen Robot
The Prixton KG200 kitchen robot is very easy to use on a day-to-day basis and the variety of functions it performs, both cooking and processing, save us a lot of time in the kitchen. These are its most important characteristics:
It has 10 speeds plus the two-way function
Extraordinary speed of the blades : from 45 to 5000 rpm.

Extra large glass with a capacity of 2.5 liters, and 2 liters of use

Intuitive LCD screen to control its functions. The temperature, time, and selected speed are always displayed.

Possibility of cooking manually, selecting temperature, time and speed on the panel.

Automatic cooking, thanks to its five preset menus: soup, juice, sauté, steam and knead

Its temperature is adjustable, from 30ºC to 140ºC.

It has a timer from 0 to 99 minutes.

Includes an integrated scale.

Recipe book included.

Processing functions : whipping, chopping, pulverizing, emulsifying, kneading.
Cooking functions : frying, braising, steaming.

Safety systems that include an overheating protection system and a safety handle to prevent burns.

Accessories: two-level steam basket, beaker, butterfly blades, blades, spatula and kneading spoon.

Among its functions, the programmable pot, fryer and oven stand out.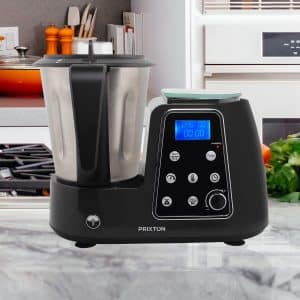 Advantages of the Prixton KG200 Food processor
The Prixton KG200 food processor brings many advantages in the kitchen, based on its versatility to cook all kinds of dishes, and to process food in a single appliance. Its main advantages are the following:
Its multiple cooking and processing functions help to save time in kitchen work, and also to not use more utensils, since it has everything you need.
Double safety system, to avoid overheating and burns in the kitchen.

Possibility of manually selecting what we want to cook, or of using pre-configured cooking programs.

Its LCD screen will allow us to control, at all times, temperature, speed, and cooking time.

Its temperature is adjustable, from 30ºC to 140ºC.

Thanks to its two-level steam basket, we can cook healthy, balanced and oil-free recipes, having the possibility of preparing two dishes at the same time.

Integrated scale to accurately measure the right amount of food that we need to prepare the recipe that we have selected without making mistakes in the proportions.

It includes a series of accessories that will save us the use of other utensils for cooking or food processing.

Large capacity of its glass, 2 liters of use, so it can be perfect for families with many members.

Thanks to its accessories, we can save the use of other kitchen utensils.

We can get the most out of the robot, thanks to its complete recipe book to use in our daily kitchen tasks.
Disadvantages of the Prixton KG200 Kitchen Robot
Perhaps its only drawback is that it does not have Wi-Fi and that it lacks a large screen. But in a kitchen robot of this range and for this price it is not expected to have it either.
Between you and me
The Prixton KG200 Kitchen Robot has a very good value for money, one of the most competitive on the market. It is a perfect appliance for those who like to cook but do not have too much time to devote to cooking, or enough culinary level to make very sophisticated recipes. Thanks to its programmable pot function, we can prepare stews and casseroles with the perfect texture and flavors. It is a versatile and very easy-to-use robot, with which we will make delicious cooking recipes without much effort.
We can cook manually by controlling time, temperature and speed, or use one of its five automatic cooking programs. In addition, all its processing functions such as chopping, grating, whipping, emulsifying, even pureeing, will save us considerable time in the kitchen. In addition, its kneading function is perfect for learning how to make pizza, bread or pastry doughs. It is a very complete robot, which includes a recipe book to take advantage of our knowledge, and put it into practice with the best results.
Maybe you are interested
If the Prixton KG200 Kitchen Robot is not the robot you are looking for, you may be interested in taking a look at the Kenwood Kcook Multi. It is a kitchen robot that also has cooking and food processor features . This robot is capable of frying, sautéing, heating, and making slow and fast cooking. You can make soups and desserts, among other cooking recipes. It has a degree-to-degree temperature function, from 30ºC to 180C, so its cooking precision is perfect.
Its innovative Direct Prep food processor stands out, which allows food to be processed directly in the cooking container, or done independently, thanks to its two positions: towards the inside of the container, or towards the outside. It also integrates a precision scale, and has a large capacity, which makes it possible to cook for up to 10 people.