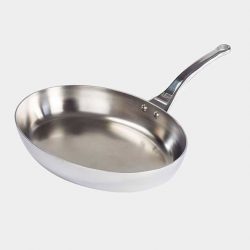 The French kitchenware manufacturer De Buyer has more than 180 years of experience. Thanks to those almost 2 centuries working, it shows us that they are more than professionals to manufacture major league products. Today he brings us his new product: the De Buyer Affinity frying pan .
Most of De Buyer's products are for professional cooks. This frying pan, due to its price, can be accessible to the general public. Due to its materials it allows food to be roasted, browned and flamed, but this frying pan may not be suitable for everyone. We will see it next.
Many lovers of traditional cuisine and expert chefs turn to the De Buyer brand as the first choice when it comes to acquiring new products for their work. And they are right, not only because De Buyer Affinity has a high level of popularity, but because each of its products is highly sought after in its native country: France.
It is made with 5 layers of stainless steel; allows more professional temperature control and has a high-end mirror polish. It has a gray finish. It's a sleek, modern kitchen design, but is the Affinity Skillet a must-have for every chef?
First of all, here is a short video about the manufacturing process of the Affinity family. It is fascinating and makes us understand the price of this pan.
VIDEO