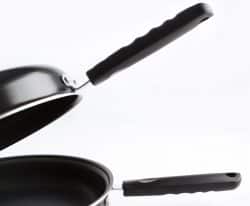 Do you like tortillas? Well stay because today we are going to analyze in depth the new Quid Gastro Fun frying pan specially created for these needs. It is a novel, different and specific frying pan created so that preparing potato pans or whatever you want is easier and the result is a contest.
A good Spanish omelette needs three things: Good ingredients, good craftsmanship, and good utensils. If any of those three fail, the result will not be what you expected. We cannot influence the first two, but we can influence the third. What does this new Gastro Fun tortilla pan achieve ? Is a pan just for tortillas worth it ? Can it be used for more things? Let's go in parts!
FINISHES
On the outside, the Quid tortilla pan is made up of two independent bodies. That is, by buying this model we are buying two pans that we can use on a day-to-day basis like any normal frying pan. Now, the peculiarity is that they are designed to be joined by means of a small rivet at the end, being completely joined.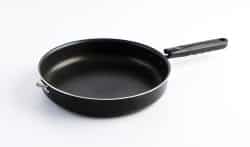 We can start by preparing the omelette in the Gastro Fun pan normally. When you are ready to turn it over, we will join the other part, close the pan with the safety lock and with total simplicity we turn it over. We will then have supported the pan on the opposite side and we will continue cooking on that other, unhooking the first.
The mechanism is really simple and practical. What we achieve with this is that all our tortillas are perfectly round, with perfect edges and an undercooked interior (if that is what we want).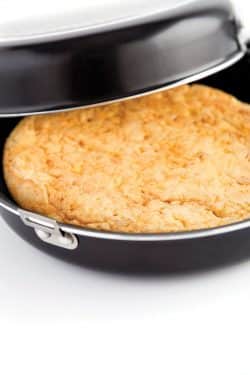 MATERIALS
Regarding the materials used in the Gastro Fun frying pan, the Quid firm uses aluminum for both the core and the exterior. When joining two pans it is especially important to watch the weight, which is why they chose this material. It is true that when the two pans are joined together, the whole is heavier than a normal frying pan, but certainly much less than an iron frying pan.
The ergonomic handle that it has also helps. It has a Soft Touch finish that facilitates a better grip even with wet hands and makes it easier to manipulate the pan to turn it over.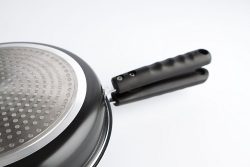 In the compatibility section, we always check three: Induction, dishwasher and oven. These Quid Gastro Fun Tortilla Pans are two of three. They are fully compatible with all types of hobs, including the new induction hobs . We can also use them without problem in the dishwasher. However, it is not advisable to put them in the oven.
ANTI-ADHERENCE
The two Quid Gastro pans have a non-stick surface that lines the entire interior of the pans. Its performance is excellent, to the point that it is possible to prepare fried eggs with little oil and to prepare recipes with very little fat. Of course, this non-stick surface is totally PFOAS free.
However, we must bear in mind that to cook tortillas or any other dish, we have to be careful. For example, we should not use steel utensils or knives directly on the surface.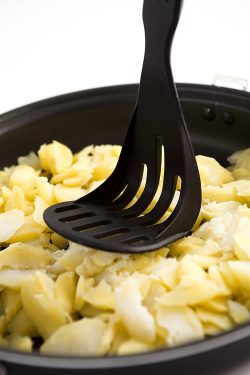 It is not coated with Titanium, so when touching it with metallic elements we would spoil the pans. Instead, we should ideally use wooden or silicone utensils to ensure the long life of the non-stick surface.
SPECIAL FEATURES
Versatility:

These are two independent pans, which we can use as our daily frying pan for any recipe. However, if we want to prepare an omelette, when turning it over, we join them with a simple click and it will be round and perfect.

Ergonomics:

The choice of aluminum as the main material ensures its lightness. And the ergonomic handle ensures easy handling. Uniting both concepts, it allows turning the pan even with a heavy tortilla inside, very simple.

PFOAS Free:

Cooking with this Quid Gastro tortilla pan ensures that no toxic substances will be transferred to our food.
BETWEEN YOU AND ME
There are certain people who are regulars of tortillas for various reasons. From families that prepare a super hatch to fix the children's food; Singles who do not want to complicate with more complicated recipes; Couples who have guests and want to surprise them with their star dish or hospitality professionals who prepare dozens of potato omelettes every day. Whatever it is, in Spain we all have a great tortilla tradition.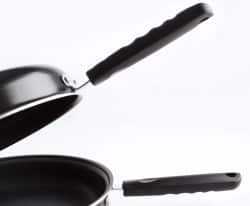 The most delicate moment (and where the whole recipe can be ruined) is when you turn it over. At that time, the potatoes can move from their place and become caked, it can break … With this Quid Gastro Fun tortilla pan, even if it is undercooked on the inside, putting the top part we will turn it over without any difficulty to finish the cooking.
We believe that it is a great tool, whether you live as a family, as a couple or are a hospitality professional. If you want a healthy skillet , free of PFOAS, perfect for day to day and that also allows you to prepare excellent recipes, you should not think about it too much.
ADVANTAGES OF THE QUID GASTRO FUN TORTILLE PAN
They are two pans in one

: perfect for everyday use and for preparing tortillas.

Lightweight

: the aluminum construction ensures a very low weight.

Ergonomic

: the Soft Touch handle guarantees a perfect grip.

Healthy

: 100% PFOAS free

Economic

: Its price is quite low for everything it offers us.
DISADVANTAGES OF THE QUID GASTRO FUN OMELET PAN
The non-stick surface can be damaged if we use metal utensils.
The connecting clips are riveted and cannot be disassembled, taking up a couple of centimeters.
YOU MAY BE INTERESTED
There are no more pans with these characteristics, so we cannot recommend anything similar. It is unique! However, if you want to evaluate a more resistant option to prepare tortillas, you should make sure that it is a high frying pan. An interesting option may be the Woll Titanium Nowo. It is made of Titanium and has two heights, the normal and the high. The second can be perfect for preparing tortillas.