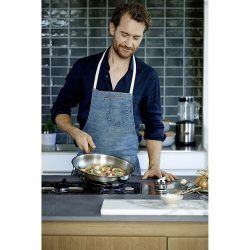 WMF Favorit Stainless Steel Frying Pan
I think we all know the WMF brand , German precision and more than 150 years of experience behind it. Let us remember that it was the pioneer in pressure cookers, so experience in the manufacture of kitchenware, of course, is not lacking. And WMF Favorit give proof of it.
These WMF stainless steel pans present an extraordinary quality / price, although the WMF Profi model is somewhat superior, they are unbeatable in their category and for their price. Let's see them!
German brand, with purely German design and manufacture, WMF is characterized by the very high quality of its Cromargan steel. We are users of several pieces of WMF Cromargan and we assure you that they do not lose their shine even if you mistreat them. These WMF Favorits will be the same seven years from the day of purchase.
MATERIALS
WMF Favorit are made of the highest quality stainless steel. WMF makes the best stainless steel kitchenware today, with its 18/10 steel and patented Cromargan finish. They have an exquisite finish to look at when you take them out of the box, and best of all, long after, they keep the same pristine glossy look. Super durable pans!
It has no other material, just stainless steel. It is compatible with all types of cookers, including induction and withstands temperatures of up to… 400 ºC !!!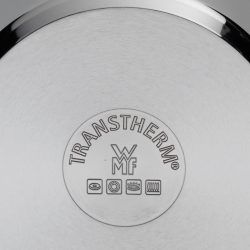 NON-ADHERENT
In this regard, it does not use DuPont Teflon or any other type of commercial non-stick. So is the pan non-stick? Yes like? With technique!
It is not difficult to get the point, it is simply a matter of heating the pan well before putting the food. That is, the oil is at a good temperature. It is possible that the first two or three times it seems that something sticks, but I assure you that when you take the point it is as non-stick as a Teflon. In addition, it has a great advantage: it lasts forever, it does not wear out.
The other advantage, in addition to the fact that it does not wear out, is that it is not damaged by using metal utensils. Ideal for intensive use.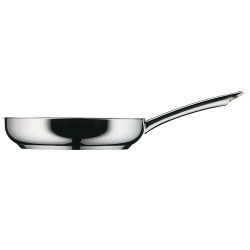 HEALTH
These WMF Favorit do not have PFOAS, or PTFE or any other type of toxic substance because they do not have Teflon or chemical non-stick coating.
It is completely safe, because Cromargan stainless steel is totally unalterable. You can give it an intensive use and mistreat it whatever you want, its qualities will never vary.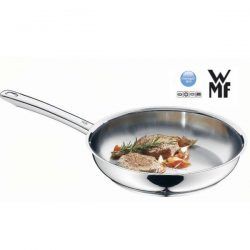 TECHNOLOGY
What technology can be required of a brand that has been manufacturing pans since 1853? The history of this brand is a success story, and they achieve that thanks to the characteristics of their pans.
Cromargan 18/10 steel : this type of finish gives it a very characteristic shine of the WMF brand. Other manufacturers who use this type of steel lose their shine and cleanliness over time. The same is not the case with the Cromargan of the WMF Favorit. We have tested its steel in the kitchen for more than 5 years and after much use and abuse, it shines like the first day.
Transtherm base: patented by WMF, it has a double objective. For one thing, it heats up fast (very fast). It also does it uniformly over the entire surface. This ensures that the entire surface of the pan is at the same temperature and the recipe is not spoiled by cooking one side before the other.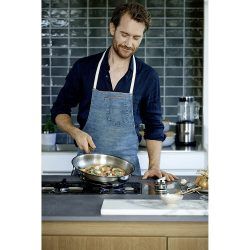 WORTH?
These WMF Favorit pans are frying pans that, due to their little "technology", become eternal. They have everything you could ask for in a skillet: they heat fast, evenly, are non-stick, healthy, and don't wear out. The price may initially seem high. However, when 5 years have passed and the pan remains the same as when you bought it, you will realize that it was the best purchase you made. In short, are they worth it? Yes it is.
AND WITH TWO HANDLES
ADVANTAGES OF THE WMF FAVORIT PAN:
Stainless steel is a very resistant material, it is impossible to damage it.
Withstands very high temperatures, which we can use to test new recipes
It heats up very quickly and retains heat very well, so we can put the heat lower and turn it off a few minutes earlier, saving energy.
There is no risk of transferring toxic substances to our food, as stainless steel together with iron is the healthiest and safest material there is.
DISADVANTAGES OF THE WMF FAVORIT PAN:
The price is higher than some Teflon pans (although there are occasionally very good offers)
It requires a period of adaptation, because at the beginning until we get the point at temperature it is possible that some foods stick to us, this is solved by taking the point to the fire.
They are somewhat heavier than aluminum pans, although not as heavy as iron pans.
YOU MAY BE INTERESTED
If you are looking for a high-end frying pan, and you want it to have a good non-stick coating, we suggest you read the analysis of the Fissler Alux Premium frying pan made in Germany .
It is similar in its materials to this WMF frying pan but with the plus of the non-stick surface, which makes it perfectly non-stick without the need for any technique.