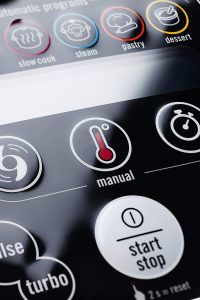 The veteran French brand Moulinex, an expert in the design and creation of kitchen appliances for more than 40 years, brings us Moulinex Cuisine Companion, one of the most complete and modern kitchen robots on the market. It is an ideal robot for the most experienced cooks, who want to innovate in the kitchen and surprise their loved ones. Although it is also valid for the uninitiated, due to its simple handling based on complete, fully automatic cooking programs.
The Cuisine Companion kitchen robot is one of the most revolutionary robots out there. Its six automatic programs prepare complete and exquisite cooking recipes, without the need to control the process. In addition, it has a manual mode for the most experienced to prepare their own culinary delights, adjusting times and temperatures.
With this robot we can prepare sophisticated dishes without much effort in the kitchen, since it has an indisputable advantage: it saves work time with more than professional results. There are no more excuses for not cooking at home.
We leave you with a great video of the main features